Texas cuisine is frequently boiled down to barbecue and Tex-Mex, but the fare served in the Lone Star State stretches far beyond tacos and ribs. In Austin, restaurants are destinations themselves. Here are some of our top picks.
Breakfast
Café No Se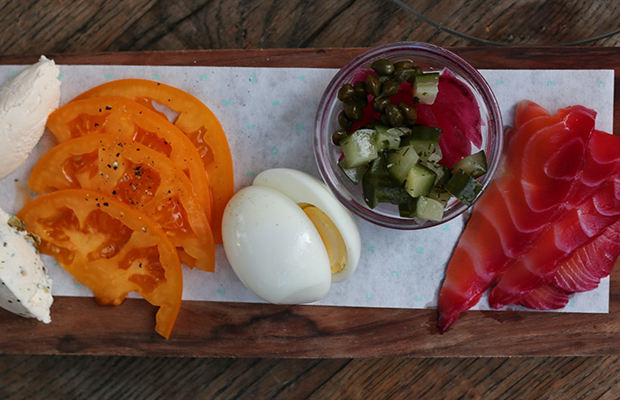 Whether you're sitting down to dine in the rustic-modern dining room, or grabbing a pastry and java to go, you will be hard-pressed to find something that isn't thoroughly satisfying at Café No Se. The bagel board is a thing of beauty -- featuring beet- and horseradish-cured gravlax, Sicilian capers, hardboiled eggs, and cream cheese. On the sweet end of the spectrum, try the ricotta hotcakes with bananas, pecan butter, and maple syrup. And the egg sandwich with 'chico' cheddar and maple-glazed bacon on a scallion biscuit is a must -- especially after a night out on 6th Street.
Sa-Ten
Sa-Ten
's breakfast sandwiches are delicious, but it's their decadent, Japanese twist on Texas toast that's worth the drive to East Austin at 7 a.m. The thick-sliced oversized bread is topped with garnishes like smoked salmon with Sriracha mayo and egg, bacon, and sausage with cheese. We'd love to recreate these at home, but those Texas-size slices definitely won't fit into our New York-size toasters.
Lunch
Gourdoughs Public House
The "home of the golden halo" is where all donut dreams come true. The must-eat order at Gourdoughs is The Saussy Cock: fried chicken breast, buffalo sauce, red onion, blue cheese crumbles, sliced tomato, and chipotle mayo. The sandwich is incredibly filling, but it's important to save room for dessert. Post-entrée, order The Black Out, which involves chocolate icing, brownie batter, and brownie bites with chocolate chips. If that isn't enough, you can add vanilla ice cream on top.
Hey!...You Gonna Eat or What?
The sandwiches at this food truck -- along with the name -- are a mouthful. BLTs, mesquite turkey, and spicy reuben sandwiches alongside fresh homemade chips are a favorite among Austin foodies. But the shining star of the big red auto is the Shiner Monte Cristo: Shiner Bock beer-battered Monte Cristo with pit-smoked turkey, cheddar, provolone cheese, and a homemade cherry and fig jelly. Hey!...You Gonna Eat or What? has won Truck by Truckwest 2013 and Trucklandia 2015, earning the Monte Cristo tens of thousands of dollars in prize money, which upon first bite, is no surprise at all.
Snacks
Lick Honest Ice Creams
There are ice cream shops all over Austin. But at Lick, creative flavors like goat cheese, thyme and honey, and roasted beets and fresh mint are on the menu year-round. There are vegan and dairy-free options, too, like the tart toasted coconut and coconut with avocado curd. If horchata is in season, it's worth a double scoop. While the shop doesn't offer toppings or mix-ins, the waffle cones are house-made and the batches never contain high fructose corn syrup or preservatives -- something you can feel good about, even while devouring a guilty pleasure.
Bananarchy
Chocolate-dipped frozen bananas are underrated and especially exciting for Arrested Development fans. At the Bananarchy truck, a build-your-own option is available: pick a banana size (half or whole), dip in chocolate, peanut butter, vanilla, or vegan chocolate, and add a topping... or several (ranging from nuts to Oreos to cookies to granola). Not feeling creative? There's an entire menu of concoctions -- from The Cookie Crumble with Oreos and chocolate chips, to The Milly Vanilly with a vanilla base and a chocolate half-dip on top.
Dinner and Drinks
Bangers
People flock to the massive backyard at Bangers' Sausage House and Beer Garden for live music nights and Saturday smoke-outs. But it's the 30 varieties of sausage and 100-plus beers on tap that keeps them coming back. The Turducken -- a blend of turkey, duck, and chicken -- is memorable, as are the rabbit and mushroom sausages; the classic bratwursts and veggie options are incredibly delicious, too.
Nightcap
Roasted beets and seared Atlantic salmon are done superbly at Nightcap, but aside from the delectable choices within the app, mains, and cocktail menus, there's an entire list dedicated to boozy milkshakes. The Honey Bear comprises American honey bourbon, lemon, honey, and honey bear cookies.