When it comes to European-style romance, Venice and Paris often hog the spotlight. And while no one disagrees that those cities are made for love and lovers, small-town Europe offers some of the best places to stroll, watch a sunset, or canoodle with your better half. Just don't get distracted by the scenery...
This picture-perfect village in Provence is barely more than a few streets winding along a hillside. Ochre deposits gave the town its name, and the houses their rich color, but the mines have long given way to throngs of visitors. Stick around for a sunset, when the entire town glows a brilliant orange in the light.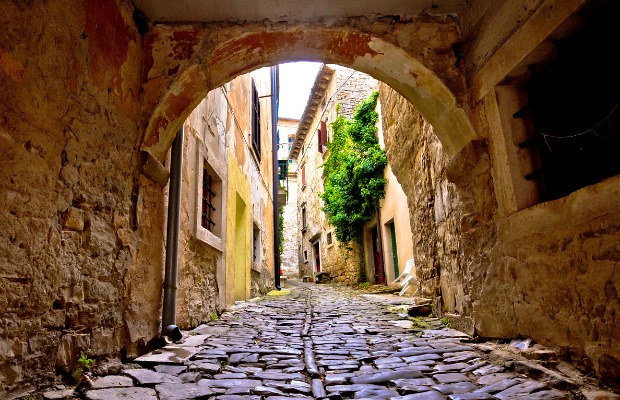 Croatia's Istria region, which was once part of Italy, is jammed with little towns that are perfect for strolling and hand-holding, but this is our favorite. Stone streets, vine-hung walls, and medieval-era houses will transport you to another era.
This seaside town in Italy's Puglia region is best known for a single site — a cliffside restaurant where patrons, perched over the Adriatic, enjoy meals with the accompanying sound of crashing waves. But there's more to do here than have dinner. Poligano's old town is a bric-a-brac of stuccoed houses, hidden squares, and cozy trattorias, all with their own views of the blue sea.
A short ride outside of Copenhagen, this town overlooks the Oresond Strait and its eponymous bridge, which connects Denmark with the uber-cool city of Malmo in Sweden. Forget the modern view, though. Dragor looks much like it did in the 18th century, when it was a fishing village. Some of its yellow-painted houses have thatched roofs and come complete with neat flower gardens, artfully leaning bicycles, and quiet — especially in the cooler months.
It's not exactly off the tourist track, but we'd be remiss if we didn't mention Bruges. This "Venice of the North" is crisscrossed with canals, but it's the details — swans napping on broad town greens; leaning stone bridges; twisting trees that look like they're straight out of Shakespeare — that make it singularly romantic.
You can walk this sweet Cotswolds alcove in about an hour. Rows of riverfront cottages date back to the 1300s and will have you wondering whether hobbits live inside. When you're done crisscrossing the bridges and eating scones at one of the local tea houses, you can venture to nearby Bath, where Jane Austen — possibly England's ultimate romantic — lived and set some of her novels.
One of Andalusia's pueblos blancos, or white villages, Ronda is sprawled across two hilltops that are connected by a magnificent arched stone bridge. Wander, take in the views of the surrounding countryside, and be sure to visit the town's plaza de toros. Dating back to the late 1700s, the bullring is impeccably preserved.
The memory of Venice, which once ruled the Greek island of Crete, is everywhere in Rethymno, from its preserved harbor and citadel to its 16th-century buildings and fountains. In summer, the narrow streets are overhung with flowering vines, and visitors and locals alike cram the seaside restaurants to take in sunset views.
This town outside of Kilkenny on the river Nore conjures scenes from a Maeve Binchy novel. In fact, the film Circle of Friends was shot here. Stop into one of its cafes for lunch, wander across the bridge — which has 10 stone arches — or try to count the sheep that spend most of the day napping in the green hills.
Blink and you'll miss it. The Cap Corse, the peninsula known as Corsica's "finger," has enough interesting towns to fill a satisfying road trip, but none quite match tiny Erbalunga for fairy tale charm. Its most distinctive feature is the ruin of a Genoese tower, which sits alongside a single cafe-lined square. In summer, gardens overflow with bougainvillea and boats bob in the harbor.