President Obama and Anthony Bourdain recently sat down for a casual meal together in Hanoi, Vietnam. Instead of a formal restaurant, they chatted over a bowl of bun cha at a streetside food stall perched atop plastic stools, stirring up a media frenzy. The Commander-in-chief and chef's time together will be documented in a September episode of Bourdain's CNN show "Parts Unknown," irrefutably putting Vietnam on the travel map to a wider market and surely convincing tourists to enjoy a roadside meal for themselves.
Locals are certainly no strangers to street food in Asia, especially in Vietnam, where the country's best regional cuisine can be found along the sidewalks for a very wallet-friendly price. As you make your way through Vietnam, get your appetite ready for our favorite regional roadside specialties.
1. Hanoi
Pho is so well known in Vietnam that it's regarded as the country's national dish. The fragrant broth permeates the air, beckoning diners to street stalls for a hot bowl of this delicious noodle soup covered with a thin layer of finely sliced meat. For a northern variation, try pho bo ko, a heartier beef stew version commonly enjoyed as a filling breakfast.
2. Hue
Traveling through Hue? Be sure to order bun bo Hue, an appetizing beef and noodle soup dish that's uniquely spicy, sour, sweet, and salty. For something a little more adventurous, go for the com hen: this dish is served with white rice or rice noodles underneath a mound of stir-fried clams, pork crackling, bean sprouts, peanuts, glass noodles, slices of green apples, and herbs; you can also opt for a side of steaming clam broth.
3. Hoi An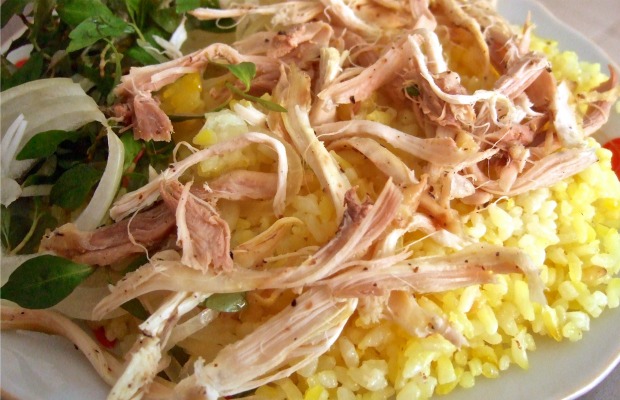 You'll come to Hoi An for the gorgeous architecture and rich history, but its distinct cuisine is what'll make you never want to leave. Com ga is as ubiquitous in Hoi An as pho is in Hanoi, so you'll have no difficulty in finding it on nearly every street corner. It's a delicious meal of seasoned rice and tender, shredded chicken served with a side of onions, greens, and mint leaves. Another city specialty is cau lau: a bowl of doughy flat noodles, bean sprouts, green vegetables, slices of pork, and pork crackling. The secret to a good cau lau is said to come from the water that springs from the wells in town.
4. Nha Trang
The coastal city of Nha Trang is renowned for its seafood, and while there are plenty of restaurants to choose from, it's the vendors on the beach who have the choicest offerings. If a seafood platter is what you're hankering for, find a spot on the sand and keep an eye out for vendors who are ready to sell you items from their daily catch. Other Nha Trang specialties include sweet and savory bun cha ca, a rice vermicelli dish served with a seafood broth and jellyfish.
5. Ho Chi Minh City (Saigon)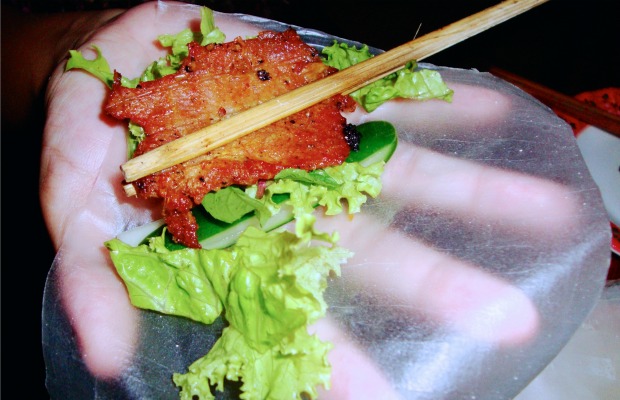 Popular with children as an after-school snack or adults stumbling home late at night after a few bottles of bia hoi, bot chien is offered at many streetside stalls throughout the city. The chunks of fried rice flour dough are smothered with a cracked egg and served with slices of pickled papaya and carrots, shallots, and green onions. Flavor is further added with a dash of pickled chili sauce and rice vinegar.
French colonialism heavily influenced Vietnamese cuisine, as evidenced by the baguette. In Vietnam (more specifically, Saigon), crispy baguettes, or bahn mi, are stuffed with a variety of tasty fillings that range from BBQ pork and pate to stewed chicken and pickled carrots or cucumbers. You might even find ones of the ice cream variety.
For something lighter, order a plate of goi cuon. Commonly known as fresh spring rolls (and sometimes confusingly called summer rolls), goi cuon are moistened rice papers rolled with vermicelli noodles, lettuce, fresh herbs, and pork and/or shrimp. The dish is not fried, but served cold with either a peanut or hoisin sauce.