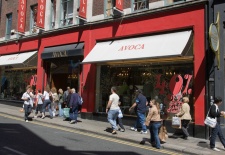 Beyond the shillelaghs and shamrocks, a handful of shops spotlight modern Irish craft:
Dolls This pint-size boutique features a carefully edited collection of muted basics and stylish footwear by rising Scandinavian designers as well as Irish ones like Lucy Downes, known for knit dresses and cardigans. Other standouts include owner Petria Lenehan's cashmere sweaters and '40s-style silk dresses; high-waisted trousers by Fabiana Filippi of Umbria, Italy; menswear by Peter Jensen; and velvet sandals by The Jackson Twins. A second outpost of Dolls recently opened on Emorville Avenue in the Portobello neighborhood. 32B Clarendon St.; 011-353-1-672-9004
Cow's Lane Designer Studio This 2-year-old designer co-op offers shelf space to a dozen Irish creative types, with an emerging jewelry designer occupying one corner and a second-generation millinery occupying another. (The latter once supplied hats to Aer Lingus flight attendants.) Among the locally made wares at Designer Studio are goat's milk–and-almond soaps from the Curlew Mountains, sterling silver and stone baubles, and grosgrain ribbon-adorned straw or felt hats by Shevlin. West Essex Street; 011-353-1-874-0447; cowslanedesignerstudio.ie
Spread over three floors, this colorful and cheery shop carries everything from signature scarves on a spool (many woven on handlooms in County Wicklow) to glass knobs and cake pedestals. Avoca's café does a brisk lunchtime business with a menu of tasty homemade soups (try the curried parsnip and apple) and fresh salads, like carrot and coriander. For an unconventional souvenir, grab a jar of Jameson whiskey-spiked honey on the way out.
11–13 Suffolk St.; 011-353-1-677-4215; avoca.ie
Indigo & Cloth The steps leading down to this avant-garde basement boutique provide a subtle preparation for the edgy, warehouse feel inside. Owner Garrett Pitcher stocks mostly menswear from young labels like cult-favorites Folk and Our Legacy, Japanese denim from Edwin, and dusty rose-hued silk slip dresses by Stockholm-based House of Dagmar. 27 South William St.; 011-353-1-670-6403; indigoandcloth.com
Paradise Lane Think of this charming shop as a bulwark against mass production: Everything has been handmade in small numbers, from the chunky children's sweaters in bubble-gum pink and lime green by Irish label Hansel & Gretel to the handwoven wall art and table linens from Sri Lanka. 51 William Street South; 011-353-1-679-9578; paradiselane.ie
Sweny's A dedicated group of volunteers run the Dublin pharmacy made famous by the character Leopold Bloom in James Joyce's Ulysses. While the 157-year-old apothecary sells little but nostalgia today, the same type of lemon soap that Bloom once bought is still offered. Readings of Ulysses are held every Monday afternoon. 1 Lincoln Place; sweny.ie