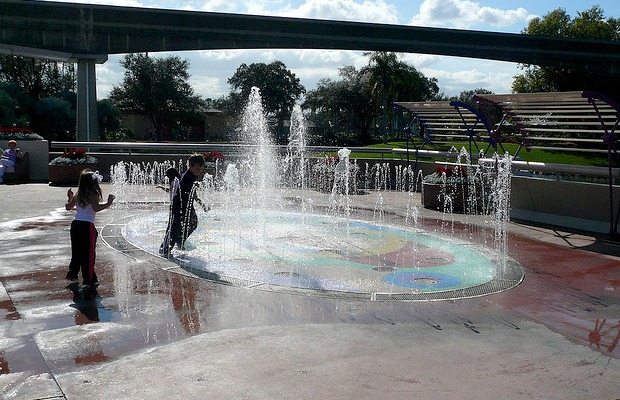 Summer's here. In Orlando, that means high temperatures and even higher humidity. Here are nine spots throughout the Disney World parks where you can get some relief.
1. Club Cool
At Innoventions West in Epcot you'll find what seems to be an ordinary souvenir shop selling Coca Cola-branded merchandise. Upon closer inspection, however, you'll realize that the shop serves free unlimited soft drinks from around the world, making this the perfect place to quench your thirst.
2. Splash Mountain
Most guests make it their mission to not get wet on this classic ride. But when the heat in the Magic Kingdom gets overwhelming, consider heading to Splash Mountain. For the maximum soaking, sit in the front. Sitting elsewhere in the log will guarantee you a minimal splash. You may want to think about bringing along a change of clothes to store in a locker or have a non-rider in your party hold onto them.
3. Kali River Rapids
Whereas Splash Mountain guarantees a limited soaking, Kali River Rapids in Disney's Animal Kingdom promises much more. You'll sit in a circular rubber raft that rotates as it goes down the river, so there's no "safe zone" where any single rider stays dry. Some riders opt to wear a poncho during their ride but others say that it's not enough to keep them dry.
4. Epcot's splash fountains
Epcot doesn't have a water ride, so splash fountains are a good way to catch a break from the sweltering temperatures. Located on a walkway connecting Future World to World Showcase, the fountains spit out water from the sidewalk. Little ones -- and grownups, too -- can frolic as they please.
6. The Magic Carpets of Aladdin
Replace the elephants on the Dumbo ride with carpets and this is basically what you get. Take note, though: There are "camels" strategically placed near the Magic Carpets of Aladdin to pelt riders with jets of water. You can maneuver your carpet up and down to avoid getting wet -- or not.
7. Tiki statues in Adventureland
Just steps away from the carpet ride, you'll find a set of tiki statues that squirt water onto passersby.
8. Tomorrowland Transit Authority PeopleMover
When you're at Disney World, it's nearly impossible to escape waiting in line. The one exception may be the Tomorrowland Transit Authority PeopleMover, which takes riders on a tour of Tomorrowland in a tram-like vehicle. It even passes through Space Mountain. It's a good place to go to escape the crowds and boiling temperatures. Plus, its track is covered by awnings so you don't have the sun beating down on you.
9. Casey Jr. Splash 'N' Soak Station
Kids can let loose at the Casey Jr. Splash 'N' Soak Station in New Fantasyland. Watch out for the animal figures that unexpectedly spray water.