Surviving the TSA gauntlet (the security lines, the shoe removal, the liquids restrictions), the dreaded downtime at the gate (as you hope for no delays), and then the in-flight boredom (how many times can you watch the same three episodes of Chopped?) isn't for the faint of heart. But with the right items at your fingertips — including a regulation carry-on — you can breeze through security and make the most of your terminal time. Here are 10 must-have items to bring to the airport.
1. Travelpro Maxlite 5 19" International Carry-On Spinner
To be a stellar carry-on traveler, it helps to have the right carry-on. That means luggage that's lightweight but sturdy, easy to maneuver, and the correct size for both domestic and international travel. The Travelpro Maxlite 5 19" International Carry-on Spinner checks all the boxes. Available in five colors (black, gray, mocha, azure blue, and dusty rose), it weighs 5.4 pounds and its Power Scope Lite handle stops at either 38" or 42.5" for rolling comfort. Other features: outside pockets for easy access to laptops and toiletries at security and two-inch expansion for when you just have to squeeze that last pair of shoes inside. Buy it now. 
2. Vans Classic Slip-on, Unisex Adults' Slip On Trainers

The best way to sidestep security line stress: Wear a pair of slip-on shoes that are easy to take on and off (and these ones look ultra-cool, too). You can find the perfect pair from iconic brand Vans. These unisex retro-style shoes feature a simple design and clean lines, which make them versatile and ideal for year-round wear. They pair well with jeans, khakis, leggings, shorts, and even skirts.  These kicks are available in dozens of colors and prints – from classic to super unique. Buy it now. 
3. GLOBEGEAR Travel Toiletry Bag and Bottles
Yes, a plain old quart-size Ziploc can also do the trick, but the plastic zippers are pretty flimsy and all those travel-size toiletries you've shoved in there never seem to fit uniformly. With the 3-1-1-compliant product, you can easily (and chicly) pass through any TSA checkpoint and never again pay extra for a travel-size toiletry. Simply use the handy mini-tools to scoop or pour your favorite products into the seven spill-proof plastic bottles and containers. Plus, since they're refillable and made of PET-1 plastic, they're eco-friendly, too. Buy it now. 
4. Apple iPad Mini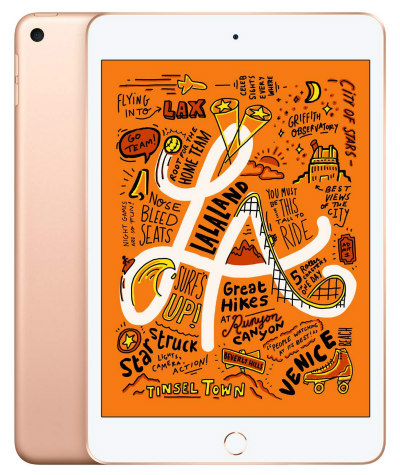 This travel-friendly iPad holds up to a whopping 256 GB of storage, has a 10-hour battery life, and weighs less than one pound. Featuring a 7.9-inch Multi-Touch Retina Display, this iPad mini can keep you entertained during your gate wait and throughout your flight, too. Before you board, be sure to download that hot new series to binge-watch, or, load up on more than a million apps from the App Store. Alternatively, you can even go old-school and choose a few great beach reads. Plus, with its 8-megapixel camera, this sleek tablet lets you seamlessly FaceTime (and incite vacation envy) among friends and family back home. Buy it now. 
5. Drybar Detox Dry Shampoo
Overnight flights can be a nightmare — especially when you head to the lavatory, stare into the mirror, and realize that your hair looks like it belongs in a zombie film. If you have a morning meeting (or are being greeted by someone you want to impress), consider toting along the travel size of Drybar Detox Dry Shampoo. A few spritzes of the formula, followed by several quick brush strokes, and you'll be good to go wherever you land. Buy it now. 
6. MIRA Stainless Steel Vacuum Insulated Water Bottle
Keep this bottle empty until you clear security. Then, buy your favorite beverage and fill it up. From hot green tea to fresh cold juice, this one-of-a-kind water bottle will keep your drink at the perfect temperature as you wait to board, and keeps drinks cold for up to 24 hours and hot for up to 12 hours. So whether you're going sightseeing in Europe in August, or snowshoeing in the Canadian Rockies in January, this bottle will have you covered. Plus, it's both eco-friendly (no more plastic) and wallet-friendly (fill it with free breakfast beverages at your hotel or at the airport water station). Choose from up to 24 colors and patterns. Buy it now.
7. Krown Cashmere Pashmina Shawl Scarf
Going from cool weather to warm weather and don't want to wear a coat? Or, are you always cold on airplanes and tired of having to pay for a blanket? One solution: Wrap yourself in a generously-sized Krown Cashmere Pashmina Shawl Scarf. Available in 14 colors and made from a soft blend of cashmere and acrylic, these wraps are warm without being bulky and are chic enough to dress up jeans or yoga pants. At this price, you can even buy two — perhaps a sophisticated neutral and a vibrant jewel tone. Buy it now. 
8. Leather Travel Wallet and Passport Holder
You get to the front of the security line and the TSA officer requests your passports. You dig into your bag, but you it takes you an extra ten minutes or so to actually find all four (one for you, one for your spouse, and two for your kids). Stay organized and on track with this travel-friendly wallet and passport holder, which can hold up to four passports. It also has six small slots for credit cards and two large pockets for boarding passes, itineraries, and other small documents. What's more, the wallet is made of durable leather that will protect your essentials from wear, tear, and unexpected spills. Buy it now. 
9. MyCharge Amp Max Portable Charger
With the MyCharge Amp Max Portable Charger, you'll never be caught with a dead battery on your laptop mid-movie, or be forced to go on low power mode while using your phone's GPS to navigate unfamiliar territory. Just keep this compact power pack charged and handy and you'll have access to up to 45 hours of juice. Better yet, you can charge two devises simultaneously — so your significant other or travel buddy can share the power with plenty to spare. Buy it now. 
10. Dr. Bronner's Organic Lavender Hand Sanitizer
Air travel exposes you to a number of hidden germs, lurking everywhere from security bins touched by thousands of passengers, to video touch-screens tapped multiple times each flight. Frequent flyers know to pack travel-size hand sanitizer and apply often. However, typical alcohol-based sanitizer can leave hands feeling dry (and the antiseptic odor isn't ideal, either). A pleasing alternative is Dr. Bronner's Organic Lavender Hand Sanitizer, which contains lavender oil —  and a simple spritz does double duty as a germ-fighter and calming air freshener. Buy it now. 
ShermansTravel uses affiliate links in this article to generate revenue. When you purchase an item after following one of these links, ShermansTravel may receive a commission. The items in this article were chosen independently by ShermansTravel's editorial team.