This deal has expired, but be sure to check out our Top 25 deals of the week for savings on trips to destinations around the globe.
I finally saw 127 Hours last night, and, just as I expected, I was blown away.
Actor James Franco as solo hiker Aron Ralston, whose incredible survival story culminated in the amputation of his  forearm after he was trapped by a boulder, was outstanding. As were the movie's script and cinematography, a mix of rock-and-roll headiness and emotional reflection. And the setting – Utah's breathtaking rock formations and clausto-inducing canyons – had me itching to book a flight.
Which is exactly what the folks at Utah's Office of Tourism have been hoping for, with promotional trips in place to capitalize on all the buzz.
Shortly after the film's release, Travel Utah announced five 127 Hours-themed excursions to the state (visit www.travel.utah.gov/127hours), whose stunning landscape plays its own starring role in the film. Says Tracie Cayford, spokesperson for the Utah Office of Tourism and Film, "The premise is if you had 127 hours to spend in Utah, what would you do?"
Presumably, not follow in Ralton's exact footsteps – though there is an itinerary that centers on Moab, the mountain-biking haven in southeast Utah that also encompasses Blue John Canyon, where Ralston spent his five-day ordeal (though the entrapment scenes were actually filmed on a set in Salt Lake City). One heads-up, though: Don't plan on reliving that thrilling early scene in the movie where Franco and the two female hikers he meets freefall through a narrow canyon crevice into a blue lagoon, because that spot doesn't exactly exist, at least not in Utah. Yes, the warm spring is real – it's located in mid-state Utah – but the canyon above involves a bit of Hollywood magic and was spliced together, Cayford says.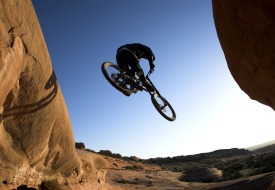 Regardless, all of the itineraries promise action-packed adventure throughout the state. Destinations include Ogden, Cedar City/Brian Head, and National Scenic Byway 12, as well as Utah's premier skiing areas (there are 14 resorts throughout the state). The featured pursuits will have any outdoor enthusiast drooling with anticipation: biking down 5,000-foot descents; rappeling down 105-foot cliff faces; hiking Arches National Park (pictured above; photos courtesy of the Utah Office of Tourism).
And you can probably count on seeing at least a few fellow adventurers. "Moab, as soon as the film opened, got 200 phone calls," Cayford says. "Interest in the area has been tremendous as a result of the movie, and we've enjoyed to be able to showcase the state."
Start planning your next getaway with our Sports & Adventure Travel Deals.