Barcelona has its Sagrada Familia. Sydney has its white-hooded Opera House. And other places? Well, they've got steps – lots and lots of them. As the examples illustrate below, epic staircases aren't just a way to reach higher ground. They can be major attractions unto themselves. From the fabled Ha'iku Ladder in Hawaii, to Norway's never-ending Flørli Steps, these jaw-dropping ascents aren't for the faint of heart. But once you get to the top, we think you'll agree the views more than make up for the effort.
Skellig Michael, Ireland (pictured above)
The ruins of a sixth century monastery await travelers who manage to conquer the 600-foot-high staircase on this island and nature reserve that's located Southwest of Kerry. The steep gradient means you'll probably need a good rest before making your way back down.
Total number of steps: 618 steps
Vindhyagiri Steps, India
Visitors to this religious site in southern India know to catch a full night's sleep before making the ascent up this 470-foot-tall mountain. The rough-cut steps lead to massive stone statues of ancient Indian rulers, and views of the valley below provide ample stimulation along the way.
Total number of steps: 660
St. Paul's Cathedral, London
One of the UK's most famous domed cathedrals, St. Paul's, was constructed in the late 17th century, though the original foundations date back much earlier. Inside, choose from three different viewing galleries, corresponding to the structure's three internal domes: the Whispering Gallery (259 steps), the Stone Gallery (378 steps), and the Golden Gallery (528 steps), which sits 280 feet above the city.
Total number of steps: 528
Ha'iku Ladder, O'ahu, Hawaii
Earlier this month, we showed you O'ahu's top five hiking spots, including the formidable Ha'iku Ladder, otherwise known as the Stairway to Heaven. The steel-railed steps climb high up to the crest of the Ko'olau Mountain, and are technically off-limits – but that doesn't stop gutsy travelers from making the hike anyway.
Total number of steps: 3,922
Baha'i Gardens, Israel
We recently featured this visitor-friendly shrine in our "3 Affordable Daytrips from Tel Aviv," and there's a reason it remains one of northern Israel's top attractions: the gardens themselves are organized into 19 "terraces," framed on all sides by flowers, and connected by twin rows of white steps.
Total number of steps: approximately 1,000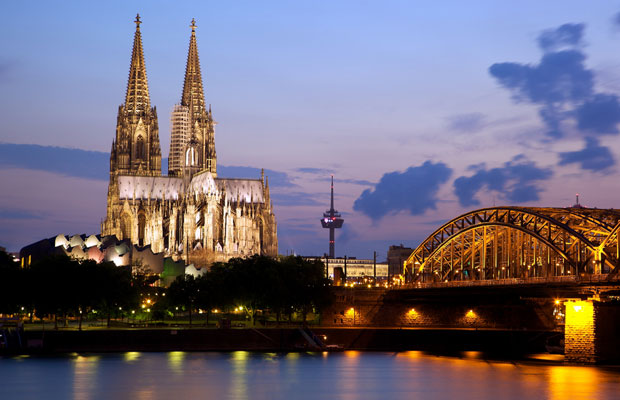 Cologne Cathedral, Germany
Cologne's most-visited attraction is also one of its most interesting, architecturally-speaking. The Gothic cathedral has a high-vaulted ceiling that's listed on the UNESCO World Heritage List (an honor it shares with other attractions mentioned in this article); while inside, climb 322 feet to the uppermost viewing deck, past a bell chamber containing one of the world's largest free-swinging church bells.
Total number of steps: 509
Sacre Coeur, France
By the time most travelers reach this 300-step hike to the top of Montmartre, they're well acclimated to the many tall, narrow staircases scattered around Paris. Sure, your legs will be a little wobbly, but the photos you snap from the dome of this 100-year-old basilica will make the trek worth it.
Total number of steps: 300
Filbert Steps and Tiled Steps, San Francisco
Forget working out at the gym: spend a day exploring San Francisco's neighborhoods on foot, and you'll soon work up a sweat. While wandering the city's cartoonishly steep hills, you may come across the Filbert Street Steps, which bisect a quiet residential area near Telegraph Hill. They're split into three sections and surrounded by lush trees and flowers. Alternatively, stop and admire the 16th Avenue Tiled Steps, a public art project that transformed a simple flight of 163 steps into a mosaic masterpiece that's decorated with motifs of frogs, starfish, and multi-colored fish.
Total number of steps: 377 and 163, respectively.
Tianmen Shan, China
The vertical ascent to this natural wonder (a 431-foot-wide hole in the side of Tianmen Mountain) might not be as relaxing as riding the adjacent tram. But mountain-lovers dutifully show up 365 days a year to climb the flat stone steps and gaze up at the circular arch, through which stunt pilots are fond of flying their planes.
Total number of steps: 999
Flørli Stairs, Norway
An old power plant from the 1920s anchors this tourist site, where visitors can (thankfully) opt out of climbing the full 4,444 steps, and instead tackle a more manageable portion (say, 700). Athletes compete by running up the menacing wooden staircase, which leads to stunning views over the Lysefjord.
Total number of steps: 4,444
Jacob's Ladder, South Carolina
Originally built to transport material goods to the lower downtown area on South Carolina's St. Helena Island, (it was settled by English colonists in 1659), this challenging flight looms over scenic Jamestown, a popular cruise stop in the Atlantic Ocean.
Total number of steps: 699
Konpira-san Shrine, Japan
Located on Shikoku Island (about 45 minutes south of Takamatsu by bus or car), this holy site is situated in the foothills of Mount Zozu. The main shrine (there are several to choose from) sits 785 steps up from the main town; to reach the inner shrine, you'll have to scale another 583.
Total number of steps: 1,368
Mount Niesen, Switzerland
Runners gather each June to race up the world's longest staircase, which runs alongside a funicular track. The sane among us will opt for the funicular itself, or enjoy the surrounding Alpine woods through a winding (but also grueling) hiking trail.
Total number of steps: 11,674
Batu Caves, Malaysia
Twenty minutes from Kuala Lumpur, this religious site – like so many in southeast Asia – involves a bit of legwork to fully explore its innermost sanctum. Hike up a steep concrete staircase to reach not one, but three caves decorated with intricate Hindu shrines.
Total number of steps: 272
Girnar Hill, India
One of India's most important pilgrimage sites also contains one of its most impressive staircases: a 3,660 foot high ascent to a series of small hut-like temples. Some visitors opt to be carried up in a wooden chair (you'll pay according to your weight), though we say, if you've made it this far, might as well go all the way, right?
Total number of steps: 10,000