It's easy to burn through your budget in France — especially with a capital city that ranks as one of the most expensive in the world. But if you get outside of Paris and steer clear of the star-clad Riviera, you'll find more affordable places to vacation with just as much to see. Here are five French cities to visit if you're watching your wallet.
Bordeaux
You're likely here for the rich red wine this region is known for, and luckily, a visit to the surrounding vineyards doesn't have to cost a fortune. The Bordeaux Tourism Office offers inexpensive guided tours of the Médoc — including a day tour of a chateau and wine tasting — for 40 euros or $45 USD. If you also plan to tour the city, we suggest buying a city pass from the office as well (it's 46 euros or $51 USD for 72 hours) which gets you unlimited transport as well as access to 30 museums and monuments. Don't miss the Place de la Bourse with its signature reflective pool or the wine museum, La Cité du Vin.
Where to Stay on a Budget: You can stay at a three-star hotel (say the Ibis close to downtown) in the peak tourist season of July for about $80 per night (you'll pay at least $100 for the Ibis in Paris on the same dates).
Strasbourg 
This town in the Grand Est region of France, where there's plenty of influence from neighboring Germany, is both affordable and picture-perfect. You'll want to bring your camera to capture the half-timber homes and canals in the Petite France quarter, and the impressive cathedral in the city center. The best way to cover the most ground on the cheap is a free walking tour that leaves each day from the cathedral. If you visit late in the year, be sure to stop by the Christmas Market — arguably the best and oldest in France — and sample the region's Alsacien bites, such as sausage with choucroute (sauerkraut), or a pizza-like tarte flambée.
Where to Stay on a Budget: The Best Western Hotel de l'Europe is easily accessible from the train station and $75 per night in high season July.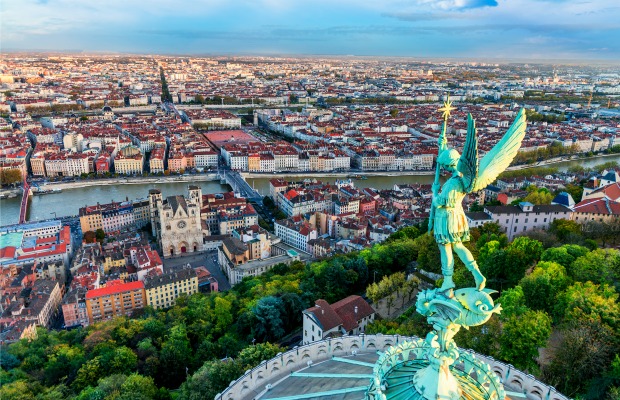 Lyon
In this medieval-meets-modern town on the Rhone, you can see many top attractions by foot for free. For a rewarding view, hike to the Basilica Notre-Dame de Fourvière (use the towering landmark to navigate the city; its high perch makes it visible from anywhere), then stroll through colorful buildings in Old Lyon, keeping an eye out for painted wall murals called trompe l'oeil (literally "trick of the eye"). Or, pick a spot in Parc de la Tete d'Or to bask in the sun. You can sign up for English guided tours from 12 euros (or about $13.50 USD) at the tourism office or consider a 22 euro (or $25 USD) city pass for unlimited transportation, guided tours, and admission to 22 museums. When you work up an appetite (this is France's gastronomic capital, after all), head to one of the many bouchons (small bistros) or, for a nice meal out try Brasserie Georges for regional Lyonnais dishes like veal in herb sauce or pistachio sausage; you can keep it under 30 euros (or $33 USD) per person. 
Where to Stay on a Budget: The 3-star Hotelo — close to the Perrache train station and walking distance to the city center (but far enough removed to avoid the high prices) costs $71 per night in high season (the weekend of July 21 to 23, for example).
Marseille
This port city — the second largest in France and a frequent stop on Mediterranean cruises — gets you close to France's Southern shores without the sky-high prices of coastal neighbors like Cannes and St. Tropez. Instead of sparkling beaches, though, expect to find an eclectic Mediterranean culture and a yacht-lined harbor bustling with energy and grit. We recommend a free walking tour of the Old Port, or a city pass that will get you to top sights, including a boat ride and guided tour of the Chateau d'If prison (the setting of Alexander Dumas' Count of Monte Cristo), a tour of the Basilique Notre-Dame de la Garde, and free access to public transportation and museums (22 euros or about $25 USD for one day).
Where to Stay on a Budget: In July, you can stay a mile from the Old Port with a sea view for $87 per night at Hotel Peron, $77 per night at a basic but solid Ibis at the Old Port, or $88 per night Hotel Edmond Rostand small modern hotel in the city center.
Nantes
If you want to explore the chateau-lined Loire River on a budget, this town in Brittany is a good place to start. We recommend buying a city pass (25 euros or about $28 USD for one day) so you can not only tour the ornate Chateau des Ducs de Bretagne (closed Mondays) but also check out the city's gardens and shaped hedges at the Jardin des Plantes, or rent bikes, and take a local river cruise tour. Chateau Haute-Goulaine is another must-see chateau just outside the city, closer to the ocean.
Where to Stay on a Budget: You can stay at the centrally located Hotel Pommeraye for $68 per night in July and easily explore Nantes on foot.