Set on Ireland's west coast (about 130 miles from the bustling capital of Dublin), Galway may be the Republic of Ireland's fourth-largest city, but it comes in first in hospitality. Add in cozy pubs, great food, traditional crafts, and beautiful scenery, and it's easy to see why Galway is known in Ireland — and beyond — as the "most Irish city in Ireland." Here are five reasons why Galway lives up to its name.
Read more: How to Plan the Ultimate Ireland Road Trip
There are more Irish speakers here than in any other county.
While both English and Irish are the official languages of Ireland (and you'll see both on road signs around the country), English is dominant, and only about 40% of the population speaks Irish. Out of all of the counties in Ireland, County Galway is home to the largest percentage of Irish speakers (49% of the population). So, if you find yourself unable to understand the locals, it's probably not just the accent — it's likely that they're speaking Irish.
It's the home of the traditional Claddagh ring.
There are several legends about the origin of the traditional Irish Claddagh — a ring design with two hands holding a crowned heart — and all of them involve Galway, or rather, the old fishing town of Claddagh, which is now a part of the city of Galway. One legend tells of a prince who designed the ring as a gift for his beloved, who was a maid, to convince her father his intentions were pure. The ring's hands, crown, and heart represent friendship, loyalty, and love.
A more likely story is that of Richard Joyce, a Galway native who was captured at sea in the West Indies and sold as a slave to a goldsmith in Algiers. When William III ascended the throne, Joyce was freed, returned home, and proposed to his love with the ring, which he had forged during captivity. Whichever version you believe, you can shop for a Claddagh ring at Thomas Dillon's, which has been making them since 1750; even if you're not in the market for one, it's worth stopping in to visit the shop's small museum, which displays antique rings that date back nearly 300 years.
You can join a "trad" music session any night of the week.
Traditional Irish music is an integral part of nightlife and culture in Galway, and you can find a session any night of the week. In Galway's Latin Quarter (an area of pedestrian-only streets lined with shops and pubs), the sounds of flutes and fiddles will guide you. When in doubt, try Tigh Neachtain, a century-old pub that offers more than 100 whiskeys, or Tig Cóilí, a family-run pub where the walls are lined with black-and-white photos, the crowd is often standing-room only, and the nightly live music is sure to delight. At many pubs, including Tig Cóilí, the setting is very informal, with the musicians seated in a corner booth, pints in hand, and tip jar on the table. It's a great way to rub elbows with the locals and get a dose of traditional culture.
Traditional Irish food gets a modern twist.
With its position on the coast where the River Corrib meets the Atlantic Ocean, it's not surprising that Galway has always served up some of the freshest fish in Ireland. From smoked salmon and fried cod to steamed Atlantic lobster to grilled hake, there's an abundance of delicious seafood to sample. And, with its location close to the green hills of Connemara, you'll also find plenty of tender lamb on the menu. For battered fish 'n chips beloved by four generations of Galwegians, head to McDonagh's in the Latin Quarter; if it's a hearty lamb stew or a plate of oysters and Guinness you're after, try The King's Head.
While casual pubs abound in Galway, you can also find a slew of upscale restaurants to choose from. Don't miss the award-winning Seafood Bar at Kirwin's Lane, where the grilled hake comes on a bed of fettuccine and mushrooms in cream sauce. Meanwhile, the Michelin-starred Aniar serves classic Irish cuisine with a contemporary flair. At Cava Bodega, Irish food gets a delicious Spanish twist (think: black pudding with jamón ibérico or Connemara lamb with harissa).
Its location is ideal for day trips.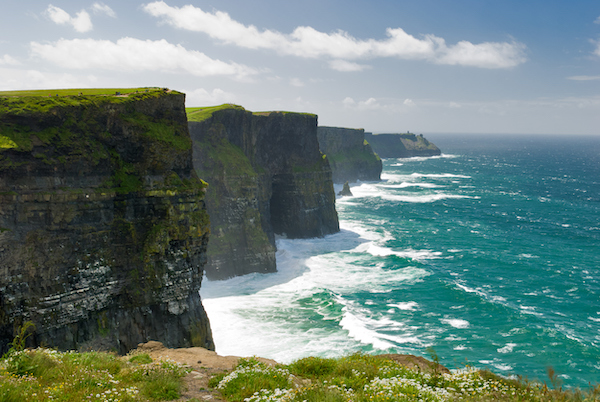 While there's lots of Irish culture to soak up in the city of Galway, the surrounding area showcases some of the country's most spectacular scenery, and, when it comes to Ireland's scenery, the west coast is certainly the best coast. Within 90 minutes from Galway, you can reach the windswept Cliffs of Moher, the rocky landscape of the Burren, the rolling hills of Connemara National Park, or the stunning grounds of Ashford Castle — all on easy day trips. Another option is the Aran Islands Inishmore, Inishmaan, and Inisheer, located off the coast of Galway. 
Read more: 25 Beautiful Vistas and Landscapes in Ireland
Want to take that trip for free — and score some valuable miles for your next excursion? Check out our top pick travel credit cards for the best welcome bonuses, perks, and plenty of cash back.