If you've been to Asheville, you get it. Flanked by the mountains and filled with a community of hippies and hipsters, this North Carolina town is all about culture, local food, art, yoga, music, nature, and beer -- the good stuff in life. People here live well, and visitors are invited to partake in the bounty of their slow-paced life. A liberal dot in North Carolina's conservative state, Asheville is unique and invites everyone to share their space. Here, a guide to this fun-loving city.
What to Do
Asheville is surrounded by the stunning Blue Ridge and Appalachian Mountains. A perfect day includes a morning hike, followed by relaxing at one of the many breweries, then a mind-blowingly good local dinner.
There are 3,000-plus miles of free, public hiking trails near Asheville, including 1,600 miles in the Pisgah and Nantahala National Forests. We particularly loved the hike at John Rock Trail where you're rewarded with stunning views and cascading waterfalls. And good news: The popular Skyline Trail that leads to the top of 404-foot Hickory Nut Falls in the Chimney Rock section of Chimney Rock State Park is slated to reopen in 2017 after being closed for almost 10 years. The area near the top of the falls (where the final fight scene in the 1992 film The Last of the Mohicans occurred) will once again provide guests with incredible panoramic views.
And there's plenty of shopping, with loads of independent boutiques like Asheville Bee Charmer and Battery Park Book Exchange -- a bookstore and Champagne bar in one; pop in the aSHEville Museum, a small museum dedicated to women.
And don't miss the Friday night drum circle -- musician or not -- everyone is welcome to participate.
And of course, there's the palatial Biltmore, created by George Vanderbilt in 1895. At 8,000 acres, it's America's largest home, so block off a day or just stay the night.
Breweries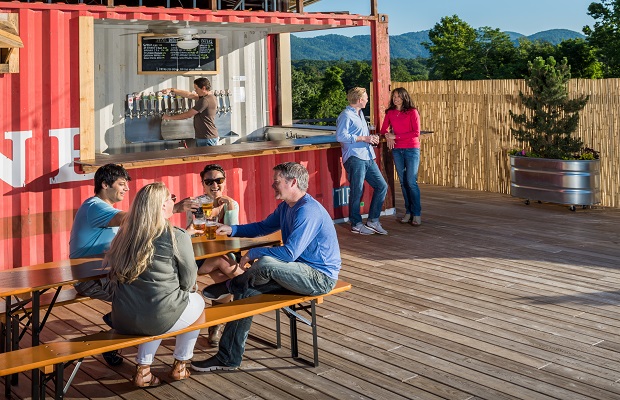 Named Beer City USA, the breweries deserve their own section and even their own weekend (there are 21 breweries, 26 in Buncombe County, 60 in the region, and more on the way). It all began with Highland Brewing Company, and there are local favorites like Wedge Brewing Company and Burial Beer Co. You can watch a movie with your beer at Asheville Brewing Company, or kick back on the expansive patio of Wicked Weed Brewing. Alternatively, hop on a Brews Cruise. Seriously, each experience is pretty incredible in their own unique way and it's nearly impossible to go wrong with the beer they're making in Asheville.
Where to Eat
To get to all of the incredible restaurants in Asheville, you'd need a week -- perhaps a month, but a must-book reservation is at award-winning chef's Katie Button's Cúrate. The elBulli protege and her team are turning out authentic Spanish tapas. Luckily for guests, the wildly popular (for good reason) eatery is expanding, making it easier to snag a reservation. Along with an expanded food and beverage program, the new concept will focus on vermouth bars in Spain serving small bites, Spanish vermouth, sherry, and cider. And there's Rhubarb, from chef John Fleer, who was doing local before local was cool, along with Chai Pani that's like no other Indian food you've had. (Pro-tip: Head to the downstairs area for a cocktail, like the sparkler-topped Cherry Bomb.)
Where to Stay
The Hilton Garden Inn Asheville Downtown is perfectly situated to be within walking distance to the city's best restaurants, boutiques, art galleries, and breweries. The property is chock-full of local art (hello, this is Asheville), and the farm-to-table restaurant is incredibly good (again, it's Asheville). We loved the quinoa topped with local eggs that's perfect for a pre-hike breakfast. There's a pool, gym, business center -- really everything you need, but the best feature is upstairs. Pillar Rooftop Bar serves craft cocktails, small-batch spirits, microbrews, and great bar food. Order a drink, snag a blanket at that coveted seat by the fire pit, and soak in stunning views of downtown with a mountain backdrop.
For a romantic getaway, book a room at The Bunn House. This five-room boutique hotel boasts beds dressed in Frette linens; a private balcony or patio; bathrooms equipped with a steam shower, L'Occitane en Provence products, and heated floors; rooms are stocked with local goodies and wine.