Though the area in and around Punta Cana is well-trodden by U.S. travelers, the Barcelo Bavaro Palace Deluxe is a 4-star all-inclusive resort that they may not have heard of. Located 12 miles from the Punta Cana airport, and catering to a loyal clientele of repeat visitors from South America, the resort recently underwent a $330 million facelift to keep things fresh. We checked in for some quality beach time and discovered a few pleasant surprises. Here's our report.
What's Hot: The star attraction in the Bávaro area is the beach, considered one of the most beautiful in the Dominican Republic. But, as an all-inclusive resort, Barcelo Bavaro keeps you occupied with plenty of options off the sand: 11 restaurants, two water parks, four pools, a spa, and a fitness center -- with yoga, Pilates, and spin classes -- just to start. Nightly live entertainment, select water sports, and kayak and boat rentals are included in your rate, too. All of this costs about $222 per person, per night (learn more in the Rates, Deals, and Special Offers section below).
Best Feature: Not only are there more than enough restaurants to last a long weekend, the dining options are well above the quality of the standard resort. Yes, there are two buffets to choose from, but you can sample many upscale establishments beyond that: Chez Gourmet serves up fine dishes like crab and salmon consommé (not to mention eight different chocolate cocktails in the lounge); you can try tapas at La Fuente; and there's both sushi and teppanyaki at Kyoto. All but one of the culinary experiences is covered in the basic rate: La Comedie, which serves up classic French cuisine.
The Rooms: The 1,991 rooms and suites have ample room for lounging, ranging from 447 to 2,379 square feet in size, and are all outfitted with balconies and rainshowers -- two of our favorite resort room features. The new aromatherapy program, in which guests can choose among three scents for the diffuser in their rooms, is also a nice gentle nudge toward vacation relaxation. For perks like free WiFi, outdoor hot tubs, and access to a lounge where continental breakfast, all-day hors d'oeuvres, and drinks are served, check into a Club Premium room.
Who Will Love It: As an all-inclusive, Barceló Bávaro is ideal for travelers who love having flexibility and a long menu of options to choose from. But its dining program and well-appointed spaces especially cater to those who appreciate comfort as well as varied, delicious noshing. Given the beautiful surroundings, not to mention the adults-only area, the resort naturally attracts honeymooners and couples, too -- while multigenerational families will find something to suit all ages.
Who Might Not: Travelers who crave immersion in culture might feel restless -- walking outside of the resort doesn't yield shopping, dining, or other activities, other than a cluster of shacks near the adults-only area. (The resort can, however, help you book excursions for places like the nearby 16th century towns of Santo Domingo and Saona Island/Altos de Chavon.)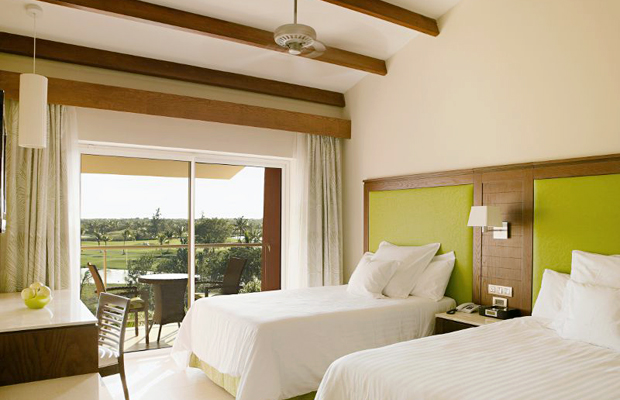 Rates, Deals, and Special Offers: Throughout November, rates fall to $222 per person, per night and remain affordable even in January and February, when the Caribbean tends to become more expensive ($364 per person). For Club Premium accommodations, it's $357 nightly per person in early November. You can find more deals through third-party operators, too; we saw a rate of $710 per person for three nights via Delta Vacations, which bundles hotel and airfare, in a promotion they're offering through the end of this year.