Located directly across from San Francisco (via the Golden Gate Bridge), Sausalito offers breathtaking Bay Area vistas and a small-town vibe just 25 minutes from downtown by car. From cycling along the shoreline to sampling some of Northern California's best wines, here's how to spend a weekend in this picturesque Pacific Northwest getaway.
What to Do
One of the best ways to tour Sausalito is by bike. Head to one of the many bike rental shops in town -- we liked Sausalito Bike Rentals & Tours -- and rent by the hour. The folks there will provide you with maps and tips for self-guided tours of the area, including the four-mile ride to and across the nearby Golden Gate Bridge (which we highly recommend). After all of the biking, you'll work up an appetite. Return your bikes, and make your way to the Sausalito Bakery & Cafe for light sandwiches and salads, which you can enjoy from the cafe's outside patio or across the street, overlooking the bay and downtown San Francisco.
Another nice way to start the day is by renting a kayak or a stand up paddle board from Sea Trek Kayak & SUP and setting out onto the bay. If you don't have much experience paddling in an open body of water, sign up for one of the company's many classes and take a guided tour of Marin County's shoreline. If you would rather let someone else do the paddling, then hop on board a ferry from the Sausalito Ferry Terminal in downtown; it stops at various San Francisco piers, including Fisherman's Wharf, where you can spend the afternoon hanging with the noisy residents of Seal Island.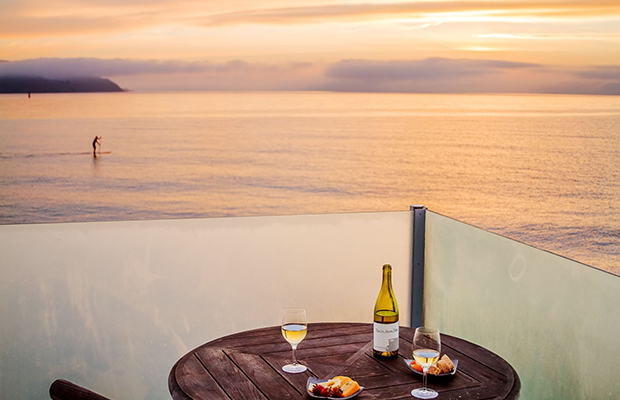 Afterward, head to the Napa Valley Burger Company on Sausalito's main drag for one of the 14 varieties of half-pound burgers. Standouts include the half-chorizo, half-ground beef with habanero cheese, and a burger with braised mushrooms, parmesan cheese crisp, and basil pesto aioli. Pair it with a glass of one of the dozen California wines on tap. Spend the rest of your weekend strolling through the shops and restaurants downtown. Stop at Bacchus & Venus, a tasting room and art gallery. Order a flight of local Northern California wines, and ship a few bottles home to sip post-vacation. Cap off the weekend with a bowl of clam chowder, fresh Dungeness crab, and live music at The Trident -- the former San Francisco Yacht Club turned local seafood restaurant, with stunning views of the bay.
Where to Stay
Sausalito's small-town charm can come at a hefty price, but there are a handful of quaint waterfront accommodations with rooms starting in the $200 to $300 per night range. If insanely cute coastal-themed rooms, and views of the bay area, are a must for your visit to Sausalito, check out Casa Madrona Hotel & Spa or The Inn Above Tide. Both are located on the waterfront in the downtown area, so they come with amazing views and proximity to the main attractions. If you're looking for more affordable lodging options, Airbnb might be the best option. The large selection of home stays includes unique accommodations (like house boats!), located a short walk from just about anywhere in town.
Getting There
Traveling to Sausalito is relatively simple and can be done without renting a car. From San Francisco International Airport, hop on the Marin Airporter Bus which runs from 5 a.m. to midnight every day, with buses departing every 30 minutes. The ride is $20 per adult and drops you off about a five-minute taxi ride from downtown Sausalito. Visitors can also hop on the BART subway system, which stops just outside of the Ferry Building in San Francisco. Depart the BART and hop on the ferry for Sausalito, which will take you right into downtown Sausalito.