Since the fall of the Wall in 1989, Berlin has more or less become synonymous with the alternative lifestyle. It's one of the original poster destinations for hipster appeal -- there are approximately 464,000,000 Google hits for "the next Berlin." And while uber-trendy travelers might think that the city's beyond its vogue prime, the reality is that its alternative hubs have simply shifted, as they tend to do, over the years.
Henrik Tidefjärd -- founder of private tour company Berlinagenten and guide to stars like Tara Reid -- explains that the cool kids first made the Prenzlauer Berg district their underground playground. From there, they moved on to Kreuzberg and then neighboring Friedrichshain. These neighborhoods have progressively gotten more interest and better infrastructure; it's now Neukölln that the indie locals are wanting to keep under wraps.
Focusing on the last three neighborhoods, here's a guide to where to go underground in East Berlin, from the classically alternative hotspots -- if you can accept that oxymoron -- to the relatively off-radar watering holes.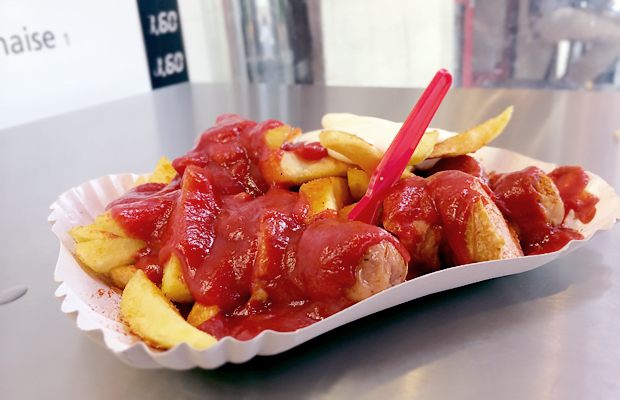 Kreuzberg
This one's for the foodies. Thursdays are the official street food nights at Markthalle Neun, where hungry wanderers can fill up on international eats like Taiwanese pork belly buns, quench their thirst at a gin bar serving homemade tonic, and munch on typical food hall treats like cheese, charcuterie, and chocolate. The space becomes a more traditional market on Tuesdays, Fridays, and Saturdays, though you'll find a handful of food stalls on those nights, too. For sit-down service, bring a group to enjoy the tapas-style German dishes at Kantine Kohlmann. And there's no excuse for skipping Curry 36 -- a cult favorite for currywurst since 1981. We suggest getting your brats "pommes schranke," or with fries, sweet ketchup, and mayo.
Friedrichshain
Friedrichshain may be known as party central come nightfall, but we were most taken by the fantastic daytime shopping. You can spend a few hours browsing the small storefronts along Grunberger Strasse and Wuhlischstrasse, between Boxhagener Platz park and the main road (Warschauer Strasse), and the streets that branch off from the area. A few of our favorites include Temper, a barely 10-month-old boutique offering beautiful, minimalistic clothing at affordable prices -- think: handmade dresses under $95. Coexist has all manners of patterns, bold colors, and sparkle, while Ruth Tut Gut is worth a visit just for the experience of entering the store by climbing through the window.
For noshing, the Sunday market at Boxhagener Platz park serves up everything from grilled fish to Italian dumplings to Turkish borek (and is a good place to pick up cheap trinkets to boot). Just off the park, Macondo is a welcoming dive that's as good for cafe snacks as it is for cocktails with locals, and its young bartenders are a friendly, lively bunch. You'll find more options up and down Simon-Dach Strasse, the main drag for restaurants and bars.
Neukölln
While Neukölln's various neighborhood spots are certainly making the local hot lists, the district remains the least commercialized on this list -- making it one of the best areas to imagine that you aren't a tourist. To rub elbows with the locals, head over to the former Berlin Tempelhof airport, now a public park where residents picnic and fly their kites in fair weather. We hear barbecues are all the rage in the summer and that, if you're lucky, you might even see a Turkish family roasting a whole sheep on the field.
Get a further glimpse into Neukölln's cultural diversity and immigrant history at the Turkish market -- a canal-side market where locals actually take out their carts and do their shopping on Tuesdays and Fridays. Here, there's lots of discounted household goods, produce, fish and meats, and fabric and clothing in addition to Turkish pastries and other noshes. (And, yes, fans of Turkish tea can get a tulip cupful too.) While you're here, take the chance to stroll along the Landwehrkanal and enjoy the live music along the banks on the weekends.
Bonus: Excursions in Mitte
We'd be remiss not to mention a few quirky, though perhaps glitzier, adventures in the neighborhood of Mitte -- where historical landmarks like the Reichstag building and Holocaust memorial mix with a slew of trendy restaurants, shops, and entertainment. Get the best of both historical and modern worlds at STUDIO by Tim Raue, a restaurant sitting directly on the former Berlin Wall trail that adds a refined twist to traditional German dishes. One of the hottest openings in the neighborhood is Crackers -- a "hidden" restaurant-nightclub hybrid tied to much-hyped venues like the former club Cookies and vegetarian restaurant Cream. In the evening, Chamäleon theatre welcomes some of the most avant-garde shows in town, while the Ritz-Carlton's Fragrance offers a trippy experience in which guests order cocktails by selecting their favorite from the bar's perfume collection.
A Note About Street Art
In most of Berlin, you'd be hard-pressed not to find amazing street art in any neighborhood. That said, Friedrichshain is arguably the most famous for it, as the home of the East Side Gallery section of the Berlin Wall. Nearby, what used to be a food hall known as Neue Heimat is one of a cluster of buildings covered in paint. There's lots more art, often with political overtones, to look at as you cross the Oberbaum Bridge back into Kreuzberg, and in Mitte the Jewish Quarter (Scheunenviertel) is a good bet for finding Instagram-worthy murals. No matter where you are, be sure to keep an eye out and your camera at the ready -- all the street art that you see on the way to all the above spots are a defining element of Berlin's personality.
Getting There
Among the major carriers, OneWorld member Air Berlin often offers some of the cheapest flight options between the U.S. and major German hubs like Berlin and Dusseldorf. From March through June, we found $849 round-trip fares between New York and Berlin, via the special offers search engine -- compared to the low-$1,000 tickets on competitor Lufthansa. (From San Francisco, we found $897 flights in May, August, and September on Air Berlin.) From time to time, the airline also runs sales for its full-flat business class seats, with prices as low as $2,600 round-trip.
We love that, no matter which class you're flying, all passengers enjoy amenity kits with the essentials: eye mask, socks, toothbrush, and toothpaste. The airline's recently updated entertainment systems are modern, with touchscreens and audio jacks that will work with your regular earphones (headsets are complimentary if you don't have your own). But our absolute favorite feature? The USB port at each seat that hooks up to the entertainment system and, more importantly, gives your devices a battery boost.
From the airport, it's approximately an 8-mile (13-kilometer) drive to Kreuzberg, taking 25 minutes without traffic. Public transit takes only 10-15 minutes longer; three buses depart from the airport (128, 109, TXL) and connect to various metro lines.