These days, everything in Las Vegas seems shiny and new. For every building that's knocked down, a luxury property rises from its ashes. Luckily, there's still some old-school charm left in Sin City, where a few institutions still stand and traces of the Rat Pack linger. Head to Downtown Vegas, where a handful of these colorful characters have stood the test of time -- dotting the slower-moving streets with classic hotels, coin-operated games, and back-in-the-day dining. Here, our guide to old-school Las Vegas.
Where to eat
You can find shrimp cocktail on nearly every menu in Las Vegas, but no place is more iconic as Du-par's, the 24-hour coffee shop in the Golden Gate Casino that's been dishing out the low-priced "best tail in town" since 1959. Our waiter told us that he sells so many of these dishes that he, "makes 'em in his sleep."
Come dinner, head to The Golden Steer -- a classic steak joint in an unsuspecting strip center off Las Vegas Boulevard. Pay no mind to the dusty location; this place has been serving some of the best cuts of beef since 1958. Sinatra, Elvis, Ali, and DiMaggio have graced the red leather banquettes, manned by the spiffy tuxedoed staff. And while not super-old, Casa Di Amore is beloved by locals for it's wily atmosphere and decent Italian food. Go for the old-school lounge show where you'll hear everything from show tunes to Al Green. Plus, they'll scoop you at your hotel up in a limo -- for free.
Where to drink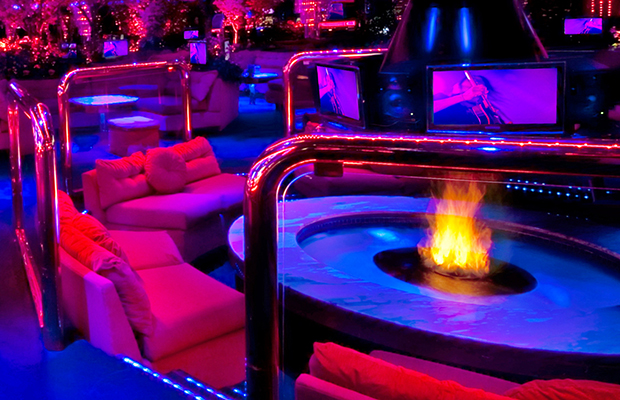 The 24-hour Fireside Lounge at the Peppermill Restaurant has been doing neon kitsch since 1972. The bright pink, purple, and blue colors, faux trees, and circular water fire pit are a staple for tourists and locals in Vegas. Go for happy hour to snag a seat at the pit and sip martinis in the spot that Sharon Stone and Robert De Niro lounged during the filming of Casino.
Where to play
Book it to the second floor of the D Hotel, devoted entirely to vintage slot machines. The owner of the casino purchased a large amount of machines from the now-shuttered Riviera Hotel in 2015, paying homage to the classics. Don't miss the quarter Sigma Derby races -- the only coin-operated game offered in Vegas.
For non-gamers, a spin around the world-class The Mob Museum downtown takes you back to the city's sordid past when hotels were run by the mob -- just 30 years ago, actually. Located inside the former federal courthouse, the museum boasts 16,000 square feet of exhibition space that spans three floors. The museum is one of the last remaining historical buildings in Las Vegas.
Where to sleep
Rest your head at the Golden Gate Hotel & Casino. This ultra-historic hotel has been standing since 1906, claiming status as the city's oldest casino in town. While the bones have been kept intact (don't miss the Prohibition Bar), the rooms received a 15 million-dollar renovation in 2012, adding 14 suites and two showgirl-themed penthouses. It's a steal considering that regular rooms start at just $21 on weekdays and suites can be found for $59.