Paris may get all the glory, but France is filled with many angles for travelers that lie outside of the City of Lights. History buffs can easily fill two days in Normandy (the site of of the D-Day landings in 1944 during World War II), while winos can sip centuries worth of viticulture and oenology knowledge, in both in Champagne and the Loire Valley. Come summer, the southern seaside towns of Marseille and Côte d'Azur welcome locals and tourists alike. 
Where Is France?
France is located in mainland Europe (just north of Spain and immediately west of Germany). Italy touches the country on its southeastern side. While most U.S. travelers fly into Paris (via Paris Charles de Gaulle Airport, Europe's second-busiest airport), you can also find direct flights into other regions of France by first landing in a European city, such as Madrid, Spain; London, England; or Frankfurt, Germany.
What Is the Currency in France?
Since 1999, France has used the euro as its main form of currency. This can make a traveler's experience quite easy if bundling several European countries into one trip — that is, provided the other destinations also use the euro. 
Tipping in France
Let's start with hotels. Just like in the U.S., there are suggested tipping guidelines for bellhops (two euros per bag) and housekeepers (two euros per night). Dining out is where tipping tends to differ. In France, a 15-percent tip is typically already built into the bill as a service compris (service charge). It's not required to tip more, but if you received exceptional service, tack on an extra five to ten percent. For a cab driver, tip between five and ten percent of the total fare.
Which Side of the Road to Drive on in France
In France, cars drive on the right side of the road (just like in the States), which makes the process of renting — and driving — a car that much easier.
Planning Your Trip to Paris
With an easy-to-use subway and bus system, and a city accustomed to tourism, Paris is among the simplest of European cities to navigate. Consider traveling in spring and fall, when there are fewer crowds and the temperature is mild (not stifling hot nor cool and windy). Definitely pack comfortable walking shoes. Don't worry about conversing with locals if you don't know French, as many Parisians can speak and understand English. That said, try to learn the basic phrases before your trip.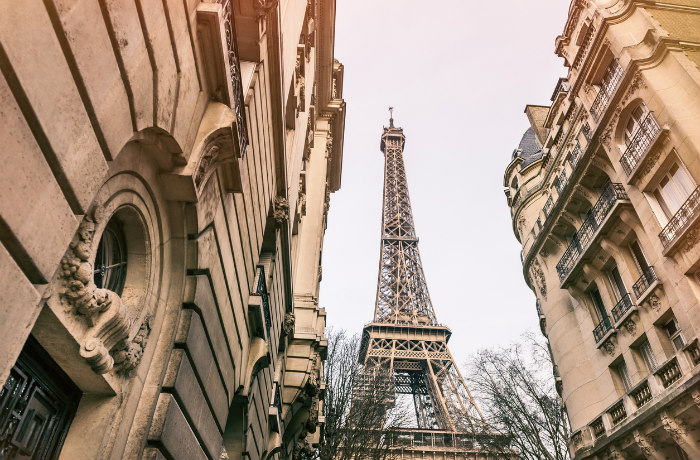 Things to Do in Paris
From Rodin's bronze sculptures in a lush garden setting to centuries-old monuments like Sacré-Cœur and Sainte-Chapelle, a trip to Paris is a fun, immersive lesson in history. Neighborhoods in the French capital city are vibrant and hum with arts and culture, plus food and drink. Despite this being the country's largest city, green spaces are not hard to find, including Jardin des Tuileries. Fortunately, there are several chic markets to pick up a baguette and fromage (that's "cheese" in French)  to enjoy for a big-city picnic.