While most people know about kimchi and Korean barbecue, the food offerings in South Korea are are incredibly diverse, and go far beyond these standard dishes. The best news for travelers? Some of the best options can be found on the streets rather than the restaurants.
From dried fish chips and meat-stuffed pancakes to massive ice cream cones and waffle sandwiches, there's a snack for every taste and time of day. Seoul is a nearly endless parade of cheap, delicious, and portable food made for eating on the go.
Here are nine of the most delicious street food options to search out on your trip to Seoul. The best places to find them are in and around Insadong, a traditional area filled with antiques shops and teahouses, as well as other neighborhoods such as Myeong-dong, Jongno-gu and Samcheongdong.
Hotteok In Insadong, at an intersection about halfway down the main street, you'll smell these sweet, doughy treats before you see them. There's almost always a small crowd gathered around the corner stall where a team of three people turns out one of the most coveted hot snacks with assembly line efficiency. These are hotteok (or hodduk), a donut-like snack made of flour filled with sugar and ground peanuts and sesame seeds. Slightly crisp and golden brown on the outside and soft, gooey, and piping hot inside, they cost about a buck and make a great snack or breakfast.
Egg bread
Egg bread, an oval-shaped piece of dense and slightly sweet bread (the consistency is almost reminiscent of cornbread) with a fried egg on top, can found at vendors all over the city. For a unique variation, look for the stand in Insadong, where the sign proudly proclaims (in English) that it's the only one that uses cheese in its version of the. The snack costs about $2.50 and is served hot off the grill.
Bungeoppang and Poocakes
Don't let the shape of these snacks fool you. The fish-shaped bread is filled with a sweet red bean paste – not fish.  The treats are extremely popular in winter and are made in a contraption similar to a waffle iron. The bread mix is poured in first, topped with the red bean paste, and then topped off with more mix. A dollar usually gets you three to four little fish cakes.
A similarly misleading snack is known as the "poo cake." Filled with mild red bean paste, the crispy batter is pressed into the shape of, well, a cartoonish pile of poop. You can find these sold from a cart in Insadong (and elsewhere around the city) for about one dollar.
Skewered meat and fishcakes
Koreans are known for their love of spicy food, so if you're craving something spicy, look for a food stall serving grilled meat skewers (usually chicken or beef), with a variety of sauces that range from mild to three-alarm-fire spicy. Many also serve fishcake, sausage, or crab that's encased in fried fish paste and topped with mustard and ketchup, or odeng, a fishcake that's been boiled and skewered. (Odeng is popular in winter and often served with hot broth.) These range from 50 cents to $1 for the odeng to $2-$3 for the fishcake or the meat skewers.
Barbecue
The most famous of Korean foods, barbecue is also one of the best and is served in every corner of the city. One of the most unique ways to enjoy it is also one of the least expensive: at a pojangmacha, or pop-up tent restaurant. The tents are simple affairs: seating is on plastic stools, tabletop grills are fashioned from metal drums, and there's usually only one thing on the menu. Head to one selling barbecue pork and you can expect tender and flavorful meat grilled and served with mushrooms, kimchi, lettuce, spicy bean paste, and bean and sesame powders. Order a few rounds of beer and soju, a rice liquor, and you'll leave happy and satisfied for about $15 per person. Pojangmachas can be found throughout the city; my favorite was near the Jongo 3-ga station, down an alley across from the Lemontree hotel.
Tteokbokki
Tteokbokki is one of the most-consumed dishes in Seoul. Once the favorite dish of the Korean royal court, it was originally made with white rice cakes, meat and veggies, and soy sauce, and was very mild in flavor. This version is still served but nowadays it's more common to see the spicy version. You can find both varieties at restaurants (generally for $10-$15 per dish) or for a cheaper introduction to the spicy tteokbokki head to the street stalls, where the chewy rigatoni-shaped rice cakes are served in a red pepper sauce, often with fish cakes.  A filling bowl from a street vendor will cost about $3.
French-fry-encrusted hot dog 
Perhaps the only thing better than a deep-fried hot dog (which you can also find in Seoul) is a hot dog coated in deep-fried potatoes. They're called tokkebi hotdogs, after figures that Korean folklore says carry magical spiked clubs to cast spells. The shape of the hot dogs do resemble spiked clubs, but there's nothing sinister about the snack – except, perhaps, for its calorific value. Pick one up for around $3.
SchneePang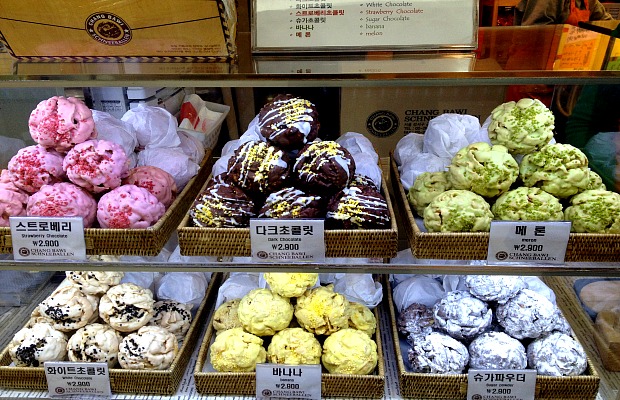 This German snack (called Schneeball, or snowball, in Germany) has made its way to Seoul, where it's sold at numerous locations in subway stations. The Korean version is made of fried dough in various flavors like strawberry, chocolate, banana, or green tea. It's coated in chocolate, sugar, or nuts. After purchase, you'll be given a small wooden mallet to help break the ball into pieces. The SchneePangs cost around $3 and are large enough to share with friends.
Potato Tornadoes
You might have seen these twirly sticks of potato at state fairs or other food festivals in the U.S., but they originated in Korea. Deceptively simple, they're made from a single potato cut into a spiral with a special machine. Once the potato is cut, it's threaded onto a long stick, lightly coated in batter, fried, and handed over to you still crackling from the hot oil. Once the potato is in your hand, you can dust the spud with your choice of toppings – such as cheese, garlic, salt, or spices. They cost $3 each or two for $5 in Insadong. Some stalls even take the tornado to the next level, wrapping the fresh-cut potato around a hot dog.