Hotels and hideaways have long provided a great base and an idyllic backdrop for romance, illicit or otherwise. Once in your own private oasis, away from the demands of everyday life, romance is on the rise, and senses are easily aroused. Whether it's a romantic rendezvous, a destination wedding and honeymoon, or an anniversary, we found six top notch properties – one for each of the senses (the sixth included).
SIGHT: Aman at Summer Palace; Beijing, China

If you were in search of a palatial Asian estate to call your own, look no further than Aman at Summer Palace. This picturesque property away from Beijing's bustling city center is adjacent to the 250-year-old World Heritage site, The Summer Palace. The stunning aesthetics and design are a mix of original dwellings used for guests of the Summer Palace at the turn of the 20th century with Ming Dynasty-inspired design, recreated to seamless perfection.
After a week of touring in China's must-see cities (Beijing and Shanghai), retreat for a few days to an exclusive deluxe or imperial suite with private spa treatment rooms, enclosed internal courtyards, spacious bathrooms with island bathtubs, private dining areas, and bedrooms with a four poster bed and a Ming-style armoire.
Venture out into the lush, luxury property; it's so vast and expansive you'll feel you have it all to yourselves. There are several corners to tuck away in for romance, reflection, or to simply read a book while basking in the sun and otherworldly setting.
The spa is an Asian oasis with traditional and holistic offerings. Be sure to explore the world class culinary offerings in the Chinese, Japanese, or Western restaurants or in the peaceful and romantic Reflection Pavilion overlooking the pond.
Succulent signature cocktails are meticulously prepared at the bar. The expensive wine cellar was created with a clientele of world-class collectors in mind and is sure to please the most discerning of palates. This palatial property was designed for rest, relaxation, and an unrivaled sense of romance.
To book: It's easy to see why Condé Nast Traveler and Andrew Harper have raved about Aman at Summer Palace. To book, email info@amanrsots.com, call 011-94-777-743500, or visit the resort's website.
SMELL: The Palomar San Diego Hotel; San Diego, California
As you drive in to San Diego, the beach's salty, seductive sea air beckons. Before you dip your toes in the nearby sand, slink in to the doors of the newly opened Hotel Palomar San Diego, a Kimpton Hotel with an Asian influence in the heart of downtown San Diego.
This chic boutique property is a super sexy offering, different than anything else in old town San Diego. Reserve room for romance in one of the 161 rooms or opt for one of the three expansive penthouses, which display both city and sea.
For the evening's appetizer, start with a visit to Palomar's Se Spa, where you enjoy a mutual Moroccan Rasul that will last for hours and have you shrouded in smooth, silky mud. Or perhaps reserve the private suite, Studio Sutra, designed for couples. Go for a Body Double massage or Puja Ritual, a couple's massage and an aromatic candlelit soaking tub for two.
Now take your voracious appetites to Saltbox, the signature restaurant and an elegant twist on the gastro pub. Expect farm-to-table cuisine with perfectly paired prohibition era cocktails. Saltbox has one of the best rum and tequila menus in all of San Diego, with an extensive list of both.
Finish your evening relaxing in a starlit cabana with an intoxicating classic cocktail in the Rooftop Bar & Lounge. Then it's sweet and sexy dreaming with the cityscape surrounding your chic contemporary suite. In the morning, waste no time to tantalize those toes. The private luxury car service will scoot you right to the water's edge.
Once there, rent a bike to take you across the water to Del Coronado and to the famous Hotel Del, where Some Like it Hot was shot. This iconic spot is a great place to grab a waterfront wine or a romantic meal. If wanting to break a sweat, hike the picturesque peaks at Torrey Pines State Reserve. Or you could always opt to never leave the Palomar property. Now that's hot.
To book: Take advantage of the Urban Renewal package, which includes a $50 credit on property. AAA members always get 20 percent off of the best available rate, based on availability. Call 619-515-3000 or email info@hotelpalomar-sandiego.com to reserve.
TASTE: Cour Des Loges; Lyon, France
International foodies have long been drawn to Paris and to the French countryside for France's famous food and wine. What many people don't know is that Lyon, the second most populated city in France, second only to Paris (and also known as the Little Paris) is France's culinary capitol. So, if looking to take your love of food and each other to another level, the sensuous city of Lyon is simply a must for a romantic, foodie-infused rendezvous.
Set in the Rhone Alps region of France and near Beaujolais and Côtes De Rhone, two of Frances's most prominent wine regions, Lyon has all the seduction, art, and architecture of Paris yet it comes in much smaller package and at a slightly slower pace. In essence, it is a slice of French heaven with a definitive foodie and wine twist.
Once in Lyon, check in to the chic boutique hotel of Cour Des Loges set in the heart of Vieux Lyon, the historical Renaissance District or the 5th Arrondissement of Lyon. Surrounded by cobblestone streets, medieval architecture, boutiques, bistros, and a bevy of brightly colored buildings, Cour Des Loges is an architectural gem comprised of four beautiful and meticulously restored Renaissance buildings.
As one of the Small Luxury Hotels of the World, Cour Des Loges is a very unique offering that recalls an earlier time. The property is a seamless mix of classic and contemporary design, with romantic alcoves and nooks, modern tapestries, a glass atrium, a garden, wine cellar, Turkish baths, and an indoor swimming pool.
No two rooms or suites are exactly alike. French artist Herve Thibaut used Venetian opera houses to inspire his design for a few of the junior rooms and suites, while other suites were designed with the working artist or photographer in mind. You will feel like you are not only sleeping with the artist, but as the artist in a studio from the early 20th century. If this doesn't stir the artistic taste buds, nothing will.
The small mezzanine rooms are proof positive that best things in life often come in small packages. This jewel box of a room comes with a French style ceiling, an attic bedroom, and a bathtub with a Mullion window overlooking the busy, cobblestone streets below. You could get lost in a bath of bubbles for hours.
This room immediately screams for romance. One can only hope for rain and a reason to never leave.
To book: Love is in the Air Package, good through March 21, 2012, offers one night with breakfast, a half bottle of Salmon Champagne, and free access to the relaxation area (indoor swimming pool, sauna, and hammam). Room rates start at 339 euros a night (about $462), per couple for a classic room and run up to 459 euro per night, per couple (about $652) for junior rooms and suites.
Call 011-33-4-72-77-44-44 or visit the Cour Des Loges site.
TOUCH: Feynan Eco Lodge, Jordan
Before or after a trek to Petra, slip in to Feynan's Eco Lodge, one of Jordan's many gems set in the heart of Wadi Feynan. If the dusty, rugged ride into the rustic, eco-chic lodge doesn't slow the pace, the sunset walk through the pristine quiet canyons capped off with herbaceous sage tea, served over an open fire by local Bedouins is sure to beckon a new rhythm, soothe the soul, and immediately fill you with that otherworldly feeling.
The level of integrity at this arabesque lodge is unprecedented. Feynan's recycling, composting, and solar-powered panels are but a few of the initiatives put in to place to create an idyllic space with as little impact to the serene surroundings as possible.
One doesn't have to be eco-savvy or even aware to simply enjoy the seductive immersion into this soul-sating place, lit on the inside solely by a stream of goatskin-covered candles and outside by an endless blanket of shooting stars. It's one of nature's greatest cinemas.
Enjoy an organic dinner on the outside terrace with a candlelit hill before you. The staff perfectly places candlelit bags in the hills to create the look of a quintessential twinkly city in the desert, a very evocative image.
Opt for a sweet sleep in your candlelit room or in the open Jordanian air on the lodge's rooftop, which can be arranged by the attentive staff. You'll leave clicking your sandy desert feet saying, There's no place like Feynan. There's no place like Feynan.
To book: Feynan Lodge has been touted one of the world's top eco-lodges by National Geographic Adventure magazine and has won countless awards worldwide. Deluxe rooms start at a mere $115. Call 011-962-6-464-5580 or go to the Feynan site to book.
SOUND: Blancaneaux, Belize
If it's jungle love, seaside seduction, or flirting in the rain that you desire, look no further than Belize, one of the Caribbean's hottest honeymoon spots. With the fall in the dollar, Belize is also one of the best travel investments the two of you can make together. It will blow your mind without blowing your joint bank account.
Set on the east coast of Central America, bordering the Caribbean Sea to the east, Mexico to the north and Guatemala to the west, Belize's landscape and culture are rich, interesting, and incredibly diverse. It allows you to immediately get off the grid and into a romantic setting.
As you walk in to the lobby bar of the Blancaneaux Lodge, high in Belize's Mountain Ridge Reserve, the only sound you will hear is the familiar hum of the fan from above - the same fan from Francis Ford Coppola's Apocalypse Now. Coppola's dramatic direction is seen in every detail of his exotic oasis, set in the heart of the forest.
There's a brilliantly thick thatched roof set high above the outdoor/indoor living room of your jungle villa that will capture the rain while you capture the magic overlooking the rapids, the waterfall, and the lush mad mix of palm and pine before you. It's a very tough spot to leave. So don't.
If and when you do venture out, hit local Mayan ruins at Caracol on the edge of Guatemala or go for a canoe ride at Barton Creek Cave, where you'll be convinced you are in a vintage Disney movie with a pitch black, crystal-filled cave and very high ceilings with twinkly crystals hanging from every inch.
Once back at Blancaneaux, arrange for a massage for two in your private open air villa. As you drift away in to a deep sleep, all you will hear is the rushing waterfall in the villa's background.
Your butler will arrange for a candlelit feast, a fusion of Caribbean and Italian, an inspired menu meticulously created by Coppola himself, served in your villa. This of course will be paired with a mix of fine Coppola wines and an unrivaled sense of romance.
To book: Blancaneaux, a part of the Coppola resort portfolio, has been touted one of Central America's best honeymoon destinations and one of Travel & Leisure's "World's Best." This Coppola Resort offers a tasteful mix of cabanas and villas. Rates vary between peak, winter, and summer season, which offers a wildly considerable break in rates. Call or email to inquire on rates and deals; 800-746-3742 or  info@Blancaneaux.com.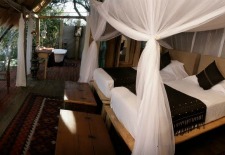 SPIRITUALITY: Sindabezi, Zambia
Zambia, coined the real Africa, delivers real romance in many forms. After a flight to Livingstone, grab a private transfer to sister property Tongabezi, where you catch a private boat ride across the flood plains of the Zambezi River to the idyllic private island of Sindabezi. The local island staff will warmly welcome you to this luxury lodge with a dinner and a dance at the property, which is romantically lit by candles and hurricane lamps.
This luxe bush camp has five well-appointed, open-thatched cottages overlooking the water complete with bear claw bath tubs and a soul-sating silence and a background surround sound of the wild, big five, and otherwise.
Dining can be arranged in or near your chalet, with a planned picnic on a nearby private island, on a boat or on a floating dock where you'll enjoy sumptuous African wines and a fresh, locally sourced, pristine cuisine, perfect for the health-conscious traveler with a flair for food.
Thrill-seekers can paraglide, fly over nearby Victoria Falls by helicopter, or simply live like an African King and Queen on property. We're told another private island right off the remote Sindabezi is in the works with just one inspired honeymoon suite on site. It's good to be King.
To book: Sindabezi has several offers that include sister property Tongabezi, other bush camps and safaris in Botswana. Opt for the Bush and Beach Package, which includes one night in Tongabezi, two nights in Sindabezi, six nights in Norman Carr safaris and three nights in Kaya Maya in Lake Malawi. Email reservations@tongabezi.com or call 011-260-213-327450 book.
Use our Travel Search price comparison tool to find the lowest rates on flights, hotels, packages, and more travel deals.