No one respects and appreciates the inventors of SkyMall products more than I do. Simply having a brilliant idea is not enough to be enshrined in the annals of SkyMall lore. It requires dedication, hard work, and the willingness to solve problems that no one knew they had until they were told that those problems were a real thing. When choosing which products to feature as part of SkyMall Tuesday, I seek out those inventions that are on the cutting edge of innovation and design. Most are as close to perfect as something created by mere mortals could possibly be. That's why I rarely offer suggestions for improving on them. Just as I would never tell Michelangelo how to paint, instruct Leonardo on his designs, or coach Donatello on what to do with his boring bō staff, I prefer to avoid intruding on the creative process of the SkyMall masters. However, this week, I cannot bite my tongue. It's incredibly frustrating when a product is so close to greatness and stops short of reaching that summit. So, this week, allow me to nitpick about the Custom Pet Canvas.
Look, pet portraits are great. That's undeniable. Who doesn't enjoy cats and dogs in period clothing? It's a no-brainer. So why am I complaining? Well, let's start with the product description:
Double takes will abound when your dog or cat is posed as a 17th century noble.
Sounds great. Except that it's just your pet's head. If  someone tell you that "your dog or cat is posed," then you expect all parts of your animal to be posed. A closer inspection of the image shows human hands! Where are the paws? Why did they have to make this creepy?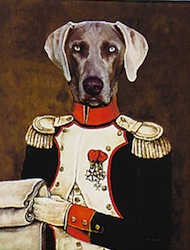 Additionally, there are only two costume options. The female gown, which you see above, and the militaristic male (pictured left) who, based on the design of his epaulets, appears to be from the 18th century rather than the 17th (another error which this writer cannot overlook). Two clothing options is hardly enough when dealing with pets of various backgrounds, personality types, and species. Surely the upper crust of 17th century European society varied their garments based on the occasion. This needless limitation on creativity is stifling at best and an abomination at worst.
Beyond the human hands and restrictive wardrobes, there's the matter of size. The canvas measures 8" x 11". That's nowhere near large enough truly celebrate the grace, nobility, and elegance of your pet. It would look simply miniscule above the fireplace mantel. These portraits deserve to be measured in feet, not inches. It's a travesty.
When you're attempting to achieve immortality, be it for your pet or your product in SkyMall, half measures will never suffice. Greatness is achieved, not given.  Sadly, the creators of the Custom Pet Canvas felt that their idea would do all of the work for them. In reality, ideas need to be lifted up.
Dream big but act bigger, people.
Check out more SkyMall Tuesday posts.