When I told family and friends I was traveling to Wyoming in the dead of winter, some were overtly envious, and others thought I needed to have my head examined. But, I went prepared with hand and toe warmers, sweatshirts, multiple pairs of gloves, a winter hat, Under Armour, and my bathing suit. (Wait, bathing suit?)
I landed in Jackson Hole, Wyo., and was immediately met by my driver, Bill, who chauffeured me to Togwotee Mountain Lodge, located in the midst of the scenic Bridger-Teton National Forest. After settling into my rustic one-bedroom cabin, I decided to get some shut-eye because I had a long (but incredibly fun) two days of snowmobiling through the Wyoming wilderness ahead of me.
Before I exposed myself to the frigid temperatures, Togwotee Snowmobile Adventures (a subsidiary of Togwotee Mountain Lodge), made sure I was appropriately dressed. They provided me with gloves, an insulated winter jacket, boots, a snowsuit, as well as a helmet – everything I needed to ensure my excursions were safe and enjoyable.
I had never ridden a snowmobile before, so I was a little anxious and excited. However, my informative guide, Jason, and my newly-made comrades from Greenville, S.C., assured me I would be just fine. All suited up and raring to go, I hopped on my sled and played "follow the leader" through the dense forest full of ubiquitous beauty. Our destination? Granite Hot Springs. This natural spring, which reaches a toasty 112 degrees during the wintertime, is located in the middle of the mountains, surrounded by towering pine trees covered in fluffy snow.
We all slipped into our bathing suits in our respective changing rooms. The changing facilities are just a communal area, so if you're a little apprehensive about giving everyone a peep show, I recommend going to the hot spring with your bathing suit underneath your gear. And, since this hidden water feature is in the middle of pristine forest, the changing rooms are not heated.
I tiptoed
barefoot from the changing room, down the snow-packed steps, and sauntered into the hot spring. I chatted with amicable South Carolinians as we soaked our bodies, and listened to the warm water trickle into the pool – all amid a stunning snowy backdrop of mountains, pine trees, and boulders. After I took my new-found friends' advice to frolic in the snow and then jump back into the hot spring to experience the tingling sensation, we left the secluded winter wonderland, zooming past dog sleds, waterfalls, and iced-over rivers.
We concluded our outing with a delicious, finger-licking lunch at Mill Iron Ranch. As soon as I read the sign "Park'n" posted in front of the restaurant, I knew this bona fide family-run ranch would be sure-fire place to taste some authentic Western game. And it was. But when you go, don't expect to be waited on hand and foot – this rustic eatery takes your order at the door, and once your chicken or steak is cooked just how you like it by rancher Chancy, they'll strike the triangle. That's your cue to grab a paper plate, some chips, and Chancy will plop the meat right on there for you. Prior to the main course, you'll receive soup and salad.
Not long after finishing my meal, my friends from South Carolina convinced me to stay for a while and go on the famous Mill Iron Ranch sleigh ride at dusk. With regal horses toting the sleigh, I toured the ranch as Chancy (who had the best handlebar mustache I have ever seen) gave us a brief history. This event is very popular during the holidays, but if you wait until mid-January you can miss the crowds (there were only about 10 of us on the sleigh). After the ride, and even though I was still full from lunch, I enjoyed a hearty T-bone steak dinner back at the restaurant complete with corn on the cob and a baked potato.
For day two of m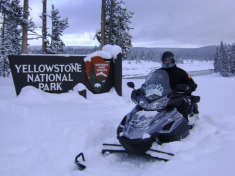 y trip, Togwotee Snowmobile Adventures scheduled me to tour Yellowstone National Park with my guide, Matt. Winter is a magical time in Yellowstone National Park – and there are only two ways to savor its perpetual splendor: on a snow coach or on a revving snowmobile. The famed park only permits 318 snowmobiles to enter each day (accompanied by tour guides), and with over two million acres to explore, you're guaranteed to have a much more intimate visit than you would during the summertime. 
My 90-mile round-trip snowmobile trek began at the Yellowstone's South Gate. Topping out at speeds upwards of 65 mph, I whizzed through the preserved forest, and across the Continental Divide, trying to imagine what it would have been like to stumble upon this super volcano (yes, that's actually what it is) during the Lewis and Clark Expedition. I was also particularly fascinated by the charred tree trunks from the 1988 wildfires that engulfed much of the park. They stood next to the baby pine trees that have since sprouted, serving as a constant reminder to visitors of just how powerful natural phenomena can be.
Around lunch time, Matt and I made our way to Old Faithful, the iconic geyser that has graced countless postcards and books. I waited roughly 10 minutes (with about 75 other people) for Old Faithful to spew scalding water into the chilly air. It was so worth it. Although you'll have to face brisk temperatures, you'll miss the throngs of tourists in the winter (there can be well over 2,000 people waiting for Old Faithful to blow during the summertime).
Matt also took me to see a few geothermal basins. One drawback about visiting during the wintertime is the amount of steam rising from the geothermal pools – it greatly hinders the quality of your pictures. Despite the cloudy conditions, Matt's contagious charisma and eagerness to share his passion for Yellowstone's impressive history helped me "see" just how unique our world really is.
Other highlights of my Yellowstone visit were: seeing a bald eagle, Lewis Canyon, Lewis Falls, the park's caldera, and sliding down a 30-foot snow slide to see Moose Falls. As for my let-downs of the Old Faithful tour, I didn't have an up-close encounter with bison, and I wasn't able to see other major hydrothermal landmarks such as Mammoth Hot Springs and Steamboat Geyser. If you're looking for an in-depth visit to our country's first national park, I highly recommend spreading it out over three or four days. My one-day trip to Yellowstone, although immensely gratifying, just left me yearning to see more.
Want to experience Wyoming and Yellowstone the same way I did? You're in luck! Togwotee Mountain Lodge is offering ShermansTravel.com readers an unheard-of deal that combines a three-night stay with two days of snowmobile excursions – and lunches are included! To view the details of this exclusive promotion, click here.