When traveling, it's important to stay organized and keep all of your documents and belongings stowed away in a safe, secure, and compact place. These passport holders perfectly fit the bill. Here, we round up some of our favorites, from budget to splurge. 
1. This Floral Patterned One from Kate Spade 
This leather passport holder is as durable as it is stylish. Simply throw it in your bag for easy access to all your travel essentials. Buy it now. 
2. A Simple Yet Chic Holder With a Colorful Twist
This minimalist passport holder is timeless, thanks to its neutral hue and simplistic design. It also offers a touch of fun in the form of rainbow-hued stitching. Buy it now.
3. A Sleek and Sophisticated One That's Equally Functionable
This oh-so-soft leather holder has two pockets (one for your passport and one for cash) along with four credit card slots, so there's no need to lug along a bulky wallet. Buy it now. 
4. This Luxe Leather Set From Ted Baker
You can't go wrong with this stylish, floral printed two-piece set, which includes a passport holder and matching luggage tag. Buy it now. 
 5. A Chic Bloomingdales-Themed One
Any shopaholic will appreciate this Bloomingdales holder, which pays homage to the signature Little Brown Bag lettering. Buy it now. 
6. An RFID-Blocking Passport Wallet
Protect your information and personal documents with this tech-savvy leather passport wallet, which includes three card slots and a passport sleeve. Buy it now.
7. A Colorblocked Case That'll Help You Stay Organized
Made with Italian leather, this colorblocked passport case makes a statement. It also features RFID-blocking slots and three slip pockets. Buy it now. 
8. A Splurge-Worthy Find from Thom Browne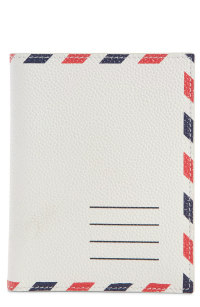 If you're looking to splurge on a one-of-a-kind passport holder that'll last you for years to come, consider this vintage- and airmail-themed one, made with Italian leather. Buy it now. 
9. A Parisian-Themed Holder You Can Score on Sale
If you live by the "Paris is always a good idea" motto, then you'll appreciate this statement-making holder that'll inspire you to book your next trip. Buy it now. 
10. A Crisp and Clean Leather Holder That's Worth the Splurge
You can't go wrong with this all-black holder from Montblanc. Plus, the buttery-soft Italian leather adds an ultra-luxurious touch. Buy it now. 
ShermansTravel uses affiliate links in this article to generate revenue. When you purchase an item after following one of these links, ShermansTravel may receive a commission. The items in this article were chosen independently by ShermansTravel's editorial team.