Asia has long been a budget traveler's paradise. In 2017, it remains one of the most affordable regions in the world to visit.
But Asia, of course, is not just for backpackers. One of the beauties of traveling the continent is there's an option for every budget. And for travelers looking to switch between several price ranges on a single trip, it's easy to mix and match dirt-cheap accommodations, eateries, and activities with middle-of-the-road and high-end options. Have bit extra to spend one day? There are plenty of choices that offer a comfortable step up without forcing you to take five. Want to all-out splurge? No problem. Need to pinch your pennies the next day? Don't worry; you can do it with ease.
Here are our favorite budget-friendly cities across the continent.
Hanoi, Vietnam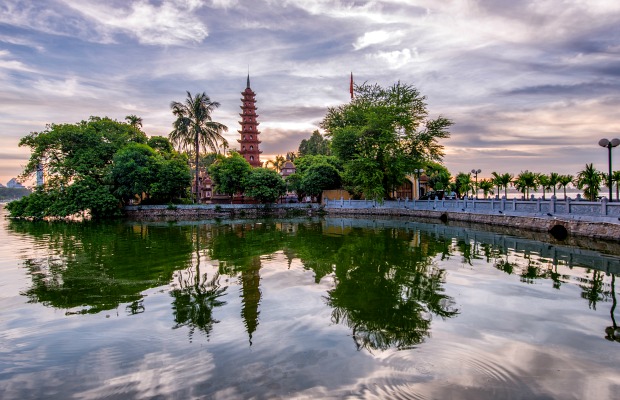 If Ho Chi Minh feels a little Manhattan, then Hanoi is a bit Brooklyn. Vietnam's capital since its reunification in 1976, the northern city is a beautiful blend of the hectic and the serene — and at affordable rates. Hotels cost as little as $10 a night, and a bowl of steaming noodles runs between $1 and $3.50.
Phnom Penh, Cambodia
From the glittering Royal Palace to the orange robes of passing monks, Cambodia's capital is awash in hues of gold. Phnom Penh may not have Angkor, but it's got energy and effervescence. If you're looking for the best budget deals, as long as you steer clear of the riverfront you'll have no trouble eating, drinking, and sleeping comfortably for less than $30 a day.
Kuala Lumpur, Malaysia
Cheaper than comparably cosmopolitan Singapore and Hong Kong, Kuala Lumpur is a modern metropolis that can be seen on a dime. You'll still get that sleek capital city feeling, but you'll save loads, especially on nightlife and shopping.
Bangkok, Thailand
Bangkok may be dirty and dense, but it's a total charmer in its own special way. From the spiritual to the commercial, Bangkok's temples, markets, and street stalls will send your heartbeat soaring with sound and spice. Stuff yourself silly with street food for less than $5 a day; then sleep it off in a budget hotel for $12 a night.
Beijing, China
Moving to a rhythm all its own, sometimes slow and other times fast, Beijing is one of those cities that feels like no other. One glimpse of the Forbidden City, Tiananmen Square, or the Great Wall, and we're pretty sure you'll agree. The endless array of things to see and do in Beijing mean one plane ticket can entertain you for months — at well under $45 a day.
Jakarta, Indonesia
Bali is where the beauty is, but Jakarta is where the buzz is. It's a grimy, smoggy place, to be sure, but the city's boldness will linger with you in a way few other things can. In Jakarta, take the bus for $0.75 a ride, sleep in a budget hotel for $30 a night, and eat heartily for $5-$10 a full-service restaurant meal.
Manila, Philippines
Because of Spanish colonialism and American occupation, not much of old Manila survives today. The city's new skyscrapers, art galleries, music venues, and bars, though, speak to Manila's resolve and resilience. Even on a budget, you can see this "Pearl of the Orient" for less than $30 a day.
Vientiane, Laos
Like Vietnam, Laos continues to be shaped by its history of French occupation. And in Laos, there is no more French feeling city, from its café culture to its colonial architecture, than Vientiane. While many of the most rewarding things to do here are totally free -- wandering, watching, wondering -- spending a little extra in Vientiane will go a long way.
Taipei, Taiwan
For a city of more than 2.7 million, sublimely strange Taipei will impress you with its friendliness and its humor. Compared to Southeast Asia and much of mainland China, yes, Taipei is pricey. But compared to Tokyo or Macau? Not at all. In Taipei, you can get a room for less than $40 a night, noodles for $3, and beer for $2.
Goa, India
Known for its sun, sand, and feel-good vibes, Goa has long reigned as India's ultimate beach area. Not actually a city, but a state, Goa is as tiny as it is accessible. And despite its tremendous popularity, it's managed to stay affordable, even for the budget conscious. You can easily see Goa for $25-$30 a day.