With a whistle and quick tap of his wooden cane, Giovanni Monchiero sends his sidekick, Lilla, off in pursuit of her pungent prize. After a few leisurely laps up and down a wooded lane, sniffing the ground as she goes, Lilla suddenly cocks her head at Monchiero before pouncing on a patch of dirt beneath a poplar. Nose to the earth, she starts to paw, gingerly at first and then aggressively until a gnarled little nugget emerges buried beneath just a few inches of sand and soil.
Despite its rugged appearance, this fungal gem can fetch upwards of $300 at market – and end up on some of the world's priciest dinner plates. We're talking about Italian truffles, of course. But, at the moment, Lilla is far more interested in an obligatory pat on the head and the biscuits Monchiero keeps concealed in his vest pocket.
The Roddi countryside that Lilla and Monchiero call home, in the Piedmont region of Italy, happens to be the hotbed for scavenging the most coveted of all fungi: the white truffle. Since 1880, four generations of Monchieros, their canines in tow, have canvassed these woods just 90 minutes outside Milan in search of a stinky edible that can transform a simple plate of pasta into something heavenly.
Each autumn, when the truffles reach maturity, thousands of eager hunters descend on the region with their empty satchels. It takes a well-trained dog, exposed to truffles as a youngster, to score the biggest bounty. For tourists hoping to experience the uniquely Italian hunt first-hand, it takes the right connections – or, in the case of guests staying at the Hotel Principe di Savoia hotel in Milan (www.hotelprincipedisavoia.com), a call to the concierge.
Located steps from the city's Stazione Centrale train terminal, the neo-classical hotel offers a truffle-hunting package in October and November that includes a chauffeured visit to Monchiero's Barot University of Truffle Hunting in Roddi. After a comprehensive morning lesson in "truffleology," guests head for the forest accompanied by Monchiero's pups. (Hint: Time your visit between October 8th and November 13th and you'll also get an insider's tour of the annual Alba Truffle Fair.)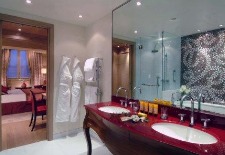 Although it requires some patience and elbow grease, uncovering that first truffle is truly a one-of-a-kind experience, which Monchiero likens to uncorking a bottle of fragrant wine: As you gently prod the nugget to the surface, its rich and unmistakable scent wafts from the earth, perfuming the air.
Back in Milan, truffle-hunters-in-training are treated to a four-course, black truffle lunch, compliments of Executive Chef Fabrizio Cadei, in the hotel's dreamy Acanto restaurant. If the weather's nice, ask to sit in the garden, complete with cozy nook seating. The hotel's 401 guest rooms are also cushy – including the 48 Deluxe Mosaic Rooms, all of which overlook Piazza della Repubblica and feature mosaic-tiled bathrooms with deep tubs perfect for a post truffle hunt soak.
See our Italy Travel Guide for more trip-planning information, then use our Travel Search price comparison tool to find the lowest rates on flights, hotels, packages, and more travel deals.