If you plan to bring your children to New York City to see the National September 11 Memorial & Museum, then there's a stop you ought to make first: the memorial's website, where a two-page tip sheet on talking to your children about 9/11 includes the important tip that "it's all right not to know the answer to every question."
But as a parent, it is often difficult to resist the urge to answer every question, especially when your six-year-old son is asking so many of them. During the subway ride to the memorial a few weeks ago, one of his first questions was "why did they fly the planes into the buildings," and remembering the advice from the tip sheet, I told him that I honestly didn't know.
Do provide some context beforehand.
When my son and I, as well as my daughters got to the site, we began walking around the North and South pools that reside in the footprints of the Twin Towers. My son soon asked if pieces of the collapsing towers had fallen into the pools. This question I could answer, and as I began clarifying the timeline for him, it dawned on me that I should have talked to him more about 9/11 before we left for the memorial, both for his benefit and that of his sisters. The girls knew more about 9/11, but clearly there were aspects of the events that they didn't know and that we had never discussed before as a family.
Allow quiet time to contemplate the pools.
Even if you do a better job than I did of framing the 9/11 discussion before visiting the memorial, it's also true that if it's your first time there, there are aspects of the experience that are quite sensory, and it is perhaps best during the first minutes of your visit to keep your mouth shut and allow yourself and your family to just take it all in. As you walk around the pools, the waterfalls quietly connect you to them with a cold mist that bathes your face. You may naturally begin running your fingers along the names of the victims that are inscribed on the parapets. And at various points you'll probably just stop and reflect on how the pools are breathtaking sights in and of themselves.
Prepare for your own emotions.
As the parent, it's okay to control the information your kids get about 9/11, especially when you're at the site, so keep in mind that it's also okay to decide that the visitor center as well as the museum (once it opens) may not be appropriate for your younger children.
For instance, the visitor center has a timeline of vivid color 9/11 images running along the wall. They also loop a film featuring family members of 9/11 victims. Both of these visual elements underscore another helpful comment from the tip sheet, which is that "you aren't immune to the emotions sparked by 9/11. Acknowledge and attend to your own reactions and feelings, your memories and connections." In other words, be prepared to get emotional when you visit and prepare for your children to see you get emotional, letting them know that it's okay.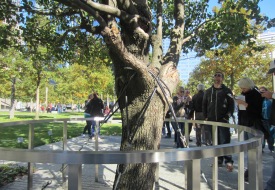 Pay your respects to the survivor tree.
Lashed to a spot not far from the South Pool is the Survivor Tree, which I hadn't known existed until a 9/11 memorial volunteer began explaining it. The tree, found badly damaged in the Ground Zero wreckage, took years to nurse back to health and was thriving until 2010 when it was uprooted by a violent storm. It survived, again, and was eventually planted in its current spot, where it remains a symbol of survival. When I asked my kids later what aspect of our visit they recalled the most, it was the story of this tree.
Know that the memorial is a work in progress.
As of this writing, the memorial was still surrounded by construction, which meant that before our visit we had to obtain timed-entry visitor passes online, enter the memorial at a specific entry point (the intersection of Albany and Greenwich Sts.), pass through airport-style security, and show our passes at various checkpoints before being allowed to walk freely around the memorial. In the wake of Hurricane Sandy, the memorial had temporarily suspended distribution of the visitor passes and was trying to accommodate visitors at the entry point on a first-come, first-served basis.
Water damage from Sandy had also reversed progress on construction of the museum, which had been slated to open next year. Once the museum (as well as One World Trade Center) opens and the construction zone around the site disappears, volunteers at the site said that the intent is to let visitors freely walk up to the memorial from any angle, without timed tickets. Stay tuned for developments, and be sure to check the memorial's website frequently before your visit.
See our New York City destination guide for general trip-planning information, then use our Travel Search price comparison tool to find the lowest rates on flights, hotels, packages, and more travel deals.