In a country as breathtaking as Italy, the Piedmont region wins accolades for its stunning scenery. Located in Italy's northwest corner, it flies blissfully low on the tourist radar. Plus, it's perfect for truffle lovers. 
The landscape here is punctuated with countless panoramic vistas and fairytale-worthy villages complete with striking castles and ancient stone houses. Vines heavy with prized Nebbiolo grapes, groves of fragrant hazelnut trees, and truffle-laden woods paint a mouth-watering picture. Here's where to stay, drink wine, and eat truffles in Piedmont. 
What to Do in Piedmont, Italy
Few experiences feel more regal than exploring a castle. Serralunga d' Alba is a historically intact medieval village dominated by a Gothic-style castle. Constructed in the 14th century, it's one of Italy's best-preserved fortified structures. The tapered watchtower symbolizes military vigilance while exuding architectural grace. Fabulous frescos include one of St. Catherine of Alexandria. Climb the stairs and enjoy majestic views of the Alps. 
The compact city of Asti is home to six small museums, including Palazzo Mazzetti, a must-visit. The gilded halls of this once-noble residence are an ornate backdrop for the works of applauded hometown artists, including three female busts by Giribaldi and two rooms of portraits by Michelangelo Pittatore (a famed 19th-century painter).
Dive into the excellence of Italian wine at the Wine Bank in Pollenzo. Located in a complex of restored neo-Gothic buildings that once served as King Carlo Alberto of Savoy's royal estate, a visit here is spectacular in more ways than one. The cellar is home to some of the most prestigious wines in Italy, and presents the opportunity to sample 32 different varieties daily. Instructive panels delve into all aspects of winemaking, from terroir to cork; escorted vineyard tours take visitors directly to the source.  
Alba is a lovely town to stroll around. The Cathedral of San Lorenzo dominates Piazza Risorgimento and its Romanesque bell tower, Gothic Alter, wood-carved chorus stalls, and Madonna and Child painting by Pietro Paolo Operti are all noteworthy features. In autumn, foodies flock here to consume its namesake costly white truffle and to attend the famed International Alba White Truffle Fair. 
Visit a Vineyard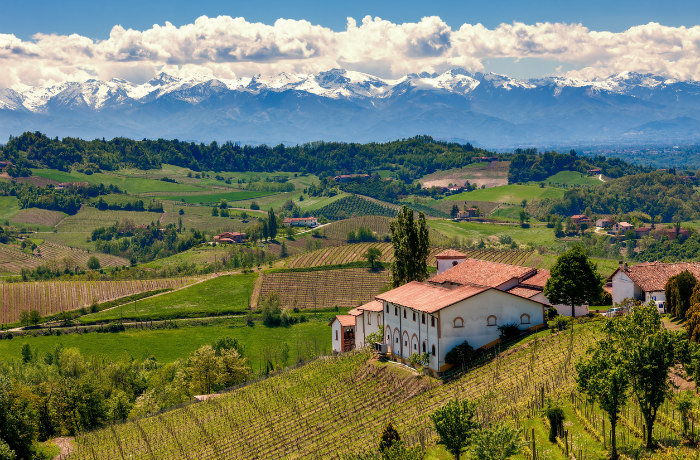 Coming to this wine-centric area without visiting a vineyard is like going to Rome and skipping the Colosseum. Marchesi Alfieri Castle and Winery looks like it was lifted straight from a fairytale. The noble Alfieri family has resided on and cultivated this land since the 17th century, and three elegant descendants (sisters Emanuela, Antonella, and Giovanna) continue the venerable winemaking tradition. Their centerpiece Baroque villa — which is complete with a winter garden bursting with citrus trees — is a stunner.
Much of the vineyard is dedicated to the Barbera grape. Here, guided tastings allow you to sample their celebrated Alfiera, a single varietal Barbera. It's a deep, inky shade of red with a lush bouquet of ripe cherries, wild berries, and plums. The wine is structured with a silky finish, and patience is a virtue when it comes to drinking it as its complexity continues to develop for an additional 10 years in the bottle.
Delectable Dining
For epicurean excellence tucked in a handsome vineyard, Borgo Sant'Anna ticks all the boxes. Helmed by talented young Chef Pasquale Laera, the menu includes Piemontese classics such as braised local Fassona beef. Known for its muscular structure and sweet flavor, the meat is incredibly tender. Laera spins magic into traditional regional desserts such as bonet, a velvety chocolate pudding showered with a windfall of crushed amoretti cookies. 
In Alba, The Enoclub is a convivial spot. Chef Marco Serra's menu focuses on the hyper-local ingredients he has been intimately acquainted with since childhood. Tajarin, yellowish ribbons of hand-rolled pasta enriched with 30 egg yolks, marry beautifully with a robust sausage ragout. Alba is a white truffle powerhouse; visit in autumn and order a dish that is adorned with shavings of this refined tuber. Crown your culinary experience with a rustic hazelnut cake. Nutella, the popular hazelnut spread, was invented here — and the local crop is top quality.
Where to Stay in Piedmont
Dabble in lordly living with a stay at the aforementioned Marchesi Alfieri Castle and Winery. The estate features seven country-style rooms as well as a four-bedroom cottage. A bountiful breakfast is prepared and served by the housekeeper each morning. It's an immersive way to experience the old-world lifestyle Italian aristocrats still enjoy. Contact the property directly for rates.
Albergo dell'Agenzia is the brainchild of the founders of the Slow Food association and is conveniently located next door to the Wine Bank. Refined rooms and suites have vaulted ceilings, terra cotta floors and marble tiles. Keeping in tune with Slow Food principles, the onsite restaurant utilizes the freshest local ingredients possible. Rates from $110 per night, depending on the season.