Feeling patriotic but have completed the circuit of East Coast colonial towns? We suggest following the birth of democracy…in England. Before our Founding Fathers, after all, there were the separatists and Pilgrim Fathers. Even before that, the Magna Carta promised justice and fair trial (to free men, at any rate) -- and has since been upheld as a cornerstone of modern day freedom as we know it. Here are four ways to get a dose of democracy across the pond.
1. Get a crash course at Lincoln Castle's Magna Carta Vault & Visitor Center.
Little more than a year old, the David Ross Magna Carta Vault at Lincoln Castle is home to one of four existing original charters sealed by King John in 1215 -- and the only one still in existence to have been in continuous custody, to boot. Part of a £22 million re-imagination of the castle estate, this display and accompanying exhibit are particularly well-suited for those who need a history refresher. Two short films are projected on a wide, 210-degree wraparound screen in the visitor center, summarizing how rebel barons rose up against the cruel king of England, how the Magna Carta was forged, and its importance.
The films also highlight the role of the Charter of the Forest -- an equally important document when it comes to balancing government power with the rights of the common people. (In a nutshell, when Henry III re-issued a new version of the Magna Carta in 1217, he signed a second charter that returned public access to lands that previous royal courts had seized.) An original of this charter is also on display in the vault next to the Magna Carta, making Lincoln Castle the only place in the world where you'll see the two originals side-by-side. Admission is £22 ($16 USD).
Note: When humidity levels are high, the documents may be moved to a controlled environment at Lincolnshire Archives. During other times of the year, they may be taken off display to protect them from overexposure to light -- so it's best to contact Lincoln Castle prior to visiting.
2. Visit Lincoln Cathedral, the original home of Lincoln Castle's Magna Carta.
The copy of the Magna Carta at Lincoln Castle actually belongs to Lincoln Cathedral. The ownership is thanks to Lincoln's bishop at the time, Bishop Hugh of Wells -- who was in Runnymede (along the Thames River) when King John gathered there with the barons and granted the charter, and he secured a copy for his cathedral at home.
While the original copy lives at the castle, visitors can see a reproduction and learn more about how the Magna Carta came to Lincoln Castle during one of the regularly scheduled floor tours. They run for approximately an hour and are included with the entrance fee of £8 ($11 USD). Art exhibits, choir and orchestra concerts, theater performances, and lectures from history and architecture experts are also frequently held onsite.
3. Get hands-on at Salisbury Cathedral's permanent exhibit.
If you're traveling with family or just a visual learner, head over to the 11th century Salisbury Cathedral, home to what experts agree is the best preserved copy of the 1215 Magna Carta originals. Here, a recently opened permanent exhibit dedicated to the charter features a history cartoon alongside other immersive features like interactive touchscreens and tangible objects (think: medieval costumes, parchment, ink bottles, and quills) to provide context. A donation of £7.50 ($10 USD) for adults and £3-£4.50 ($4-$6 USD) for children is recommended.
4. Follow in the footsteps of the Pilgrim Fathers with a historian in Yorkshire, Nottinghamshire, and Lincolnshire.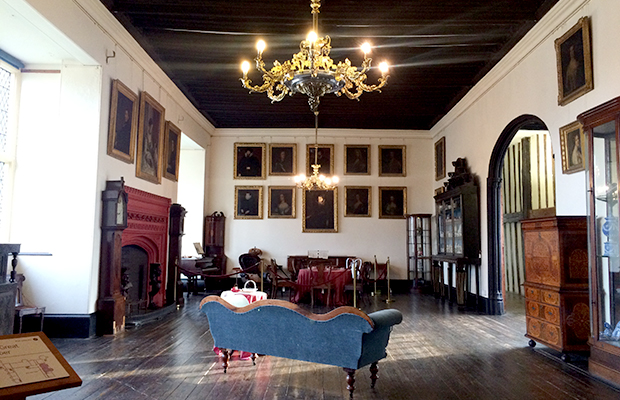 Whether or not you're a history buff, exploring the "Mayflower Trail" with Sue Allan -- historian, author, and chairman of the Pilgrim Fathers UK Origins Association -- is a special experience. Her research into the English Separatist movement has been so groundbreaking that she's become the official historian of Scrooby Manor -- the former home of Plymouth Colony preacher William Brewster -- with exclusive touring rights there. Allan has a great knack for bringing the human element into her storytelling and painting a vivid 17th century picture. As you visit places like Babworth Church, Scrooby Manor, and Gainsborough Old Hall, you'll marvel at the incredible way separate and widespread underground congregations came together to change the course of history; and appreciate what it meant for Puritan families to risk treason charges to host these congregations in the first place.
Want to dig deeper? Allan likely has the most impressive insights on key men and women in the birth of American democracy out of anyone that you'll ever meet. The best part? Since the tours are private, itineraries can be adjusted based on personal interests. Tours typically last a full day, from around 9:30 a.m. to 4:30 p.m., and cost £115 ($157 USD) for a group of up to four or £200 ($273) for a coach party.