From the whitewashed Cyclades to the history-rich Dodecanese, Greece's 227 inhabited islands are pretty much all paradise. But with so many choices, travelers face a tough decision: which will it be? Here's how to tell which Greek island is right for you, and what it means for your budget.
THE CYCLADES
For Romantics: Santorini
Calling all honeymooners, selfie-takers, and first-time visitors. If your ideal vacation includes croon-worthy views from your hotel swimming pool and hillsides of blue-domed churches, Santorini is the one island you must see. Just note that everyone else thinks so, too: as one of the most popular islands, it draws heavy crowds in high season from June to August.
What it means for your budget: Even though Santorini is one of Greece's most expensive islands, you can still find places to stay on a backpacker's budget. To dodge the highest prices, avoid staying in Oia, the most picturesque — and popular — of the island's villages, and read up on ways to save.
For Night Owls: Mykonos
Mykonos can be compared to Ibiza: the cosmopolitan island has plenty of nightclubs where you might brush shoulders with models and celebrities. But there's still daytime intrigue, too — walk the "Little Venice" waterfront or to the town's iconic windmills. If there's time to spare, you can take a half-day trip by boat to Delos, a UNESCO World Heritage Site that, according to Greek mythology, is the birthplace of the gods.
What it means for your budget: With some of the most upscale offerings in Greece (a five-star hotel will cost about 550 euros in June), this island can easily break the bank. But sacrifice a little luxury and you can still find affordable hostels and hotels.
For Beach Bums: Milos
This under-the-radar island has some of the best beaches in Greece. Visit those like Sarakiniko, with an otherworldly, moon-like white rock instead of sand, and you won't find nearly as many tourists vying for space.
What it means for your budget: Though the island's less crowded, prices can still climb. Look for deals in shoulder season from April-May and September-October.
For Active Travelers: Paros
Windsurfing, kitesurfing, and scuba diving are big on this island, whose sand beaches also draw sun-seekers. When you're good and tan, head to Parikia village to check out the island's traditional homes.
What it means for your budget: Paros is less expensive than Mykonos or Santorini. Try a hotel that's not right on the beach for a deal; the island has a good bus system (a trip to the beach will cost just three euros).
For Culture Lovers: Naxos
Marked by its green fertile land, unlike the rest of Greece's rockier islands, Naxos has charming villages with Byzantine and Venetian influences. Hike up to Mount Zeus, and then explore Filoti, a village with olive groves, cafes, and little churches.
What it means for your budget: Naxos is also more affordable compared to the most popular Greek islands, and less commercialized, too. A nice hotel with sea views and a pool can cost you just 60 euros per night in October and around 150 euros in June.
CRETE
For Foodies: Crete
Greece's largest island is unlike any in the country, with arguably the best gastronomy. Head to a local taverna for one of its many regional specialties — kalitsounia, a sweet cheese pie, gamopilafo, Cretan wedding rice, or kserotigana, honey-dipped pastries. Walk it all off with a visit to the Heraklion Archeological Museum and Knossos Palace (15 euros for both sites).
What it means for your budget: Again, you'll find a range of prices to suit your needs. If you stay in a hostel here, you can easily get by on about 50 euros per day.
THE DODECANESE
For History Buffs: Rhodes
Sure, much of Greece is a reminder of ancient civilization, but in Rhodes you can step back into one of the most well-preserved Medieval towns in Europe and further still to ancient ruins where the Colossus of Rhodes once stood. And, there are beach resorts, too.
What it means for your budget: Another affordable option, if you do your research. Plan to spend 15 to 30 euros for meals, and anywhere from 20 euros to 150 euros for a hotel.
For Pilgrims: Patmos
Even if you're not religious you can appreciate this UNESCO World Heritage Site's place in history: it's where St. John is said to have written the Book of Revelation. Visit the monastery, standing tall and fortress-like in the heart of town, as well as the Cave of the Apocalypse.
What it means for your budget: In the summer, two-star hotels can cost as little as 35 euros, while four- or five-star hotels can reach 175 euros per night.
IONIAN ISLANDS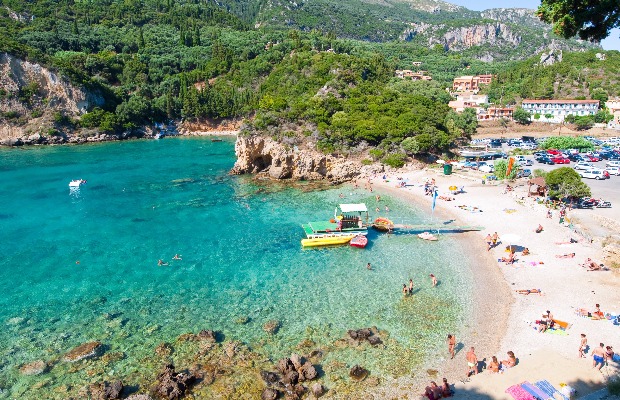 For Everyone: Corfu
From the clubbing town of Kavos to family-friendly beaches, Corfu has something for every type of traveler. Literary fans will appreciate this as the island where shipwrecked Odysseus washes ashore in The Odyssey, foodies will appreciate local produce from the lush, mountainous landscape, and culture vultures will soak up the Venetian and British influences in the Old Town. 
What it means for your budget: Prices tend to skew slightly higher here than other Greek islands, but book in shoulder season (May and October are good months) and you can spend around 40 euros to 175 euros.