If one of your New Year's resolutions is to spend more quality time with the person you love, then I suggest you enjoy that togetherness someplace amazing! And what's better or more romantic than a stunning, sun-kissed island? There's something innately sexy and bond-inspiring about the sea – floating together in gentle turquoise surf, walking hand-in-hand at sunset, enjoying the day's fresh catch paired with a rum cocktail or a fine wine. So as the new year begins, here are my top 10 picks for the most amazing islands to escape to together in 2012.
1. Bali: This inspiring Indonesian island is on the opposite side of the world, but its exotic setting and unique culture make it worth the long flight. Yes, it's a small island buzzing with 3 million people, but amid the chaos of zooming scooters holding entire families and the Sacred Monkey Forest with its felonious simians (they steal tourists' hats, glasses, water bottles) is a spiritual paradise filled with exquisite music, dance, and artisanship. Stay on the coast and inland at sister properties, the Balinese pavilion-style Four Seasons Resort Bali at Jimbaran Bay (shown above at left, from $510/night, with fourth-night-free promotion) and the lush and tranquil Four Seasons Resort Bali at Sayan, near Ubud (from $307/night, with third-night free promotion).
2. Bermuda: Closer to home (under 2 hours by air from New York and other East Coast gateways), this nature-blessed island is known for its inviting pink-sand beaches, refined British ambience, world-renowned golf courses, and undeniable charm. It's an ideal spot to relax at a spa, enjoy fine dining, and feel inspired (it's so pretty you may even want to take up painting or photography). Stay at the 98-room Elbow Beach (from $373/night), a Mandarin Oriental resort with a couple-centric spa and a scenic beach (shown above right) and The Fairmont Southampton (from $259/night with third-night free promo valid through March 2012), an iconic resort set on 100 acres with a spa, golf course, and several beaches.
3. Bora Bora: Its reputation as the ultimate fantasy island is legendary – and well deserved. It doesn't get much sexier than this South Pacific outpost where the lagoon is a thousand shades of blue, the sand is dazzling white, fragrant frangipani and plumeria blossoms scent the air, and the hotel rooms are thatched-roof bungalows poised over the tranquil water. Stay at the sleek and contemporary InterContinental Bora Bora Resort & Thalasso Spa (shown at left, from $744/night) or the romantically old-school Bora Bora Pearl Beach Resort & Spa (from $426/night).
4. Capri: If your plans call for a spring through fall European getaway, consider spending a few days on this iconic island just off Italy's Amalfi Coast. Capri's meandering pedestrian pathways, scenic vistas, chic designer boutiques, and delicious cuisine are truly captivating. Stay at the lofty Hotel Caesar Augustus (shown at right, from $470/night), perched on cliffs overlooking the Bay of Naples with Mt. Vesuvius in the distance, or Hotel Punta Tragara (from $549/night with third night free), a short walk from lively Capri Town with rooms overlooking Il Faraglioni (limestone rocks that jut up from the sea).
5. Kauai: Hawaii has six main islands to choose from, but my favorite is the small yet super-lush "Garden Isle," where striking emerald-green peaks reign over verdant valleys and rushing waterfalls, a scenic hiking trail winds along the drop-dead-gorgeous Na Pali Coast, and old Hawaii thrives in small towns and villages that seem far removed from the bustle of neighboring Oahu. Stay at The St. Regis Princeville Resort (from $450/night), the island's most luxurious property overlooking the dramatic backdrop where South Pacific was filmed, or Koa Kea Hotel & Resort (shown above left, from $300/night), a boutique property on sunny Poipu Beach.
6. Nantucket: If seaside New England epitomizes romance for you, I suggest a visit this spring, summer, or fall to this picturesque island off the coast of Massachusetts, where the 150-year-old gray-shingled houses have white-picket fences, windblown dunes lead to a vintage lighthouse, and the lobster bakes are legendary. Stay at The Waiwinet (from $250/night), a five-star inn offering quintessential chintz-and-antiques ambience (shown at right), or the White Elephant (from $195/night), a cheery property within walking distance of the shops and eateries of Nantucket Town.
7. St. Lucia: Of all the Caribbean islands, this mountainous gem ranks among the most beautiful and romantic – especially near its landmark Piton peaks. Plus, in addition to the usual tropical amenities (great snorkeling and diving, scenic sunset sails, and relaxing spa treatments), St. Lucia also offers a range of outdoor adventures and delicious Creole-inspired cuisine. Stay at Jade Mountain (from $950/night), an architectural marvel featuring 25 spacious, open-sided "sanctuaries" with private plunge pools overlooking the Pitons (shown above left), or Ti Kaye Village (from $220/night), a lovely enclave of Creole-style cottages.
8. Tasmania: This heart-shaped island off the southern coast of Australia is ideal for nature-obsessed couples – you can hike amid craggy peaks or along stunning coastlines and watch wallabies, wombats, and even tiny fairy penguins feed at sunset (you have to wait until after dark for the namesake Tasmanian Devils to appear). Foodies will also appreciate the island's burgeoning wine and cheese scene. Stay at Saffire Freycinet (from $1,775/night, including meals), a sleek and stunning five-star, eco-centric resort (shown above right), or Cradle Mountain Lodge (from $400/night), a property with rustic-luxe cabins and excellent hiking and critter watching.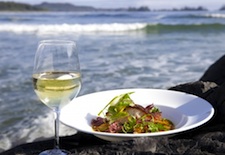 9. Vancouver Island: Nature is also a force to be reckoned with on this beautiful and unspoiled island located just a short ferry or seaplane ride away from cosmopolitan Vancouver. This is the kind of place where you will want to inhale deeply every chance you get (the scent of pine needles is addictive) and you'll be spoiled by the amazing fresh-from-the-sea Pacific Northwest cuisine (especially if you love oysters and salmon). Stay at The Wickaninnish Inn (from $295/night), a romantic property with floor-to-ceiling windows and deep-soaking tubs in west-facing Tofino, where both the food (shown above) and the winter waves are astounding, or cozy Sooke Harbour House (from $312/night), another great foodie haven set about 30 minutes from charming Victoria.
10. Venice: I saved my favorite island for last –  this romantic, one-of-a-kind, pedestrian-only city bisected by canals and linked by more than 400 bridges. I have been here more than a half-dozen times and Venezia has never failed to seduce me (or those who have accompanied me). From the mesmerizing vistas of the palazzo-lined Grand Canal to the labyrinth of shop- and café-lined alleyways, the perfect photo op (or spot to kiss) is just around every corner. My rule: Avoid June through August when the heat and crowds are overbearing; try March to May or late September to early November. Stay at The Bauer Il Palazzo (from $452/night), a regal and splendidly located 18th-century canal house with a rooftop Jacuzzi (shown above), or the Hilton Molino Stucky Venice (from $181/night), a modern hotel in a remodeled 19th-century factory on the Giudecca Canal with a stunning rooftop pool and bar.
See our Bali Travel Guide, Bermuda Travel Guide, Bora Bora Travel Guide, Amalfi Coast Travel Guide, Kauai Travel Guide, Nantucket Travel Guide, St. Lucia Travel Guide, Tasmania Travel Guide, British Columbia Travel Guide, or Venice Travel Guide for more trip-planning information, then use our Travel Search price comparison tool to find the lowest rate on flights, hotels, packages, and more travel deals.