If you've already been to Italy, chances are you've seen the big three: Rome, Florence and Venice (and perhaps even Lake Como and the Amalfi Coast). If you plan to return, as most travelers do, I suggest you visit one of Italy's lesser-known regions: Emilia Romagna. Bordered by the Adriatic to the east and the Apennine Mountains to the west, this food-centric north-central region is anchored by the bustling university city of Bologna (shown at right) and is the home of not only Motor Valley (where Ferraris, Lamborghinis, Ducatis, and other sexy Italian sports cars are made), but also such Italian culinary treats as tortellini, Bolognese sauce, mortadella, Parmigiano-Reggiano cheese, and balsamic vinegar.
In other words, Emilia Romagna's got fast cars and slow food, which makes it molto delicioso!
To help you plan your visit to Emilia Romagna, ItalyVacations.com, the independent travel arm of New Jersey-based Italian tour specialist Perillo Tours, has done all the legwork. The website lets you book a six-night group tour (minimum 20 people/$2,799 per person, land only) or pick and choose from an array of accommodations, attractions and activities to create your own personalized itinerary (including airfare). Here are 10 very local things you can do in the region appropriately known as "The Land With a Soul."
1. Make fresh pasta and piadina. In the tiny town of Forlimpopoli, you can get hands on with Italy's delicious fresh pasta. The action takes place at Casa Artusi, a "living cookery museum" inspired by the works of Pellegrino Artusi, considered the father of Italian gastronomy for "Science in the Kitchen and the Art of Eating Well," his 1871-1911 compilation of more than 750 recipes. Under the guidance of a local Italian-speaking home cook known as a "marietta," you will knead, roll, cut, shape and fill your own fresh dough to create pappardelle, cappelletti, ravioli, and other pastas. You'll also learn how to make piadina, the local peasant flat bread that gets its flavor from wild pork fat.
2. Drive a $200,000 Lamborghini. Lamborghinis handle like a dream and the looks of pure envy you'll get from other drivers are worth the pricy rental fee – but going back to your old Ford or Toyota when you get home will be a big let down. More locals probably work building Lamborghinis than own them, but you can arrange a private test drive via ItalyVacations.com around the hills of Sant'Agata Bolognese with a professional driver in the passenger seat. Rates are $249 for 15 minutes and $409 for 30 minutes. You can also arrange a video of your driving experience for $39 – and be the envy of all your friends.
3. Eat a home-cooked meal – in a local home. I highly suggest you take the opportunity offered by Home Food to dine as the guest in a local Bolognese home on dishes prepared by a "cesarina" (lady of the house). I was the guest of Mara Battilani, who stuffed me full of ridiculously delicious rosettes (generous bundles of pasta filled with a mix of mortadella, baked ham, and soft Castel San Pietro cheese and béchamel), a unique chilled aspic di pollo (gelatin stuffed with layers of chicken, vegetables and mayonnaise), and two desserts, the flan-like fior di latte and the sweet and fruity meringue with strawberries.
4. Ride a bicycle around Ferrara. How better to work off all that home cooking than to explore "the cycling city" of Ferrara on a bike? That's exactly what I did on one sunny day as I joined the city's daily cyclists (practically everyone here rides) with a breezy jaunt around the 15th-century city walls. You can follow a guide along the 5.5-mile route, pausing to admire and learn about the Renaissance-style Palazzo dei Diamanti, climb to the top of the Torre de Lioni in the 14th century Castello Estense, visit the striking Romanesque and Gothic cathedral, shop local street markets and, of course, eat. I enjoyed one of my favorite meals at Cusina e Butega, where the baked pasticcio di maccheroni (like crispy yet gooey macaroni pie), pumpkin-filled capellaci in meat ragu, and puffy "coppia" bread were outstanding – especially when paired with region's effervescent red Lambrusco.
5. Discover the real balsamic vinegar. Once you have tasted traditional balsamic vinegar, aged for 12 to 25 years in a circa-1860 residence just outside Modena, you will never want to drizzle anything else over your salads, bread, prosciutto, strawberries or even ice cream. Try it for yourself at Acetaia di Giorgio, where Giorgio, Giovanna, and Carlotta Barbieri create thick, flavorful balsamic vinegars that are as delicious to inhale as they are to taste. Prices range from 50 euro (for 12-year-old balsamic) to 190 euro (for balsamic ages 25 years or more).
6. Attend an opera at Modena's Luciano Pavarotti Theater. The Teatro Comunale Luciano Pavarotti in Modena honors the late icon, a Modena native and one of the world's most beloved tenors. The exquisite building is equally larger-than-life, built in 1841 and richly decorated with elaborate ceilings and a multi-tiered horseshoe-shaped auditorium.  If you are not there during opera season (October to April), you can arrange to tour the theater (with a guide via ItalyVacations.com or by calling the theater for groups of 10 people or more).
7. Paint your interpretation of Bologna's landmarks. As I discovered, one of the best ways to appreciate a city's architecture is to capture it yourself in a watercolor painting. Under the guidance of Bologna artist Mara Guerrini, even artistic neophytes will be surprised how well they can turn a photo of the city's medieval towers, distinctly colorful and arched facades, or San Petronio Basilica into a cool abstract painting that you can take home as a souvenir. Our group had a blast during a morning beginner's session at Guerrini's charming atelier.
8. Watch a Ducati or a "Stefanini" being made. Seeing hundreds of shiny red, black and chrome works of art – I mean motorcycles – being assembled is a sight to behold. Tours of the Ducati factory, which cost 10 euro, are available Monday through Friday and last 90 minutes. I have never attempted to play a violin, but as I watched one being made by Bruno Stefanini in his workshop/store in Bologna, I couldn't help but think that, like a Ducati, his violins are handcrafted beauties designed to make noise, albeit of a vastly more beautiful nature!
9. Taste test Parmigiano-Reggiano cheese, Parma ham, mortadella and gelato. If you do anything in Emilia Romagna, it will involve eating – with a capital E (or should I say M as in mangia?)! Don't miss the parmigiano-reggiano cheese, parma ham, prosciutto, and mortadella at La Baita, a gourmet shop with upstairs seating in central Bologna. Add in a glass or two of wine so you'll linger until every last bit is gone. Afterward, indulge in a scoop or two of gelato at Cremeria Funivia and enjoy it near the photogenic Fountain of Neptune.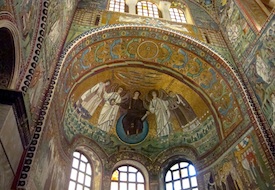 10. Enjoy mosaics and seafood in Ravenna. If you think you've seen some amazing mosaics, wait until you get a glimpse of the early Christian and Byzantine masterpieces in Ravenna, a wonderful city near the sea full of buildings that have been declared a UNESCO World Heritage Site. Dating from the 5th to the 8th centuries, the mosaics are incredibly intact – don't miss the striking stars in the Mausoleum of Galla Placida, the soaring Basilica of San Vitale and the dramatic Basilica of Sant'Apollinare. Ravenna's other treasure is its seafood and you can enjoy artistically prepared and delicious dishes such as fried shrimp with black rice and tomato pepper sauce at the atmospheric Ristorante Osteria del Tempo Perso.