Whether you're shopping for a friend or loved one (or even yourself), here are our favorite globetrotter-approved products that make for the perfect holiday gift. 
1. An Airplane Footrest to Help You Catch Some Zzz's
Give yourself the gift of extra legroom next time your fly. This handy, adjustable footrest easily hooks onto your tray table and is designed to help reduce swelling and soreness. Buy it now — and thank us later.
2. A Travel Pillow That Contours to Your Body
This twistable travel pillow contours to almost any shape and position you could imagine, so no more uncomfortable neck cramps or shoulder pain. We love that the cover is machine-washable, which makes it easy to keep it clean. Buy it now. 
3. This Leather Passport Case With a Fun Touch
This simple yet stylish passport case is made with leather and lined with suede, and features a stamped world motif. It's the perfect gift for any globetrotter. Added bonus: Score it for 10% off. Buy it now.
4. The Ultimate 16-Piece Travel and Beauty Set 
This TSA-approved set has everything you could ever need for an amazing getaway: A 12-piece bottle kit with zip pouch, a shoe bag (complete with an internal divider!), eye-catching luggage tags, and a drawstring bag for dirty laundry. Buy it now for 43% off. 
5. A Carry-On Packing Organizer to Make Packing Fuss-Free
You can't go wrong with this organizer, which is complete with a full-length zip compartment, several small pockets, and mesh panels. Plus, it's on sale for over 40% off. Buy it now. 
6. This Baccarat Travel Gift Set
Give the gift of luxury with this travel-friendly perfume set that has notes of amber, floral, and wood. The set also comes with five refills. Buy it now. 
7. An Expandable Travel Bag from Longchamp
Whether you're using it for a weekend getaway or week-long trip, this expandable bag from Longchamp is both durable and water-resistant, so no need to worry about any spills. Buy it now.
8. A Five-in-One Universal Travel Adapter
This colorful travel adapter is as fun as it is functional. The adapter comes with five different plugs and a USB plug. The color-coded adapter breaks into four pieces, which makes it easy to "build" the exact adapter you're looking for. Buy it now.
9. A Mirror That Meets Your Every Need
Perfect lighting can be hard to find in hotel rooms, which is why we love this foldable, compact mirror. It's complete with five lighting options, customized HD daylight lighting, a rechargeable battery, and a bluetooth selfie function. Buy it now. 
10. An Ultra Chic Cosmetic Case
This sturdy, polyester-lined leather cosmetic case comes in four colors and easily zips, so you can assure your necessities will never get lost your carry-on bag. Buy it now. 
10. A Backpack That Screams Cool
There's a lot to love about this trendy yet timeless backpack, which features a roomy main compartment plus easily accessible front and side pockets. Adjust the shoulder straps and top handles to your liking for pain-free carrying, and choose from 11 fun colors. Buy it now. 
11. Silicon Bottles With a Secret Talent
These two reusable travel bottles come with a surprise. Thanks to their texture surfaces, they also double as exfoliating tools. Use the wide bristle bottom for your body and the fine bristle bottom for your hair and scalp. Buy it now. 
12. Splurge-Worthy Customizable Luggage from Roam
Roam luggage is made with a material that wards off scratches and dents, and each suitcase has a TSA-approved lock, ergonomic handles, and ball-bearing wheels. Bonus: everything is customizable, from the design to the monogram. Buy it now. 
13. These Comfy Leggings Perfect for Long-Haul Flights 
Ditch your traditional shapewear for Yummie. The label offers flattering (and comfortable) apparel, loungewear, and undergarments. We love their Rachel legging, which is ideal for those on-the-go. Plus, they're machine washable. Buy it now. 
14. An Amazing Styling Kit for Good Hair Days Ahead
Pack all of your styling tools in one kit: The Jet Setter Pro includes a mini ionic hair dryer, a diffuser, a mini hair straightener, a mini curling wand, and a heat-resistant styling glove — all in a convenient (and stylish) travel case. Buy it now. 
15. A Pair of Retro-Inspired Kicks 
The recently opened, highly anticipated TWA Hotel at JFK now has an online shop of glorious gifts. Our favorite item: these amazing sneakers, created in partnership with The Gola (an iconic British brand), which features the airline's classic red-lettered logo on each shoe. Buy it now. 
16. A Set of TSA-Friendly Hair Products to Help You Glow on the Go
This travel set comes with everything you need to prep, wash, and style your hair: Sake Bomb Shampoo, Sake Bomb Conditioner, Triple Sec 3-in-1, and Prep Rally Prime & Prep Detangler. Throw it in your suitcase to help you create the perfect blowout while traveling. Buy it now. 
17. These Travel Editor-Approved Pants 
Yes, Lululemon now makes a travel pant. The "On The Fly" fabric is wrinkle-resistant, machine-washable, and quick-drying. Plus, they have pockets. Choose from ten colors across three different styles. Buy it now. 
18. A Travel-Themed Ornament That Makes Any Tree Extra Merry
This hand-painted and handblown glass suitcase ornament makes the prettiest gift for any traveler in your life. It comes in different colors and destinations including France, Portugal, Hawaii, and Mexico. Buy it now. 
19. A Luxury Cashmere Sleep Set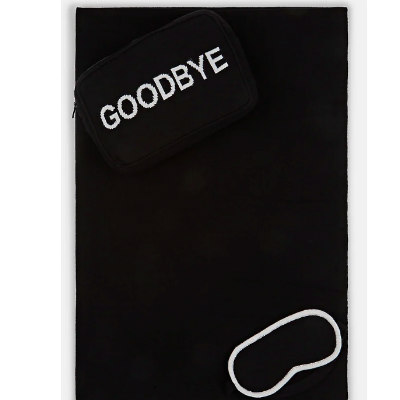 This Lisa Perry travel set makes flying in coach a lot more glamorous. The fine-gage cashmere set comes with a throw, eye mask, and a cute pouch embroidered with "Hello" and "Goodbye." Buy it now for 20% off.
20. A Versatile, Stylish Handbag You'll Fall in Love With
This leather purse is great for traveling, and can be worn four ways: A crossbody bag (great for exploring), a funky fanny pack (good for a concert or festival), a wristlet (for when you're on-the-go and in a hurry), or a clutch (perfect for dinner and drinks). Plus, it has two pockets that easily fit you iPhone, sunglasses, and lipstick, and credit cards. Buy it now. 
21. A Fun Carry-On Suitcase for the Little One in Your Life
This 19-inch rid-on suitcase magically transforms into a leg rest or in-flight kid bed, complete with a mattress and side panel. Buy it now. 
22. A Frequent Flyer-Approved Charm Bracelet
Looking for a creative way to capture travel memories?  Consider this bracelet -- comprised of 12 links for your favorite Jet Set Candy charms, which range from passport stamps and other travel-themed tokens. Buy it now. 
23. A Festive Holiday Sweater for Your Favorite Cruiser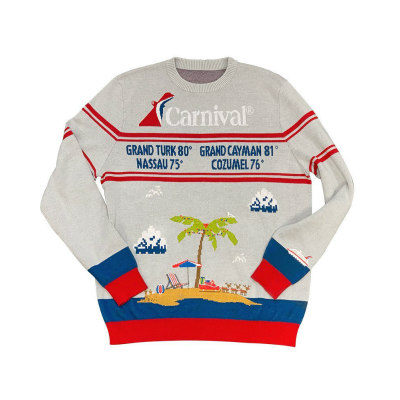 Brighten up any wardrobe with this ugly "cruisemas" sweater from Carnival Cruise Line. Besides a Caribbean cruise, this is the next best thing you could ever get or receive. Buy it now.  
ShermansTravel uses affiliate links in this article to generate revenue. When you purchase an item after following one of these links, ShermansTravel may receive a commission. The items in this article were chosen independently by ShermansTravel's editorial team.