The holiday season is officially upon us, which means it's time to start shopping for gifts. From foodie-approved favorites to makeup staples, to cozy clothing, we've rounded up a few of our favorite holiday gifts. Keep reading to browse our official 2021 gift guide. 
For the Foodie & Wine Lover
A Travel-Lover's Wine
The perfect gift for those who love wine and travel. The Passport Collection from In Good Taste offers a gift box with eight unique wines from Italy and France. The red, white, and rosé single-serve varietals make for a fun opportunity to try new European wines and put a stamp on the included wine passport. 
High-End Olive Oil 
A true foodie should not cook with mediocre olive oil. Founded by Armando Manni in 2002, MANNI Organic Extra-Virgin Olive Oil is the only olive oil in the world to maintain its extra virgin quality and taste for almost three years. The result is an oil that any home chef would appreciate. Not only does the dark bottle keeps the product fresh, but it's also beautiful for gift giving.
Fancy Nut Butters
Big Spoon Roasters takes nut butter and kicks it up a notch. Made from ingredients sourced from only the best and most trusted farms, this spreadable treat comes in varieties like Lemon Coconut Cashew Butter, Fiji Ginger Almond Butter, and Maple Cinnamon Peanut & Pecan Butter. Big Spoon Roasters also makes a variety of bars that are perfect for on-the-go noshing when you travel. 
A Beautiful Teapot
The Lotus Teapot features a beautiful pattern that was designed by Norwegian artist Arne Clausen back in 1964. The piece is lovely enough to be displayed as decor — and it also happens to be dishwasher- and microwave-safe. 
Healthy Snacks for Your Carry-On 
Can we get three cheers for a snack that's healthy and actually tastes good?! Undercover Snacks are made with quinoa and packed with protein, fiber, and nutrients. You'll find flavors like Dark Chocolate + Pomegranate, Dark Chocolate + Blueberries, Dark Chocolate + Sea Salt, Milk Chocolate + Currants, as well as seasonal offerings. Plus, they're the perfect size for your carry-on bag.
A Box of Fancy Chocolates
Stick a bow on it or pop it in a stocking: The Godiva 2021 Limited Edition Holiday Collection is packed with the brand's signature holiday chocolate like Dark Chocolate Hot Cocoa, White Chocolate Raspberry, and Milk Chocolate Almond Caramel. 
An Incredible Butter Dish
This may not sound like the most exciting gift, but any foodie will be thrilled to receive it. The Butter Hub is a handy gadget that magically keeps butter soft and tidy. The dishwasher- and microwave-safe dish is even equipped with a magnetic lid that holds a knife, legs to keep the counter clean, and a"scoop ramp" for the best butter delivery.
For the Luxury Lover
Silk Pajamas
These ultra-luxurious pajamas from LILYSILK are made with 6A Mulberry Silk, the finest you can find. The cropped pants and long-sleeve top are ideal for cold weather, yet they also offer breathability to keep you cool as you sleep. Meanwhile, the piping adds an extra stylish touch. Choose from nine different colors.
Washable Cashmere Joggers
Not quite ready to give up the look of athleisure? Instead, take it up a tick with these uber-luxurious cashmere joggers from Garnet Hill. The super-flattering pants have a drawstring waist and pockets. The best part? They're washable. Pair them with one of these cashmere sweaters.
A Timeless Crossbody Bag
British brand Radley London makes some of our favorite accessories for traveling in style. The Mill Bay crossbody bag, which features quilted leather and pretty gold hardware, can easily take you from day to night. Even better? The bag is super functional with a dual-compartment interior and loads of space. 
A Stylish Sweatshirt
Sweats take on a new meaning when they're this stylish. Leovici makes clothing designed with comfort and durability in mind — not to mention how incredibly soft they are. You'll love the brand's lightweight cotton hoodie, which is especially ideal for long, exhausting travel days. 
Incredibly Durable Boots
Not only are these TAFT boots durable, but they'll also be your most stylish workhorse. They're made with only the highest quality materials with full-grain leather. Plus, they can be easily dressed up or down to garner a lifetime of wear. 
Sunnies for Vacay (And Every Day)
Who can't use an extra pair of sunglasses? This sleek pair from Vera Wang is a fun addition to any collection. The large frames exude old Hollywood glam with a funky, modern twist.  
The Comfiest Sleepwear
Reveal Sleepwear, which can be purchased online at Bare Necessities, offers the most comfortable — and beautiful — sleep and loungewear staples. The brand's Modal Robe makes for an especially sweet gift. 
For The Home
A Foldable Duffle 
Searching for the perfect gift for the jet-setter in your life? Look no further than this foldable travel duffle bag from Paravel. This super lightweight travel essential magically transforms from a compact flat case to a stylish duffle bag. 
A Fantastic Holiday Candle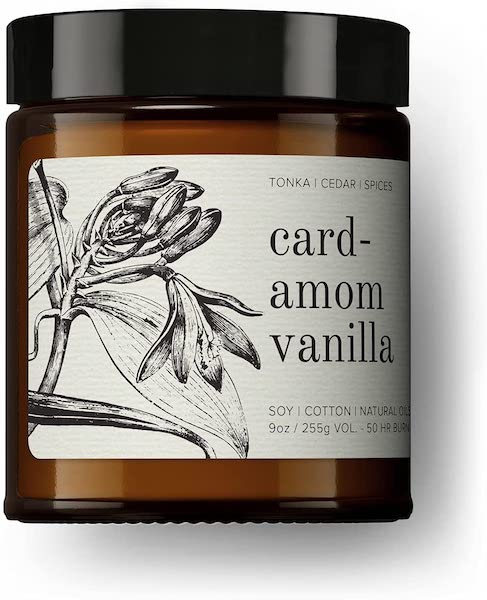 There's something about lighting a seasonal candle that helps to usher in the holiday season. Broken Top Candle Company makes some of the finest on the market. Featuring scents like Cardamom Vanilla and Cranberry Orange, these hand-poured candles are perfect for gift-giving. 
A Fun Game
Finally, something new for game night. Off Topic is a fun game for grown-ups that guarantees tons of laughs. We love that it can be played with all size groups (think: as small as two and as large as eight). 
A Bag for a Big Haul 
Is there anything more irritating than hauling a big bag of groceries or gear? Not only are these Hulken bags eco-friendly, but they're also designed to make shopping a breeze with its stainless steel wheels and flat-fold design. Plus, we especially love the brand's motto, "schlepping made easy."  
Beauty & Wellness Gifts
Products That Fight Plane Face
Combat dry and dull skin with products from Madeca Derma. We love the brand's Revitalizing Serum, which is formulated for all skin types, including sensitive skin. Just apply a few drops of the plant-derived product for instant hydration and glow. 
High-End Products for Men 
In our opinion, there is no better skincare line for men than Jack Black: In fact, it's the #1 best-selling men's skincare brand for good reason. These no-fuss products use superior ingredients that smell absolutely incredible. Their travel-friendly gift boxes, such as this one, are packed with the brand's most beloved items. Just pop a bow on top, and you'll be good to go. 
Soothing Sheet Masks
Consider these sheet masks as the perfect stocking stuffer. LAPCOS was founded by a Los Angelean, raised by a Korean family who passed down their traditions and technology. This set includes seven sheet masks in varieties like Honey, Milk, Aloe, and Collagen--all created to brighten and plump the skin. 
A Brazilian Beauty Staple 
Brazil's oldest pharmacy, Granado, dates back to 1870. Today, it remains a stalwart in the beauty industry with its mission to consort local, natural remedies and cosmetics crafted from the flora of Brazil. The company's TSA-friendly mini kit makes for the perfect gift since it's packed with shampoo, conditioner, soap, and lotion.
Apparel & Accessories
The Perfect Vacation Clutch
This handcrafted clutch from Poppy + Sage is the epitome of beachy chic. Plus, all of the company's items are handwoven and beaded by individual artisans — so each product is just as unique as it is stunning.
Personalized Jewelry
Established in 2016 by Tenisha Wilde, Ten Wilde offers trendy but timeless all-gold jewelry. The collection includes simple monogram initials to lockets and pearl chokers, to personalized zodiac-inspired pieces.  
A Fun Swimsuit
Not only is this swimsuit stylish, but it's also super affordable. Available at Walmart, this BCA By Rebecca Virtue Women's Animalistic Hannah One-Piece Swimsuit is a head-turner (without feeling too skimpy). We love the extra support of the cross-tie back and the fun animal print. 
A Stylish Backpack
Backpacks are so handy for travel; however, they don't always fit the aesthetic. Fortunately, this Pixie Mood backpack, which is made with buttery-soft vegan leather, looks so chic when strolling the airport or chilling out in the lounge. It boasts plenty of pockets and zippers, along with a padded button snap closure that's roomy enough to fit your laptop.
A Cozy Pair of Slippers
Keep your feet warm (but not sweaty) with a pair of Pudus slippers. The slippers' exteriors have a handsome cable-knit design complete with plush faux-fur lining. The inside is made with memory foam for extra comfort, while the non-slip, skid-proof rubber sole is perfect for indoor or quick outdoor wear.
ShermansTravel uses affiliate links in this article to generate revenue. When you purchase an item after following one of these links, ShermansTravel may receive a commission. The items in this article were chosen independently by ShermansTravel's editorial team.