For traveling bookworms, a vacation can present one of three dilemmas: You forgot your book at home, you hate the one you've brought, or you zipped through a lovely read in the first two days and have nothing left for the rest of your trip.
That's when hotel libraries save the day. A good one may house hundreds – even thousands – of books in diverse genres, and if you're lucky, it might offer a gorgeous setting for you to read in, too. From a Prairie-inspired lakefront reading nook to shelves of rare leather-bound books in the nation's capital, here are our five favorite hotel libraries.
1. Canoe Bay (Chetek, WI)
When isn't a waterfront retreat synonymous with diving into a good book? At Canoe Bay – a hotel designed by Frank Lloyd Wright's protégé John Rattenbury – there's an A-frame library filled with thousands of contemporary books. Its amazing lake view beckons guests to grab a cup of hot tea and settle into the sectional with a tome; on chillier days, hole up here and get toasty by the stone fireplace.
2. The Heathman Hotel (Portland, OR)
The Mezzanine Library at The Heathman Hotel is so serious about its collection of 2,000-plus books that a literary curator presides over it. The author connections are huge: there are thousands of signed books, and many of the authors have stayed on site. The library is open 24 hours, and guests can check out books during their stay to read in-room or plop down onto one of the plush armchairs.
3. Library Hotel (New York, NY)
Standards are high with a name like the Library Hotel. Fortunately, the library at this Big Apple outpost delivers: there are 6,000 books available to guests, and the cozy wood-paneled Reading Room – which is open 24 hours – serves two complimentary food spreads per day. A continental breakfast in the morning includes cappuccino, café au lait, tea, and espresso; and in the evening, there is a nightly reception with wine, cheese, crudités, and fruit. Other reading spots in the hotel include the 14th-floor rooftop with a terrace, greenhouse, and fireplace; at night, the space transforms into Bookmarks Lounge with literary-inspired cocktails, like the Tequila Mockingbird, which is a spin on a margarita with fresh ginger. Fun fact: The hotel's 10 floors are dedicated to all the categories of the Dewey Decimal System.
4. The Charles Hotel (Boston, MA)
Not only does The Charles Hotel – located in Cambridge's Harvard Square – have a library, it has hosted many famous authors and public figures that have written books (like Hilary Clinton, Caroline Kennedy, and Sebastian Junger, to name a few). Settle in with a hardback in one of the comfy space's club chairs for a perfect afternoon.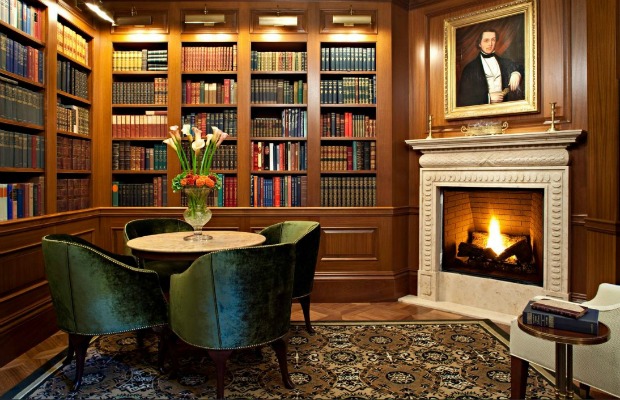 5. The Jefferson (Washington, DC)
In honor of former president Thomas Jefferson's passion for literature, The Jefferson's Book Room features leather-bound vintage hardbacks – dating back to the late 1700s and early 1800s – arranged in built-in bookshelves. The cozy space also has a crackling fireplace to help warm up on brisk days, with a portrait of Jefferson himself over the mantel. Curious about what Jefferson might have read? The collection is built around his interests. The room's Authors in Residence section includes books written by famous guests of the hotel – and if the author passes, that title is pulled from the shelf just in case guests take it as a souvenir.