When warm weather rolls around, there are few better ways to take in skyline views of New York than at one of the city's buzzy rooftop bars. And while they don't usually come cheap (you can easily kiss $17 goodbye on one cocktail), there are ways to feel like you're on top of the world for less. Head to these six bars in the city, where sky-high views don't necessarily mean sky-high bar tabs.
Salvation Taco at Pod 39: Go for the view from the brick archways at this rooftop, but stay for the tacos from Michelin-star chef April Bloomfield and partner Ken Friedman. While some of the more inventive cocktails here (say, the lavender sour or agave colada) are $14, you can still buy a frozen margarita or michelada for $10.
230 Fifth: You can't miss the front-and-center view of the Empire State Building and Midtown Manhattan at this bar in the Flatiron district, which has a weekday happy hour with $6 beer, $7 wine, $8 cocktails and reasonably priced bar food (for New York). Plus, there are weatherproof "igloos" in the winter, so you can gaze at skyscrapers any time of year. Brunch is also served on weekends. 
The Roof Garden at the Met: After you get cultured inside the museum, take the elevator in the European Sculpture and Decorative Arts Galleries to the fifth floor for the pièce de résistance: the open-air roof garden. Here, you can sip cocktails (the most expensive will run you $15), discuss sculptures from Argentinian artist Adrián Villar Rojas, and feel as if you could walk right onto the trees of Central Park.
The Delancey: We dig the laid-back vibes and tropical palms at this three-level rock club on the Lower East Side, where you look out to the Williamsburg Bridge from under a retractable roof. During happy hours, you can get $2 off on all drinks (normally $10-12).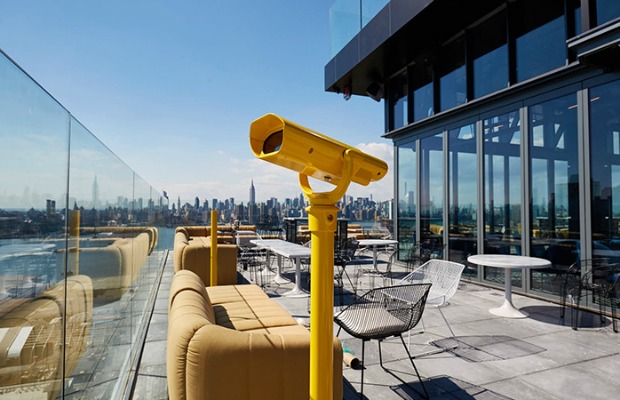 Westlight at The William Vale — Going out in Brooklyn has its perks: you get a complete view of Manhattan from the outside looking in at the 22nd floor of this hot new hotel in Williamsburg. It's such a cool spot that we don't even mind paying $15 for a negroni or $16 for the shrub-and-rum-laden fair & warmer. For a cheaper drink, choose the $7 beer.
Cloud Social: This relaxed bar on the top of the New York Manhattan Hotel -- in the shadow of the Empire State Building -- has comfy orange couches, a solid selection of drinks, and happy hour specials throughout the week, including $7 beer, wine, and cocktails.