Taiwan's capital city of Taipei is packed with a plethora of palate-pleasing surprises. Even better, prices for many eats are wallet friendly at $3 to $11 USD. Here's what we reach for when craving something cheap and delicious in this vibrant city.
1. Bubble tea
If you're going to have bubble tea, you might as well have it in Taiwan, where the tapioca ball-filled drink was invented in the '80s. Our favorite way to get the beverage requires some work, but it's so worth it: take the gondola from the Taipei Zoo to the Maokong stop, where at a higher altitude you'll be able to relish views of the Taipei skyline. Maokong, once a major tea-growing area, stakes claim to traditional teahouses -- such as Red Wood House -- that serve both hot and bubble tea. Budget about $4 USD for the drink.
2. Shaved ice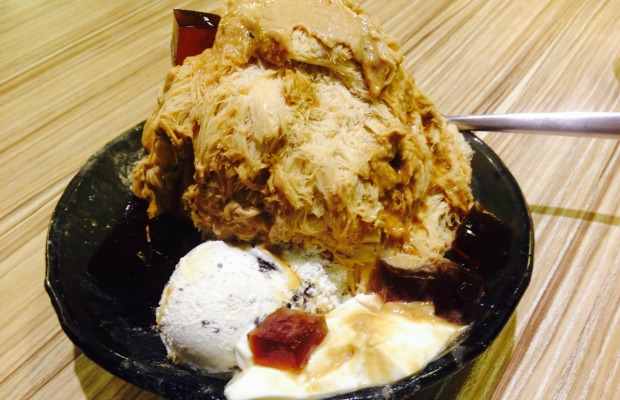 You know it has to be good when there's a line out front, right? That's the situation all day and night at Ice Monster, where the specialty is shaved ice. The sweet treat, priced from $5, is a mound of thin ice shavings topped with items like condensed milk, sugarcane juice, grass jelly, fruit, or taro; mango is the most popular flavor.
3. Rose-lychee bread
This bread ($11 per loaf) is such a standout that it was the winner of the 2010 Bakery Masters competition. Made with millet wine, rose petals, and lychee, the bread can be found on the ground level of Eslite Spectrum at Wu Pao Chun Bakery.
4. Dumplings (from $3.15)
It's not difficult to find steamed dumplings in Taipei, but don't leave without trying them at Din Tai Fung in the Taipei 101 building. The brand's first location was in another part of the city before expanding throughout Asia -- where a couple of its outposts are Michelin-starred -- and along the West Coast in the U.S. The menu lists savory dumplings filled with pork, fish, and squash, plus taro and red bean variety for dessert. An order of five dumplings is priced from $3.15.
5. Taipei Main Station
On the second floor of Taipei Main Station (also called Taipei Railway Station) are several dozen fast-casual restaurants organized by cuisine. Expect indulgent fare like sesame soft-serve ice cream, green-onion pastries, flavored milk-teas and oolong-tea popsicles. A beef-noodles joint even flaunts trophies and medals -- proof of its award-winning cuisine.
6. Shidong Market finds
This indoor vegetable, fruit, meat, and fish market in the Shilin district is home to casual eateries on the second level. We recommend trying Keelung Seafood's stir-fried silverfish (also called whitebait) and deep-fried cuttlefish. For a refreshing drink, order one of the fifty-plus juices -- including guava, kumquat, and dragon-fruit -- at one of the downstairs vendors. Items cost around $3 and up.
7. Pineapple cake ($11 for 10 cakes)
Trust us, just one of these treats is not enough. Made from a layer of preserved pineapples folded into a buttery, shortbread-like crust, pineapple cakes are typically sold as individually packaged bars. We've enjoyed these goodies at Dawn Cake, but you can find them throughout the city; ten cakes usually go for around $11.