There is often confusion when it comes to Walt Disney World and Disneyland. If you've ever been to one of these two Disney resorts in the U.S., you might think the other is exactly the same – but that's definitely not true. Disneyland on the West Coast and Walt Disney World in the Orlando have plenty in common, but have just as many differences.
Read on to learn about eight major differences between these two famous theme park resorts.
This article will cover the following:
The differences between Disneyland and Disney World
Which is bigger, Disney World or Disneyland?
Where to stay in Disney World and Disneyland
The best hotels in Disney World 
The best hotels at Disneyland
Reservations at Disneyland
Tickets to Disney World
The best rides at Disney World
The best rides at Disneyland
Size and number of parks
Walt Disney World: The most obvious difference between the resorts is their size. Disney World, located in Orlando covers 43 square miles – that's about twice the size of Manhattan or roughly the size of San Francisco. It's home to four theme parks: the Magic Kingdom, Epcot, Disney's Hollywood Studios, and Disney's Animal Kingdom. The icon of Walt Disney World is Cinderella Castle.
Disneyland: Located in Anaheim this resort is much smaller, sitting on about 500 acres. It has two parks, Disneyland Park and Disney California Adventure, and its centerpiece is Sleeping Beauty Castle.
Hotels
Walt Disney World: Both resorts have on-property hotels, making it convenient for guests to stay close to the action. Walt Disney World has more than two dozen hotels, catering to almost any budget. The flagship property of this resort is Disney's Grand Floridian Resort.
Disneyland: There are three hotels on the property: Disney's Paradise Pier, the Disneyland Hotel, and the resort's flagship property Disney's Grand Californian Hotel.
Transportation
Walt Disney World: From any of the on-site hotels, you can take complimentary resort buses to the parks. In addition, guests have access to the monorail, Disney Skyliner, boats, and ferries to get to the parks, depending on the hotel. The same can be said for going from park to park or to Disney Springs, though it may require some transfers. You can use the Minnie Van rideshare service, too – for a fee, of course.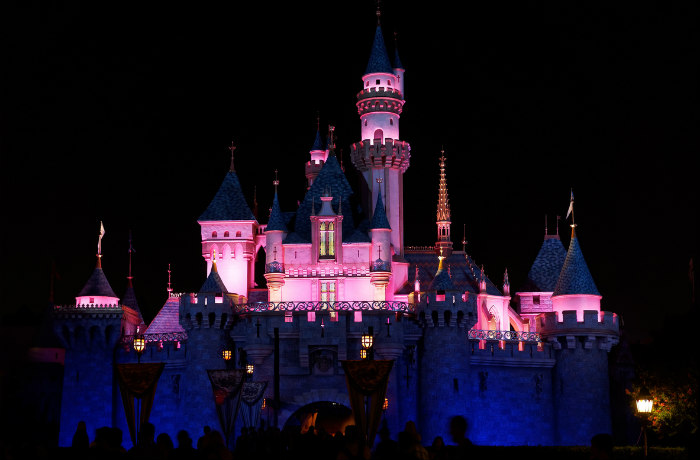 Disneyland: Thanks to the size of the resort, traveling from the three hotels to the parks is much more direct compared to its Orlando counterpart. Those staying at the on-property hotels can walk right to the parks and the Downtown Disney District. Guests of those hotels even have access to an exclusive Disney California Adventure park entrance, located inside Disney's Grand Californian. You also have an option to walk to the Downtown Disney District to catch a monorail that will drop you off right in the Tomorrowland section of Disneyland Park. Park-hopping is a breeze because the park entrances are right across from each other. You definitely won't find that in Walt Disney World.
Ticketing and reservations
Walt Disney World: Through 2020, guests staying on site are given a wristband called a MagicBand, which holds hotel reservations, park tickets, and dining reservations; it even acts as the hotel key.
Disneyland: There's no MagicBand system for California. Resort guests are issued a "Key to the Magic" card, which can be used to access the hotel room, enter the parks, and charge merchandise and meals.
Rides
There are about 20 attractions that you'll find on both coasts, including Space Mountain, It's a Small World, and Pirates of the Caribbean. However, there are some variations on both coasts and each resort has a number of rides that are exclusive to that location.
Walt Disney World: Some of the one-of-a-kind rides here include Spaceship Earth, Mission: SPACE, Test Track, Kilimanjaro Safaris, and the Seven Dwarfs Mine Train.
Disneyland: You'll only find the Matterhorn Bobsleds, the Finding Nemo Submarine Voyage, Pixar Pal-A-Round, Radiator Springs Racers, and Guardians of the Galaxy – Mission: Breakout here. 
Shows and entertainment
Like rides, you'll be able to watch some of the same shows on both coasts. Fantasmic, Turtle Talk with Crush, and It's Tough to be a Bug are all bi-coastal.
Walt Disney World: Only this resort can claim Mickey's PhilharMagic, Monsters, Inc. Laugh Floor, Beauty and the Beast – Live on Stage, and Finding Nemo – The Musical as some of its own.
Disneyland: Unique offerings include the Magic Happens parade and the World of Color nighttime show.
Activities outside the parks
A shopping-dining-entertainment complex is part of both resorts; as we mentioned earlier, it's Disney Springs at Disney World and the Downtown Disney District at Disneyland. Other activities outside the parks on both sides of the country differ greatly, however.
Walt Disney World: Guests have access to two water parks, golf and mini golf courses, biking, jogging paths, boat rentals, and more.
Disneyland: Due in part to its smaller size, there are fewer things to do outside of the park gates at the Southern California property, but that doesn't stop anyone from staying on the premises. After all, there's always lounging by the hotel pool.
Backstage and cleanup
At Magic Kingdom in Orlando, guests may not notice it, but they're actually standing on the second level of a massive structure. Below the park itself are tunnels that house offices, cast member facilities, trash collection, and more. The decision to build the structure, called the Utilidors, reportedly came in response to the overflow of some trash receptacles in the early days of Disneyland, which does not have these underground tunnels. They are also used to transport goods throughout the park so that it doesn't ruin the magic for guests.