Really want to get away from it all? Consider a hotel that's so remote, you can get there only by boat (or seaplane if you're a tycoon). Think Robinson Crusoe without the shipwreck. Here, some of the standouts.
The dock leading to paradise — Ilet Oscar Guest House (Photo: Ilet Oscar Guest House)
Ilet Oscar Guest House, Martinique
Take a 10-minute boat ride from Francois Marina to Ilet Oscar and you'll completely unplug. The spit of land on the southeast side of Martinique has nothing more than a colonial-style, four-bedroom guesthouse and amazing views of the sky and ocean. There's no Internet, no TV, and no phone service.
Instead, guests can savor gourmet Creole-French meals and then paddle over to the shallow swimming hole known as Josephine's Bathtub, where the Martinique-born wife of Napoleon Bonaparte, Empress Josephine, once chose to swim, according to legend.
Islanders can also kayak, snorkel, and water ski. Or simply enjoy the view from the veranda.
A guest room with a view at Verana (Photo: Verana)
Verana, Mexico
High above the Bay of Banderas, yoga is practiced close to the clouds. The infinity pool offers a stunning view of the beach below: In fact, the entire boutique resort, complete with spa, is perched on a steep hillside.
Relaxation is in order, because just to get to Verana takes some effort: From Puerto Vallarta, guests drive to nearby Boca de Tomatlán, the last beach reachable by car.
Then a 30-minute boat ride transports you and your luggage to the Yelapa coast. You're not there yet: You take a vigorous walk up the hill while mules haul your suitcases.
Although Verana has many luxurious touches, such as gourmet meals and a romantic setting, it's a rugged retreat. The bungalows without walls are set in the jungle, so there are few prying eyes. But guests should expect to share their rooms with the natural — buggy — world. Day trips give guests options to whale watch, horseback ride, and fish.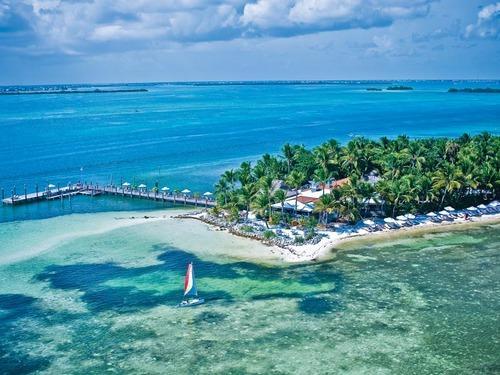 The Florida Keys' Little Palm Island (Photo: Little Palm Island)
Little Palm Island, Florida
With its turquoise waters and secluded white-sand beach, Little Palm Island feels like the "south seas," according to one glowing TripAdviser review. The 30 tropical-themed suites of this upscale Florida Keys resort are accessed by seaplane or boat. Luxe extras abound, such as a "bath butler" and private dining on the beach.
Guests love the seasonal restaurant menu, the outdoor showers, and the tech-free nature of a holiday that focuses on water sports like scuba diving, sailing, and kiteboarding.
A hideaway on Catalina Island (Photo: Aurora Hotel)
Aurora Hotel, Catalina Island, California
Is it possible to have an island holiday without busting your budget? Yep. Catalina, off the coast of Southern California, is home to hotels with a wide range of prices.
The Aurora isn't the cheapest, but it's a good deal when you look at what you get: A four-day, three-night midweek package for two with round-trip boat transfer, standard room, and continental breakfast is just under $800.
Visitors can enjoy a range of activities on the lively island, including shopping and concerts, water sports, golf, and even a walking ghost tour.
Low-key living in Crete (Photo: Oasis Hotel)
Oasis Hotel, Crete
This hidden Crete gem is also a great deal. Reachable by ferry from the town of Chora Sfakion, the small, family-run hotel offers a few rooms at bargain prices — during high season, a double is just 45 euros a night (about $60).
Guests can take in the panoramic view of the bay and ocean from the hillside location and walk down the trails to experience the waterfront bars and restaurants of the sleepy fishing village.
The locale is so peaceful, the Oasis Hotel has become a destination for meditation retreats during the off-season.
A Norway lighthouse hotel (Photo: Littleisland Lighthouse)
Littleisland Lighthouse, Norway
Don't bother bringing a bathing suit: this isn't that kind of island. But if you're a fan of the northern lights and want to experience life as a lighthouse keeper, this northern Norwegian sojourn may be for you.
The island guesthouse can accommodate up to four people in two rooms. The peaceful retreat is perfect for bird watching, whale watching, and kayaking. Guests are served island-grown organic vegetables and locally caught seafood.
The trip to Littleisland Lighthouse is "an adventure in itself," notes the website. There's no direct route, but the options involve planes, local buses, and then a ride on the little island boat. The open-water trip takes about 15 minutes — a little more if "the sea is uneasy." Then there's a 300-step climb to the lighthouse, so pack lightly.
A Capri find (Photo: Capri/Flickr)
Hotel Canasta — Capri
While it's certainly possible to plan a day trip to this Mediterranean paradise — ferries leave from Beverello dock in Naples — visitors may be tempted to stay a few days to take in the sights.
The small, family-owned Canasta Hotel offers rooms with garden views and is within walking distance of the main La Piazzetta square. Visitors can explore the famed shopping and restaurants or enjoy less pricey pursuits, such as an island hike and a panini.