Everyone knows someone who qualifies as the ultimate foodie. They seem to know the latest food trends, the hottest restaurants, and can even shake a killer craft cocktail. From sushi socks to a taco necklace to a cocktail smoker, here are gifts for the ultimate food lover.
Milk Bar Cookies
You no longer have to visit New York City to experience chef Christina Tosi's Milk Bar. This assorted cookie collection has one carton each of the famous cookie flavors: Compost (sweet-and-salty with potato chips, pretzels, coffee, chocolate chips, and more), Confetti (buttery vanilla sugar cookie with a burst of rainbow sprinkles), and Cornflake Chocolate Chip Marshmallow (a crunchy, gooey riff on the classic chocolate chip). Buy it now.
Sushi Socks
These quirky sushi socks make the perfect gift for any sushi lover. Each sock is folded in a specific way so that it resembles a Japanese roll. Buy it now.
A Cheese Making Kit
This stylish gift is perfect for your favorite cheese lover. You can make 10 different cheeses in 40 batches--each one taking less than an hour's time. Buy it now.
A Foodie Trivia Game
This fun trivia game has over 1,000 questions. The topics cover everything from celebrity chefs to food science and history--perfect for food buffs or just a fun evening in. Buy it now.
A Set of Truffle Oils
This high-end gift set includes three truffle oils: Black Truffle Oil, White Truffle Oil, and English Truffle Oil, all held in a lovely gift box. Buy it now.
A Veggie Box
Plant Theater's Funky Veg Kit is packed with everything you need to have your own at-home veggie box. Here, five seed sachets with pots (and growing tips) will expand up to seven times in size for a tasty indoor garden. Buy it now.
A Taco Necklace 
This fun and funky handmade taco necklace will be the perfect gift for your foodie friend. The stainless steel taco comes with a handmade greeting card and envelope. Buy it now.
Stonewall Kitchen Bacon Gift Set
Foodie favorite Stonewall Kitchen has a gift set that's perfect for the bacon lover. The Maple Bacon Aioli, Maple Bacon Onion Jam, and Boozy Bacon Barbecue Sauce come perfectly packaged and ready to eat. Buy it now.
A Cocktail Smoker
For the true cocktail connoisseur, the GKC portable smoker makes the coolest craft cocktail. Included is a cleaning brush and wood chips, plus a velvet bag for storage. Buy it now.
A Box of Assorted Chocolates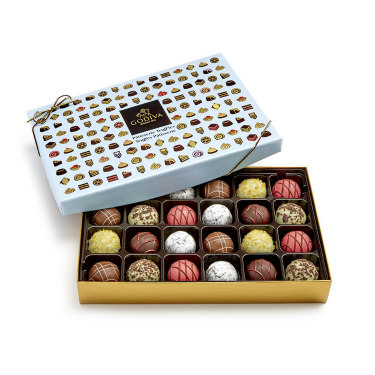 You really can't go wrong with a box of fancy chocolates. This set from Godiva has 24 beautifully decorated and very delicious chocolate candies. Buy it now. 
ShermansTravel uses affiliate links in this article to generate revenue. When you purchase an item after following one of these links, ShermansTravel may receive a commission. The items in this article were chosen independently by ShermansTravel's editorial team.