Saturated with sights and sounds, Marrakech, Morocco is a city for all senses. It's also a city for all budgets, where you can stay in luxury hotels or pay pennies for a hostel. To find some real bargains, we recommend traveling in the off-season from October to February. Here, a guide to touring Morocco's Red City on a backpacker's budget.
What to Do
Wander the maze-like Souk to find spices piled high, mint for tea, beautiful woven rugs, handmade jewelry, and plates bursting with colorful geometric patterns in cobalt, magenta, and turquoise. Bargaining is expected here, and you can walk away with a camel leather bag for under $30.
Among the Moorish Mosques and palaces in this city, you'll find one of the most awe-inspiring in Bahia Palace, with its intricate, kaleidoscope-like tile work and lush gardens with reflecting pools. Entrance is the equivalent of just $1 USD, open Monday to Sunday from 8 to 5.
Jardin Majorelle, a serene 12-acre garden with the most brilliant blue walls, also houses the Islamic Art Museum. Check out the exhibit dedicated to designer Yves St. Laurent, who once owned the gardens. Entrance is $7 USD.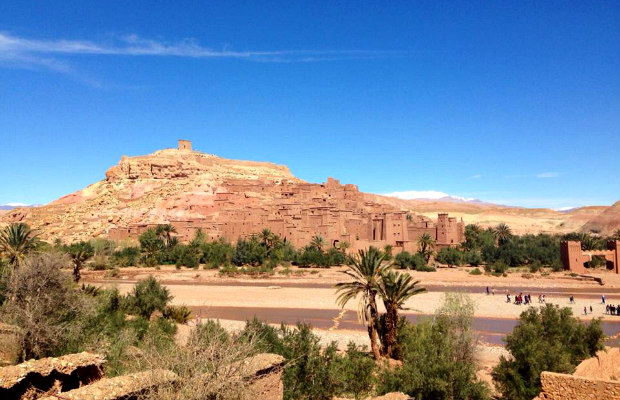 Want to explore outside the city? Book a day trip from Marrakech for just $35 USD per person to Ait Benhaddou — a desert-like preserved village at the end of a three-hour drive through the Atlas mountains, used by many Hollywood filmmakers (Game of Thrones fans, this is the land of the Dothraki).
Where to Eat
Jemaa el-Fna – the city's bustling open-air marketplace is where everything happens: vendors call for you to buy trinkets, snake charmers lull their serpents — and where you can grab a cheap bite on the go. In the morning, find freshly squeezed orange juice for the equivalent of 50 cents. By night, the whole square transforms into rows of seating with pop-up food vendors. You'll get an authentic taste of the city for less here; order the tagine, a hearty stew-like dish of vegetables and chicken or beef cooked in clay pots ($10 USD). For something sweet, bypass the stalls and head to one of the city's most well-known pastry shops, Patisserie des Princes, just off the main square of the medina. You can buy tea or almond cookies, petits-fours, and pain au chocolat for about $2 USD.
Where to Stay
To cut out transportation costs, we recommend staying in the city center for ease of access to major attractions. Since we're talking backpacker budget here: Rainbow Marrakech just off Jemaa el-Fna, is five minutes walking to all major attractions: Bahia Palace, Museum of Marrakech, and is dirt cheap at $6 USD per night for a six-bed shared room, but we personally found it clean and safe — and a great place to meet other travelers from all over the world. Plus, they have free WiFi and some great mint tea at complimentary breakfast.
If you're looking for something a little less communal, say a private room at a nice hotel, Djemaa el Fna Hotel Cecil can be as little as $23 USD per night for a private room and is a six-minute walk to the city center.
Even the most luxe hotels can seem like a steal: the Hotel Pullman Marrakech Palmeraie Resort and Spa, with a pool, tennis, golf, surrounded by acres of palms, starts at $112 USD and has free daily shuttles into Marrakech.