Picture this: You've just finished a hike – one of the most scenic you've ever experienced – replete with ocean and mountain vistas. All around you, there are wildflowers bursting with color, lush greenery, and trees so tall you can barely see the tops. Next is a drive – windows down of course, – to a natural hot spring that's far superior to any hot tub you've ever dipped into. Then, it's time for a nourishing meal made with fresh-from-the-ground fare. This isn't a new way to spa, but it's certainly one of the greatest. And it can only be experienced in Monterey County, California – ShermansTravel's first-ever wellness destination of the year.
Ultimately, we've chosen this destination because we feel that it offers our readers a sense of much-needed self-care and incredible beauty, all right in our own backyard. What's more, visiting Monterey County almost feels as if you're visiting a different country – especially if you're a city dweller. The land is rich for a bounty of seasonal produce, the vineyards are ripe for wine production, and the land and sea beckon for exploration.
Where is Monterey County?
Monterey County is situated on California's Central Coast, with its northern border approximately 100 miles south of San Francisco; its southern border is approximately 240 miles north of Los Angeles. The county includes the following cities, towns, and regions: Big Sur, Carmel-by-the-Sea, Carmel Valley, Marina, Monterey, Moss Landing, Pacific Grove, Pebble Beach, Sand City, Salinas, Salinas Valley, and Seaside. We've put together the ultimate wellness getaway to Monterey County here — and the best part is that it can all be done in a long weekend.
A New Way to Spa
For this feature, we're looking beyond the spa. What we love about Monterey County is the abundance of hot springs – it feels as if it's a way of life here. Sykes Hot Springs in Big Sur, which is accessible only by the 18.9-mile Pine Ridge Trail, is among our favorites. Sure, it's a strenuous, four-hour hike to these secluded springs, but it's worth it: You'll be rewarded with a refreshing dip in one of two stone-lined natural pools that reach temps over 100 degrees. After traveling all this way, you may opt to spend a night or two at the nearby Sykes Camp, a backcountry camping area that recently reopened in 2021 following a five-year closure. 
Read more: The Best Glamping Spots in America
The hot springs over at the Esalen Institute (only accessible to guests staying on site) are also noteworthy. Perched over the Pacific, these cliffside spring-fed tubs offer pinch-me vistas, setting the scene for a relaxing soak. The tubs span two levels: The upper level has an outdoor massage deck, hot tubs, and a beautiful living roof complete with a crystal and succulent garden. On the lower level, you'll find a communal changing area (along with the actual springs). Choose from two sides, a "quiet" side and a "silent" side, depending on the vibe you're looking for. 
Located deep within the Ventana Wilderness in Carmel Valley, the Tassajara Hot Springs are part of the Tassajara Zen Center, which is open to the public during the summer months. Visitors can reserve day trips to soak in the sulfur spring water-filled pools, which clock in at 144 degrees and are ideally situated next to the tranquil Tassajara River. Other wellness-centric amenities include a wet sauna, multiple outdoor tubs, sundecks, and private bathhouses.
Wellness-seekers need not miss a visit to Refuge in Carmel-by-the-Sea. Spend a few minutes in the cedar sauna before heading to the eucalyptus-infused steam rooms. From there, take your pick of six hot and warm pools complete with thermal waterfalls. Circuit between water temps in one of the cold plunge pools (two of which have the temperature of the Pacific and two of which have the temperature of an icy river). Post-plunging, relax in one of the Adirondack chairs by the fire pit or soak up views of the Santa Lucia Preserve from a hammock. 
Land and Sea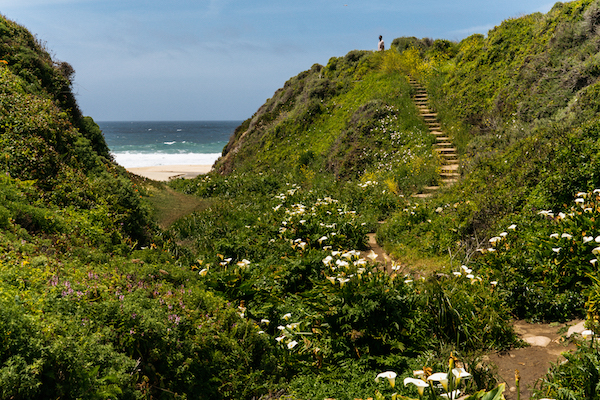 Water provides a healing property that contributes to individual wellness, and Monterey County offers 99 miles of coastline in either direction meant for exploring, hiking, swimming, and kayaking. We love that it's equally beautiful here when warm or cool. 
We recommend sort-of-your-own DIY forest (or, rather, sea) bathing and taking in the beauty on a hike. Point Lobos State Natural Reserve is a popular favorite, and for good reason – it's beyond stunning. Landscape painter Francis McComas called Point Lobos "the greatest meeting of land and water in the world," and it's certainly worth a trip. Our tip: Get there at the opening to avoid the crowds and snag one of the limited parking spots. For something equally as breathtaking but with fewer crowds, head along Highway 1 to Garrapata State Park, subtly marked with just one sign and 19 discreetly numbered turnout markers. Here, you'll find mostly locals who've set up their easels to paint the dramatic coastal views. Hikes range from the easy 15-minute Garrapata State Park Bluff Trail (ideal for those short on time) to the more moderate 2.8-mile Soberanes Canyon Trail.
Now, keep driving. Located in Big Sur along Highway 1 is the Julia Pfeiffer Burns State Park, which stretches from the Big Sur coastline into nearby 3,000-foot ridges. It features redwood, tan oak, madrone, chaparral, and an 80-foot waterfall that drops from granite cliffs into the ocean waters of Monterey Bay National Marine Sanctuary. It's an easy hike among spectacular nature, and you're rewarded with the 80-foot McWay Waterfall that cascades into the beach below. If the weather is warm enough, stop alongside one of the many beaches on Highway 1 for a quick dip, afternoon picnic, or meditation session.
Read more: Scenic West Coast Road Trips to Take This Summer
Food and Wine
Is it just us, or does the food in California taste better? Perhaps it's because there's so much fresh fruit, vegetables, and cheeses – along with so many interesting cuisines to boot. From the bounty of fresh seafood caught daily on the Monterey Bay National Marine Sanctuary to farm-to-table produce from the Salinas Valley, delicious and healthy food can be found everywhere with local specialties like artichokes, mushrooms, strawberries, calamari, halibut, and abalone.
From simple tacos to just-from-the-ground salads to oysters and avocados – there's so much to love about California's cuisine. The place that seems to embody the concept of wellness cuisine (Is that a thing? We're making it one) is Nepenthe. Located along Highway 1 in Big Sur and perfectly perched high above the Pacific with commanding views of the Santa Lucia Mountains, Nepenthe has served as a gathering place for artists and creatives since 1949. Known for its Ambrosia Burger and homemade desserts (but also, if there's local tuna salad on the menu, don't sleep on it), the place is both upmarket and unfussy, and it embodies everything there is to love about the area. Grab a glass of wine and sit on the wide-open patio or dine inside the main building, designed by a protégé of Frank Lloyd Wright. After, allow a good half-hour to pursue the gift shop for local jewelry and local treasures. 
Napa and Sonoma get all the credit, but Monterey County plays host to some of the country's best Pinot Noir and Chardonnay varietals that thrive in this climate. A positively delightful way to spend a half-day is to yoga-and-wine at Folklore Winery & Vineyards, where you can downward dog amid the lush backdrop. The five-acre vineyard is 100% organically farmed meticulously by hand, with a 300-acre estate vineyard in the Arroyo Seco AVA of Monterey County. After, you can book brunch near one of the outdoor fireplaces and indulge in a farm-fresh food and a wine tasting. The in-house shop has lovely local products, including a fine selection of lotions and potions. 
Read more: Underrated US Wine Regions
Rest and Recharge
Your accommodations should be more than a place to just lay your head; consider this an extension of your wellness journey. The Hyatt Carmel Highlands sits high on a hillside overlooking the Big Sur coast and has been a place for creative types since its opening in 1917. Today, it remains one of the area's most approachable luxury properties. Request a room with a view of the ocean, some of which have cozy Adirondack chairs to sip morning coffee or tea, and make sure to steal away to one of the almost-hidden hot tubs, which, you guessed it, overlooks the water. There's plenty of incredible dining in Monterey County, but since you're already on-property, book a meal at the on-site Pacific's Edge restaurant and get there before sundown to take in the spectacular views. A post-dinner old-fashioned at the bar near the wood-burning fireplace is such a lovely way to end an evening. 
If you'd like to dip your toe into a bit more metropolitan area, you can still avoid the traffic-choked cities in much of California and instead head into Carmel-by-the-Sea and pop into one of the many art galleries or tasting rooms. A gallery-winery hop, if you will. Our favorite property is La Playa Carmel, which feels more like a home than a hotel. 
Read more: Tradewinds Carmel Hotel Review
In Monterey, there's the beachfront Spindrift Inn. The town can often be buzzing with tourists, but this property offers up a relaxing respite. Rooms here have cozy fireplaces and a window seat that overlooks the waves where you can re-read East of Eden or grab the binoculars to watch the sea otters playing in the waters. Every night, the hotel hosts a wine and cheese hour and, in the morning, brings a silver tray breakfast delivered to your window nook. If that's not wellness, what is?