When Barcelona's Hotel Inglaterra changed its name to MidMost this summer, the hotel owners kept the transformation a secret from the public. Guests who checked into Hotel Inglaterra the night before were surprised to be told that they had woken up in Hotel MidMost. Although the change was subtle enough that those guests may never have realized had they not been told, the hotel has been considerably upgraded.
What's Hot
Occupying a building that dates from 1919, the hotel's historic details remain, such as the façade and main spiral staircase, and sharp-eyed guests will notice that a sign reading "Inglaterrra" still hangs on the side of the building. The design -- updated to complement the hotel's rebranding -- is an elegant blend of classic and contemporary decor, from the antique, turn-of-the-century check-in desk to the grand crystal chandelier in the lobby, French lamps, and plush velvet sofas.
Best Feature
Sure, there's Barceloneta and Bogatell, but Barcelona isn't really a stellar beach town -- at least not by Spanish standards. You can forget that by lounging in the Mediterranean-style rooftop lounge, decked out in beachy blue and white colors with striped cabanas and views over the city center. And, this being Barcelona, it's warm enough to enjoy it, and the spa pool, almost year-round.
The Rooms
The hotel's 56 guest rooms are divided into seven categories: Design room, Superior room, Superior with terrace, Privilege room, Junior Suite, Suite MidMost, and Suite Exclusive. Each one is spacious; styled to a cosmopolitan aesthetic with mixed textures, leather desks, and marble tables; and has, at the minimum, a balconette. Marble bathrooms feature attractive black-and-white tiled floors and gold finishes as well as organic Argan Meadow bath products.
The Food
Healthy eating is key at the clubby, velvet sofa-lined, basement restaurant. Detoxifying juices, fruits, and grainy breads (butter is replaced by ghee) are laid out each morning. The breakfast menu was created by Martina Wastl, a nutritional educator, holistic therapist, and yoga instructor. But don't worry, you will find the usual breakfast favorites -- pastries (made with whole grains), meats, and cheeses -- there, too. The restaurant is not yet open for dinner, but you can grab a bite to eat in the downstairs Library Lounge or rooftop Terrace Bar.
Who Will Love It
MidMost's design-forward look will surely find favor with a younger, trend-focused set. Cultured travelers will love the historic details.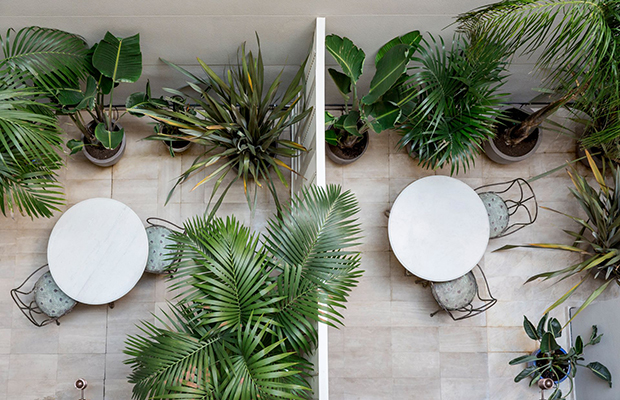 Nearby
As you might reasonably expect from a hotel whose tagline is "a hotel in the very middle," MidMost puts you within easy reach of Barcelona's most popular attractions. Within a five-minute walk you can reach Las Ramblas, Plaça Catalunya, and the Boquería covered market. A 20-minute walk will get you to the Museu Picasso, and La Sagrada Familia will take 30 minutes.
Rates, Deals, and Special Offers
MidMost is part of the small Majestic Hotel group, named for the iconic five-star Hotel Majestic on Paseo de Gràcia. But while a room at the Majestic will cost $280 on a December weeknight, you can get a room at MidMost for $116. MidMost also offers a selection of packages, including the Discovery Barcelona Package, which includes breakfast and a one-day ticket for the Barcelona tourist bus. Find more information here.
Connect
Follow Midmost on Twitter, Instagram, and Facebook.
Getting There
The hotel is a five-minute walk from Plaça Catalunya train station. From the airport, it's 20 minutes in a taxi.