Though not a total culture shock for Westerners due to its British colonial heritage, Hong Kong can at times be overwhelming, So, on a recent trip to Hong Kong hosted by Cathay Pacific Airways, Island Shangri-La, and the Hong Kong Tourism Board, I decided to venture out to discover a more quiet side of this bustling city. I chose a half-day trip to the island of Lamma – a hotspot for local movie stars and expats – for some hiking and swimming.
I set out from the Island Shangri-La, in the Central area of Hong Kong Island, to the ferry terminal, which is just a short walk from Hong Kong Central Station and the Central MTR subway stop.
I started my hike in the tiny fishing village of Sok Kwu Wan, which is served by a 30-minute ferry service from Pier 4 every hour or two. At 11am on a Thursday morning, we seemed to be the first people to arrive on this part of the island and the restaurants and shops along the waterfront were busy preparing for the first customers of the day. I walked through the shopping area towards a small beach and visited a local temple on the way. From the beach, a small path leads to Yung Shue Wan, the slightly bigger of the two villages on the island, which can only be reached by ferry and foot (there are no cars on the island).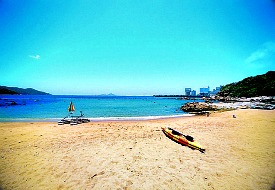 The sound of crickets could be heard everywhere as I made my way past small village homes and banana plants, creating a stark contrast to the urban sights and sounds of Hong Kong Island. After around 20 minutes, I reached a lookout point with nice views of the small village below and the south side of Hong Kong Island across the bay. Another 25 minutes later, I walked down to Hung Shing Yeh Beach, the most popular shore on the island, which was almost deserted. This is a lovely spot with changing rooms, showers, and a lifeguard service from April to October, although it is slightly spoiled by the sight of a large power plant in the next bay over.
From here, it's only a 15-minute walk to Yung Shue Wan with its many quirky shops and restaurants. The entire walk takes about an hour for fit walkers and is not too strenuous, but can be slightly taxing on a hot, humid summer day, so be sure to bring plenty of water and sunscreen. After lunch at a local seafood restaurant near the ferry terminal, I caught a fast ferry back to Hong Kong Island. Ferries operate about every 30 minutes from/to Yung Shue Wan and the round-trip costs just $5.
I'd highly recommend this trip, or an excursion to one of the other outlying islands (there are 262 in total, though many are uninhabited), as a way to escape the hustle and bustle of the city. Plus, locals will be impressed with your insider knowledge.
Check the Hong Kong Tourism Board website for more suggestions on day trips to the outlying islands. Then use our Travel Search price comparison tool to find the lowest rates on return flights, packages, and more travel deals.