In 1936, Sun Valley became the first winter resort city in the nation. With 360-degree breathtaking views, plus an ideal combination of sun, snow, and little wind, it's no surprise that nearly nine decades later it is still one of the best places in the U.S. for a winter getaway. Situated in the northern portion of Idaho's scenic Wood River Valley, Sun Valley comprises the eponymous resort city, the small town of Hailey, and the historic town of Ketchum.
From hitting the slopes to paying tribute to the town's famed residents, and exploring the craft beer and spirits scene, here's how to spend a relaxing winter weekend in Sun Valley.
What to do
Sun Valley's clear skies and powdery snow form the perfect recipe for an epic day of skiing. Head to Bald Mountain and Dollar Mountain, which together offer more than 3,400 vertical feet and 2,000-plus acres of varied terrain, with 105 varied runs for skiers of all levels. Afterward, fill up at The Kneadery in Ketchum -- a funky lodge-style eatery that serves hearty plates, like the South of the Border Omelet, stuffed with sausage, green onions, avocado, and jack cheese, topped with salsa and sour cream.
If Nordic skiing is more your style, head to Galena Lodge where you'll find more than 125 miles of trails groomed for cross-country skiing and snowshoeing. The lodge restaurant is also a local favorite for lunch and special dinners, such as the Full Moon Dinners on December 14 and 15 that include four courses for $45 per person.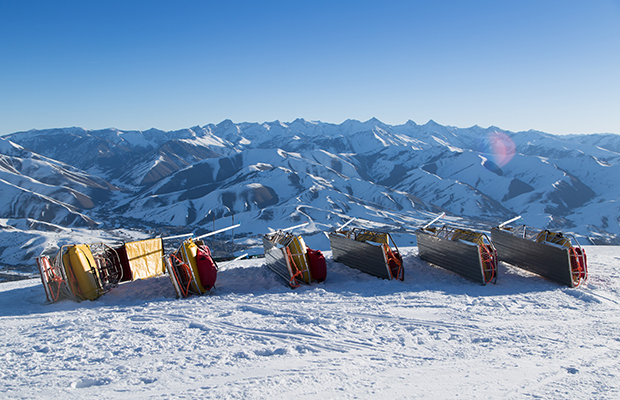 For a unique way to tour the town in winter, ditch your skis in favor of a horse-drawn sleigh ride operated by the Sun Valley Nordic Center. The tour ($20 per person) lasts approximately an hour and passes spots like the Trail Creek Cabin -- a historic log-cabin-turned-restaurant -- and the Ketchum Cemetery, the final resting place of Ernest Hemingway. The area is filled with memorabilia and nods to the author.
Downtown Ketchum is also home to several antique shops, including Antique Alley, which sells novelties ranging from vintage neon signs to artfully framed Idaho potato sacks. Warm up with a hot beverage at Iconoclast Books & Cafe, which offers a reasonably priced breakfast and lunch menu, weekly cooking classes, and row-after-row of new and used books.
Whether you spend your time on the slopes or exploring the valley's small towns, there's no better way to end the day than with a warming beverage. For cocktails, visit The Warfield Distillery and Brewery in Ketchum. In summer, you'll head straight to the bustling rooftop patio, but in winter it's all about the food and drinks. The menu is constantly changing to highlight seasonal ingredients -- namely warm, comforting combinations like lamb, potatoes, and farm-raised shrimp. Try one of The Warfield's ten home-brewed craft beers as well as the incredibly smooth gin and vodka distilled in house.
If after a day on the mountain, you're craving a beer and some solid, no-frills pub food, head to Sawtooth Brewery. One of the top craft breweries in the valley, Sawtooth has locations in downtown Ketchum and downtown Hailey, both of which offer hearty pub fare and signature brews, including the hopped-up Idahome IPA and the refreshing Flow Trail Pale Ale.
Where to stay
When Sun Valley Lodge opened in 1936, it was the first hotel in the new winter resort destination. Located in Ketchum, the space combines the warmth of a rustic ski lodge with historic charm and modern amenities. The property has attracted celebrities, from Marilyn Monroe and Clark Gable to Sylvester Stallone, since its opening. Highlights include the Duchin Lounge for a classic cocktail and the private outdoor ice rink. Nightly rates in the winter begin in the $400 range.
If you're looking for a more budget-friendly option, check out the Tamarack Lodge. Located in downtown Ketchum, it is within walking distance of nearly everything in town and is a wonderful place to post up for the weekend. The rooms are spacious and comfortable -- several have fireplaces and most boast incredible views of Bald Mountain. Average busy season nightly rates hover around $140, and the lodge routinely offers discounts on stays.
Be on the lookout this winter for the grand opening of the Limelight Hotel in Ketchum. Situated near the base of Bald Mountain, the hotel will feature modern amenities, plus complimentary outdoor adventures like snow shoe tours, guided first tracks on the mountain, and bike rentals. The Limelight is slated to open in early 2017, and winter rates will start at $320 per night.
Getting there
Many visitors are drawn to Sun Valley for its isolated feel, but don't be fooled: Getting to Sun Valley is as easy as you want it to be. If you're up for a road trip, take the Sawtooth Scenic Byway through the rolling plains and mountain ranges, as the Wood River Valley unfolds before you. If flying makes more sense, there are nonstop flights to Friedman Memorial Airport in Hailey -- just fifteen minutes from Ketchum -- from most western hubs, including Denver, Seattle, and L.A. Once you've landed, taxis and shuttles are available; some accommodations also offer courtesy shuttle service to and from the airport. Renting a car will make it easier to get out and explore the vast landscape around Sun Valley, but the area's public transportation system will suffice if you're interested in cozying up and staying local.