Disney Wish is Disney Cruise Line's first new ship since the Disney Fantasy (launched in 2012), joining a fleet of four as the next generation of family fun at sea. Here's a first look at the many magical bells and whistles you'll find aboard Disney Wish.
1. Disney's first castle at sea.
Inspired by Cinderella, the ship has a whimsical fairytale vibe that's evident from the second you step foot onto the ship. Upon entering the Grand Hall, you're instantly greeted with an announcement of your party and a warm wave from a Disney princess and prince from their balcony.
Also, keep in mind that even those familiar with the Dream- and Magic-class ships will need some time to get acquainted with the completely revamped deck layouts, as almost nothing is in the same place. In fact, there are so many new spaces, lounges, and theaters that it will take you a few days to discover them all. 
2. A kids' club with something for everyone. 
The kids' club (aptly named the Oceaneer Club) is among the ship's most innovative and exciting spots. All ages are welcome to hop the slide from the atrium into the newly reimagined Oceaneer Club for a tour upon embarkation. You'll have the chance to see how much fun the younger passengers will have in custom-built areas, including Star Wars: Cargo Bay area, the interactive Marvel Super Hero Academy, and the precious It's a Small World nursery. 
3. Some of the best (included!) dining experiences at sea.
Cruisers can take advantage of an array of impressive dining options and experiences. Among our favorites include the new Mickey & Friends Festival of Foods (on the pool deck), which serves lunch, dinner, and dessert at five themed food stalls: Mickey's Smokestack Barbecue, Donald's Cantina, Daisy's Pizza Pies, Goofy's Grill, and Sweet Minnie's Ice Cream. Don't pass up the quality brisket and mac and cheese at Mickey's, the fun and fresh pizza combinations at Daisy's (they make a delectable personal-sized, plant-based cheese and sausage pizza to order), or the Chipotle-inspired burritos and bowls.
The ship's buffet — the brand-new Marceline Market, which serves breakfast and lunch daily — is similar to the Cabanas buffet on the Disney fleet. Marceline is named in honor of Marceline, Missouri, one of Walt Disney's childhood hometowns. Breakfast is all about the fresh Mickey waffles, though there are ten food stalls throughout the marketplace that serve up global specialties. When it comes time to sit down and dig in, head outside towards the back of the venue, where you'll find the best tables. 
Meanwhile, the three included dinner experiences, built with all ages in mind, are among the most special we've ever seen. Ahead of your sailing, choose from one of two dining times (whether it be earlier, around 6 p.m., or later, around 8 p.m.), and you'll easily breeze right into your pre-assigned table. Here's a taste of what you can expect: 
Arendelle: A Frozen Dining Adventure: Anna and Kristoff are throwing an epic engagement party, and you're invited. The experience begins with a scenic stroll down a long corridor into the remote land of Arendelle. The evening is dinner theater-in-the-round for the whole family with music from the Frozen movies, a few fun scenes, meet-and-greets, and a finale that'll have you up and dancing. The food is Norwegian-inspired with a contemporary edge. Don't miss Elsa's scallops, King Agnarr's pork tenderloin, and Elsa's coronation sundae. 
Worlds of Marvel restaurant: The new dining experience at Worlds of Marvel wows with a seamless, tech-forward evening complete with plenty of surprises and thrills. Each table has its own Quantum Core device that can cause shrink and grow objects with the touch of a button. The nifty, sturdy prop comes into play a few times throughout the meal and is a fun, interactive way to include everyone in the room. Acording to the cruise line, dishes are inspired by the "legendary locales of the Black Panther's African Wakanda" — and they're delicious. Options abound, including bao buns, creamy soups (potato and mushroom), and a rib-eye steak with black truffle butter. The Pym doughnut sundae is another highlight, though the cookie surprise that tops off the evening is one of the best sweet treats found on the ship. 
1923: 1923 has the elegance and intimacy of a premium steakhouse. The restaurant is split into main dining areas, the Roy Disney and Walt Disney rooms, honoring the two founders of the original Disney film studio. Plan to linger longer as Disney's animated classics are honored throughout each room with fascinating memorabilia, art, and models. As for the food, you can't go wrong with the ahi tuna, the filet mignon, the vegetarian quinoa tacos, and the churros. 
4. Mouthwatering upscale specialty dining. 
Head up to deck 12 to peruse the adults-only fine-dining venues, all of which take inspiration from Beauty and the Beast. Consider making a reservation at the newly reimagined Palo Steakhouse and Enchanté by Chef Arnaud Lallement (the same world-class French chef who created the menu at Remy restaurant on Disney Fantasy and Disney Dream). Palo Steakhouse is the more traditional, upscale American steakhouse with a four-course prix fixe menu ($45) and an extensive à la carte menu with eight cuts of steak ranging from $20 to $45.
Expect the most elevated dining experience next door at Enchanté, where a cheeky Lumiere figurine hangs in the hallway leading to a stunning golden floor-to-ceiling golden chandelier. The elegant entrance sets the scene for a Lumiere-inspired dinner where your options include two prix fixe menu options, "Passion" ($125 per person) and "Collection" ($195 per person). You can also opt for à la carte menu, which includes Maine lobster ($65), grilled beef ($45), and caviar ($85). Reservations are required at both restaurants — and they'll likely book up fast. 
Additionally, the best pre-dinner drinks can be found right outside these restaurants at The Rose. Here, you'll find the Beast's rose and mirror on display in a picture-perfect setting, as well as floor-to-ceiling ocean views. 
5. Spectacular service.
As with all Disney Cruise Line ships, your server will follow you to the three main dining experiences each night. The line is first-in-class when it comes to hiring servers that have personality and charisma. The waitstaff makes the dining experience extra special with plenty of tricks and a knack for remembering dining preferences. However, it's their genuine enthusiasm and warmth that can bring tears of joy nightly.
6. Disney's first-ever attraction at sea.
Billed as Disney's first-ever attraction at sea, AquaMouse is a water coaster that encircles the top decks of the ship. The ride is charming and great for all ages, though prepare to get wet. Two rotating storylines that follow Mickey, Minnie, and friends are featured on the in-ride screens. There were hints that future storyline change-ups would be possible (likely around holidays and special events). This is one of the only things you'll find yourself queuing up for on the cruise, so try to get your rides in when the ship is in port to avoid the crowds. 
7. Top-notch entertainment offerings.
Disney Wish is debuting two new shows: The Little Mermaid and Disney Seas the Adventure. The former is a fresh retelling of the classic Disney animated movie, bringing the beloved story to life. Disney Seas the Adventure is a fun Broadway-style revue of Disney songs led by the hijinks of Goofy on the captain's wheel. Disney Cruise Line's production of Aladdin also joins the roster. All of the shows feature Broadway-caliber talent and design, serving as the perfect introduction to live theater for the younger set. 
8. Lots of character interactions. 
If you're just wandering the decks, keep your eyes peeled as the characters make their way around the ship. There are also scheduled meet-and-greet moments for socially distant mingling — plus seemingly endless photo opps!
9. Plenty of pools.
Passengers can take their pick of pools, ranging from lively family-oriented ones to small yet serene adults-only oases. For the most low-key of all the family pools, head to the Chip N' Dale one towards the front of the ship. It's a bit tucked away from the main top deck fun, and therefore is more likely to be overlooked. Disney Wish also boasts the cruise line's first-ever infinity pool at sea, and it's well worth a visit — but more on that below. 
9. Incredible adult spaces (the best of any Disney Cruise ship!)
For as much fun as the kids have in their special spaces, Disney doesn't forget that the adults want to have a place — or several — to call their own, too. Here are three of the best ones.
Star Wars Hyperspace Lounge: The new Star Wars lounge is about as close as you'll ever get to partying in hyperspace. Tour time and space through the large portal screen behind the bar, transporting you through the galaxy with immersive light and sound effects. The cocktails here offer a taste of the planets you'll be visiting, with fun and playful presentations that feel elevated and singular. The upscale lounge is a nice counter to the relaxed vibes you'll find on land at Oga's Cantina in Disney World and Disneyland's Galaxy Edge. This is one of the more exclusive spaces on the ship, with a reservation system that is still being refined. Head to the lounge on your first night at sea to make sure you secure a spot at some point during your sailing. 
Senses Spa: The ship's newly reimagined Senses Spa feature's the line's first-ever outdoor area, with whirlpool spas, luxe loungers, and space for open-air yoga. You can easily spend hours relaxing and unwinding both inside and out; amenities include steam rooms, saunas, scented showers, and heated tile lounge chairs. It's worth noting that the spa areas are available for an additional upcharge. 
10. Surprisingly spacious staterooms. 
Disney Wish boasts spacious staterooms across four categories, all specially designed with families in mind. What's more, the ship's magical touches extend into each room with high-quality art from Moana, Sleeping Beauty, The Princess and the Frog, and Cinderella adorning the walls. Accommodations are also surprisingly comfortable since they contain plenty of storage and closet space. As a bonus, all staterooms are outfitted with H2O+ bath amenities, a favorite from the Walt Disney World resorts.  
Larger groups should consider a Deluxe Family Oceanview Stateroom with Verandah, which can comfortably sleep up to five passengers. The only challenge? Agreeing on what movie to watch out of the near-entire Disney catalog (accessible via the en-suite TV). Alternatively, luxury lovers can book one of the fairytale-worthy Royal Suites (some spanning two stories!). We'd also be remiss not to mention the Wish Tower Suite, perched above the upper decks for optimal views. 
11. Short-and-sweet itineraries that make for easy escapes.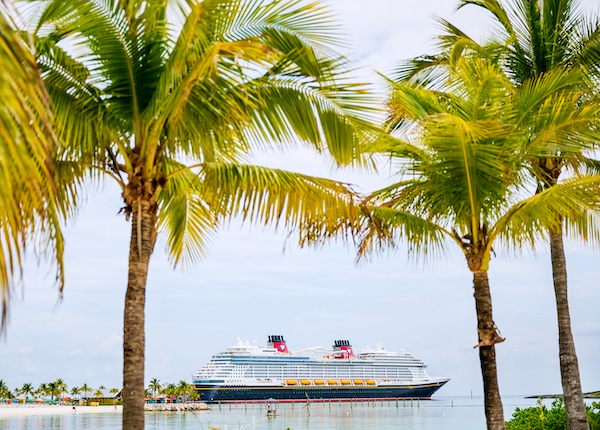 Disney Wish offers three and four-night sailings from Port Canaveral to the Bahamas with a day visit to Disney's private island, Castaway Cay. Rates start at $1,750 for two guests in an interior cabin on a three-night cruise.
The Bottom Line
Disney Wish elevates Disney's core cruising components to new levels of magic, fun, and relaxation for all ages. If you've sailed on a Disney Cruise before, you'll need some time to find your sea legs onboard this one-of-a-kind as nearly everything is in a new place and has a new concept. Or, if you've never sailed with Disney before, the new Disney Wish is a great place to start.