Provence invokes visions of lavender fields, rustic wine cellars, and storybook villages, but the vast region has far more to recommend it. Located in southeastern France, it's technically known as Provence-Alpes-Côte d'Azur and comprises six official departments, each with its own distinct geography, climate, and feel. 
Because Provence is so broad and varied, planning a trip there can feel overwhelming, especially if your time or budget is limited. Focus your scope on one or two of the departments and create an itinerary according to what you most want to see and do. (One certainty: You'll need a car.) The attraction of the regions also varies by time of year, with the Riviera welcoming sunbathers in the summer and Alpine ski resorts inviting outdoorsy travelers in the winter. In general, August is peak season and very busy (and expensive), while early fall and late spring are the "sweet season" when weather, crowds, and prices are all optimal. 
Whether you're chasing selfies in lavender fields, looking for the next great hike, following the footsteps of Van Gogh, or spying celebrities on the coast, here's everything you need to know when planning a trip to Provence, department by department. 
Vaucluse
Vaucluse, which extends from the Rhône River in the west to the Luberon Valley in the east, is one of the most popular departments in Provence, thanks to its colorful villages and scenic rolling hills. The area includes the walled city of Avignon, the market village of L'Isle-sur-la-Sorgue, the hilltop town of Gordes — frequently dubbed one the most scenic towns in Europe — and the wine mecca of Châteauneuf-du-Pape. The area's namesake, a cavernous spring called Fontaine de Vaucluse, can be found in a village of the same name on the River Sorgue. Many of the postcard-like images travelers have of Provence come from this region, which is home to the Lavender Museum and many brilliantly-hued lavender fields, whose blooms typically peak between mid-June and mid-July. 
Farms dot the landscape of Vaucluse, and its towns and villages host weekly markets that are destinations in and of themselves during spring and summer. At L'Isle-sur-la-Sorgue's Thursday and Sunday markets, you'll find produce, cheese, antiques, flowers, and even clothes. There are also wineries around every turn of the winding country roads, and you won't go wrong stopping in for a glass at any of them. Travelers coming from Paris or Lyon can take a direct train to Avignon and rent a car there, making Vaucluse a convenient add-on to a longer France itinerary. 
Best Towns: Gordes, a maze of stone buildings and alleyways perched atop a hill. Roussillon, with its ochre-tinted façades. Fontaine-de-Vaucluse, for lunch along the river. Historic Lourmarin, for its 15th-century château and museum dedicated to writer Albert Camus. Châteauneuf-du-Pape, for its impeccable wines. Avignon, with its medieval bridge, cathedral, and Papal Palace. L'Isle-sur-la-Sorgue, for the famous market.
Peak Experiences: Rousillons's Ôkhra Museum, which details the history of the iconic red cliffs. Ascending the summit of Mourre Negre in Luberon Regional Nature Park for breathtaking views. 
Where to Stay: For indulgent luxury on the cliff's edge of Gordes, La Bastide de Gordes. For family-friendly relaxation, Villa Jally, a private rental located a few minutes from L'Isle-sur-la-Sorgue. 
Bouches-du-Rhône
There is a lot to see and do in Bouches-du-Rhône, which sits between Vaucluse to the north and the sparkling Mediterranean to the south. It includes the Camargue — a national park filled with lagoons, flamingos, and wild horses — as well as Marseilles, Aix-en-Provence, Arles, and Martigues. Marseilles and Aix-en-Provence are sizable enough for their own trips, so it can be helpful to identify what experiences you want to have when planning your trip. You'll find the classic South of France seaside vibe in Cassis or La Ciotat, while Aix-en-Provence is an art and culinary destination known for its Michelin-starred restaurants and Impressionist history. The Camargue, meanwhile, attracts nature lovers looking for seaside hikes and wildlife sightings. 
Bouches-du-Rhône also has a long-held connection to Van Gogh, who painted the buildings and landscapes of Arles before spending time at the Monastery Saint-Paul de Mausole, an asylum in Saint-Rémy-de-Provence. Today, visitors can explore the artist's former room there or, in Arles, visit the Fondation Vincent van Gogh Arles and grab lunch at Le Café Van Gogh, which may have inspired his 1888 work Café Terrace at Night. In Aix-en-Provence, don't miss the lively Saturday morning market, one of the best in France. 
Best Towns: Saint-Rémy-de-Provence, with its boutique-lined cobbled streets. Aix-en-Provence, for the tree- and café-lined Cours Mirabeau and Cézanne's studio. Seaside Cassis and its hikeable calanques (limestone inlets). Les Baux-de-Provence with its ruined medieval castle. Martigues, with its charming canals. Arles, home to an impressive Roman amphitheater and arena. Eyguières, a charming medieval village. 
Peak Experiences: An up-close view of the towering cliffs and blue waters of Calanques National Park, via a scenic boat tour from Marseilles or Cassis. The dual buildings of the Musée Granet in Aix-en-Provence, home to works by Picasso, Cézanne, and Monet. 
Where to Stay: La Villa Gallici for upscale chic in the heart of Aix-en-Provence. Le Saint-Rémy, which pairs contemporary style with historic touches. 
Var
The Côte d'Azur is the main event in Var, the department of Provence that includes Saint-Tropez. The coastal towns are only the tip of the iceberg, however — Var extends from Marseille to Nice, and inland as far as the Verdon Natural Regional Park. It also includes the Golden Islands (Port Cros, Porquerolles, and Ile du Levant) and Port-Cros National Park, which attract boaters and nature lovers alike. Most visitors to the area stay along the coast, which includes plenty of scenic destinations if your budget isn't quite up for the glitz of Saint-Tropez. Woodsy, hillside villages like Bargème and Mons showcase the more rural charm of the region. 
Var gets very busy during the summer, especially by the sea, so consider visiting in the late spring or early fall. You can fly into either Nice or Marseilles, and it's best to rent a car if you plan to traverse the winding coast or explore its many villages. Away from the beaches, Var attracts rosé lovers thanks to the Côtes de Provence wine region of Bandol, which also extends into Bouches-du-Rhone.  
Best Towns: Saint-Tropez, with its chic beach clubs and luxury hotels. Toulon, a port city known for its sandy beaches and maritime history. Bargème, a hilltop village built around the ruins of a medieval fortress. Seillans, home to wineries and impressive countryside views. Hyères, a coastal city that's the gateway to the Golden Islands. Fréjus, with its Roman ruins and Gothic cathedral. 
Peak Experiences: Living the high life at famed club Nikki Beach Saint-Tropez. Visiting the Abbaye du Thoronet, an atmospheric former Cistercian abbey located between Draguignan and Brignoles. 
Where to Stay: Hotel Du Castellet, which offers poolside relaxation or a round of golf in the countryside between Toulon and Marseille. Hôtel Lily of the Valley, a luxe seaside property in Saint-Tropez. 
Alpes-Maritimes
The landscape dramatically shifts throughout the Alpes-Maritimes department, which stretches along the French Riviera and into the peaks of the Alps. It borders Italy to the east of Nice and Monaco, and includes Cannes and Antibes along the coast. While Cannes and Monaco are the most famous destinations in Alpes-Maritime, the region is also notable for its art museums, including Renoir's former home in Cagnes-sur-Mer, and historic villages. Grasse is worth a detour for its perfume industry, which is celebrated at the Musée International de la Parfumerie. 
In the Alps, the mountainous Mercantour National Park and numerous ski resorts draw travelers year-round. In general, Alpes-Maritimes is beloved by nature lovers, who will find hiking, cycling, horseback riding, rock climbing, and fishing available throughout the inland areas. Paragliding and hang-gliding are also popular, especially in Col-de-Bleine and Gourdon. Cannes, of course, draws the glitterati for the Cannes Film Festival and other events, but those looking for a relaxed beach holiday should seek out smaller resort towns like Antibes or Èze. If you prefer to avoid renting a car, the coast is largely accessible by taxi. 
Best Towns: Antibes, with its historic old town and high-end resorts. Grasse, the home of Provence's perfume industry. Saint-Paul-de-Vence, an alluring walled village on a scenic hillside. Le Bar-sur-Loup, a medieval village with a 13th-century castle. Seaside Saint-Jean-Cap-Ferrat, with its sailboats, beaches, and historic villas. Menton, a colorful Rivera town that's home to the Serre de la Madone gardens. 
Peak Experiences: Hitting the slopes in the Isola 2000 Ski Area. Villa Ephrussi de Rothschild, a historic manor and gardens in Saint-Jean-Cap-Ferrat. 
Where to Stay: Le Saint Paul, a charming boutique hotel inside the walls of Saint-Paul-de-Vence. Hôtel Les Roches Rouges in Saint-Raphaël, with its sea views, Michelin-starred dining, and spa. 
Hautes-Alpes
Provence isn't just a spring and summer destination, particularly when you travel to Hautes-Alpes, home to the Alps and their snowy peaks. The area isn't crowded, thanks to its relatively low population, and it offers many scenic, wooded respites for travelers hoping to unwind in the French mountains. Its main cities are Gap, Briançon, and Embrun, but there are plenty of smaller towns and remote destinations worth exploring. Skiing is a top attraction to this department. 
While other areas of Provence are established tourist spots, Hautes-Alpes tends to be less built up and more budget-friendly. The hotels can be rustic, in a charming way, and many of the towns, especially Saint-Véran, still feel like a discovery. The staggering landscape, which invites hiking, mountain biking, and winter sports, is the primary allure, rather than five-star hotels or a glamorous beach club. A rental car will go a long way here, especially as you navigate the curvy, mountainous roads, and travelers can easily add Italy or Switzerland onto their trip — Turin and Geneva are both accessible from the Hautes-Alpes region, as is the French mountain resort town of Annecy. 
Best Towns: Briançon, the highest city in France. La Grave, a ski resort town beloved for its freeride Alpine slopes. Saint-Véran, with its charming chalets, winter sports, and hiking trails. Embrun, a historic town often called the Nice of the Alps thanks to its sunshine and mild climate. Gap, the area's retail hub with a historic old town. 
Peak Experiences: A day at Lac de Serre-Ponçon, a reservoir known for boating, fishing, and swimming, as well as its Muséoscope du Lac. Whitewater rafting in Gorges de Daluis, a red rock gorge. 
Where to Stay: Hôtel Le Monêtier, a modern Alpine lodge in the Serre Chevalier ski area, with views of snowy peaks year-round. Locally owned boutique Les Olivades, located within easy access of Gap. 
Alpes-de-Haute-Provence
Contained in the heart of the Provence region, Alpes-de-Haute-Provence borders several of the other departments, as well as Italy to the east. It overlaps with the Luberon Valley, Verdon Natural Regional Park, and the Alps themselves, and its lower-elevation countryside region is replete with lavender fields and wineries. Its sunny Mediterranean climate helps the region stay accessible all year, and its blue lakes are ideal destinations for water sports like canoeing, kayaking, windsurfing, and swimming. Many of the villages, like Forcalquier, have historic sites, as well as vibrant weekly markets.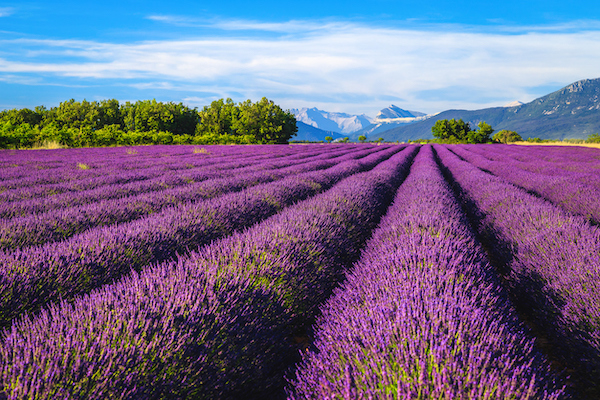 Those in search of lavender will find it near the town of Manosque, where Valensole boasts the best purple-hued fields in France. Because Alpes-de-Haute-Provence is so central to the region, it's easily paired with the other departments, especially Vaucluse. Travelers can take a train to Avignon or Aix, or fly into Marseille and then rent a car. Alpes-de-Haute-Provence is a less sought-after area than Var or Vaucluse, particularly for travelers skipping the busy summer season, but it still boasts plenty of high-end country hotels and spas. 
Best Towns: Classic Provençal village Moustiers-Sainte-Marie, often listed as one of the most beautiful spots in France. Annot, a medieval village known for its traditional streets and nearby hiking. Reillanne, with its archeological ruins and ancient chapel of St. Denis. Valensole, home to fields upon fields of lavender. Spa resort town Digne-les-Bains, with its thermal baths and numerous walking trails. 
Peak Experiences: Mountaintop fortress La Citadelle de Sisteron, which dates to the 12th century and hosts the Nuits de la Citadelle festival each summer. Hiking to the high-elevation lake Lac d'Allos, the starting point for numerous treks, including to Mont Pelat. 
Where to Stay: La Bastide de Moustiers in Moustiers-Sainte-Marie, for countryside-chic style and cuisine by Alain Ducasse. La Bonne Étape, a relaxed property in Château-Arnoux that is fragrant with lavender.