You know you're in an upscale ski town when you see Chanel, Dior, Malo, and Fendi shops in a three-block walk. Being Aspen, most visitors are outfitted smartly, including the latest Prada ski jackets. Actually, fashion here blends tasteful western chic with a more jet set, designer look. Beyond fashion, though, one notes the large number of international skiers and staff. Mainly South Americans (to my surprise), Australians, and some Europeans make up the energetic, amiable staff working the slopes and in town, and the potpourri of languages spoken among the skiers affords a unique, and positive, addition to the whole trip.
The third noteworthy item is the superb quality of just about all that you need on a ski trip – well laid out ski lifts with plenty of chair lift padding, excellent food (in town and on the slopes), and a fun après-ski nightlife (for young and old).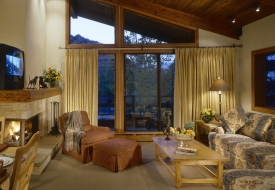 Some friends and I stayed at The Gant condos, just a 10-minute walk to Aspen town (or there's a condo shuttle). These 1- to 4- bedroom units are a good value for Aspen in high season – plus they're equipped with kitchens to make breakfast or dinner. (Other options like the Little Nell, Sky Hotel, or Regent, while luxe, are over $500/night). The Gant also offers a heated pool and two Jacuzzis (perfect for post skiing).
Shuttle buses take folks to ski lifts at the town's center or to Buttermilk, Aspen Highland, and Snowmass – all worthwhile nearby mountains. My favorite ski runs were on Snowmass (perfect for intermediates with long varied terrain). Highlands has the best views of the valley – amazing – along with a fabulous mid-mountain restaurant, Cloud Nine, which is a must! The indoor, linen-covered tables here only accommodate 55 so you should reserve well ahead. It's perfect if you lunch at 1:30 after a solid morning of runs, drink some wine, and then take a leisurely ski down mountain at 3:00. The food is terrific and, with a phenomenal bottle, it will cost about $80/person – but it's a smart splurge. The mountain food overall at Aspen is arguably the best in the U.S.
For the evening, post Jacuzzi, I recommend Cache Cache, which affords excellent food in an attractive setting, or Restaurant Barclay for more western flare. For inexpensive Mexican, try Su Casa; it's good and basic.
One advantage of staying in Aspen town versus, say, Snowmass is the authentic charm of Aspen; it's not a faux village and at night, is simply magical and postcard perfect.
As for spa treatments (and I'm not a huge spa type), I do recommend the Aspen Club and Spa for a massage and body scrub. It's a good value, especially relative to the better known and much pricier Golden Door.
In sum, if you haven't been to Aspen – Go.