There's something to be said about immersing oneself in a local culture, and while many hotels strive to integrate, few can match the authenticity of a home stay. With Airbnb, Homestay, VRBO, and a host of other sites making it easy for owners to rent their abodes to wanderers, we've rounded up a few of our favorite new digs below.
The St. Pancras Clock Tower Suite in London, England
You don't have to look far to find a historic hotel in Westminster or Chelsea, but staying in an actual clocktower might just make your next journey to London a bit more memorable. At £150 per night (about $196US), it's cheaper than many hotels in the area. It only has a single bedroom, but it sits in Sir George Gilbert Scott's gothic revival railway hotel building, which dates back to 1868.
A Colonial House in Havana, Cuba
With the floodgates opening up on Cuban tourism from the United States, it's worth remembering that the nation's infrastructure isn't what you'll find just 90 miles north in Florida. Hotels are fairly rare, and almost all of them are extremely pricey. This brilliant house in the heart of Havana, however, can be rented on Homestay for $40 per night for a solo traveler, offering visitors a chance to see how things were built in 1920 while being wrapped in a 2013 restoration.
A Countryside Home in Gozo, Malta
Malta is high on the bucket list for many, but staying in the bustling capital of Victoria won't expose you to the beautiful countryside a few minutes away. Homestay Ta' Kerċem can be booked for as little as $55 per night for a solo traveler, and with that comes laundry, a parking stall, and Internet access. To boot, the owners are big fans of meeting new people, ensuring that you'll receive a personal touch when it comes to local recommendations.
A Modern Villa in Tihi-o-tonga, Rotorua, New Zealand
Far too many tourists never venture out beyond their destination city, but this home away from home forces you to do precisely that. Set nearly three hours south of Auckland, this upscale home can be nabbed for as little as $170 per night for up to two guests. It's a chance to both live in luxury while firmly planted in some of New Zealand's most spectacular backcountry. Plus, the Hobbiton movie set is just an hour away -- a must-see for Lord of the Rings fans.
A Restored Castle in Thurles, Ireland
Regardless of whether you're a Game of Thrones fan, or you're just a fan of incredible castles sat against a brilliant Irish forest (but really, who isn't?), this should definitely be on your list. Ideal for a small team retreat or corporate function, Lisheen Castle can sleep up to 16 guests with nine bedrooms, and while the $1,123-plus per night sounds steep, it breaks down to less than $100 per evening if you bring a complete crew. Did we mention you'd be renting an entire castle?
A Chelsea River Houseboat in London, England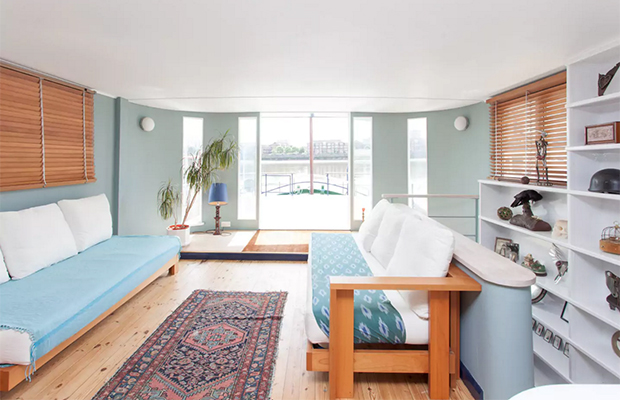 There's a saying that suggests one should never own a boat -- only know friends that do. So when presented with the option of staying in a handsome, pricey hotel in London or staying on a fully equipped, stylish boat, it seems like a no-brainer. The Rudyard Kipling is situated on Chelsea's iconic Cheyne Walk, a stone's throw from just about anywhere in the city. And with a full kitchen, a spacious living room, and a sundeck, the £150 nightly rate (about $196US) seems quite reasonable. Believe it or not, even WiFi is included.