The island of Hawaii (nicknamed the Big Island) has so much to offer visitors with its diverse geographies and landscapes. From stand-up paddle boarding to fluming (more on that later!), here are our top 10 activities that are a must-see on the Big Island.
1. Lava Hike
The island of Hawaii is volcanic at its core, so there's nothing more impressive than seeing the lava flow from a recent eruption. The Active Lava Flow Hike Tour ($179) from Hawaii Outdoor Guides at Kilauea Volcano is unique because it's one of the few places in the world where you can get super close to lava actually oozing from rock. Because this volcano is constantly changing, the hike is updated regularly to get the best views.  The excursion takes you into Hawaii Volcanoes National Park (celebrating its centennial this year) and includes a guided tour over the volcanic rock to find surface-area lava flow. The 10-mile walks takes you over the most interesting terrain: volcanic lava fields. The hike starts out in the afternoon but the best views of the bright red-orange lava is at night. Hiking under the stars while maneuvering volcanic rock is a unique and spiritual experience. Special gloves, hiking poles, jackets, backpacks, food, and water are included on the tour.
2. Fluming
Never heard of it? That's because there are only a few places in the world to do this activity and one of them is on the island of Hawaii, in the Kohala mountains and canyons near the town of Hawi. A flume is a channel with water running through it, and for this excursion, you'll be in kayaks (with a guide) navigating a system that was built over 100 years ago. The original purpose of the canal was for irrigation: to carry water from high up in the wet mountain valley to the dry lowland sugarcane fields below. The guide will take you through the history of the sugar cane plantations in the area as you navigate through lava rock caves, forests, and streams. Prices are from $135. 
3. Stand Up Paddle Board
Stand up paddle boarding (SUP) is a great way to get a view of the volcanic island of Hawaii while still getting a nice workout. Keauhou Bay Adventures offers lessons for newbies where you'll launch from Keauhou Bay in calm, clear water perfect for those less sure on their feet. For more seasoned SUP users, you can go past the Sheraton and into the open waters along the coast. In addition to seeing the pretty skyline (consisting of a whole lot of tropical palm trees) the water is so clear you can actually see fish and reef below. Rentals are priced from $25; private lessons are $149.
4. Kona Coffee Living History Farm
Coffee is a big part of the island of Hawaii's history and to really learn about the unique culture surrounding the plantations in the early 20th century, be sure to visit the Kona Historical Society to understand more about pioneers in this region. While there, soak up the art of Portuguese stone-oven bread-making. The Portuguese came to Hawaii in 1878 and they had a big impact on Kona and coffee making, as well as dairy farming. As farmers, they produced rich milk and butter, and created large fornos (Portuguese ovens) in which to make their famous bread.  This hands-on-experience is especially of interest to those interested in culinary history.
5. Akaka Falls State Park
It's a short hike on a paved trail, but this is well worth a stop. You can see both Akaka Falls and Kahūnā Falls as you walk through the loop path through the lush green upcountry rainforest (bursting with dozens of shades of green). Of course the star of the show is the 442-foot drop originating from Akaka Falls into the gorge below. The little parking lot fills up quickly, so get there early as it's one of the most popular spots on the island.   
6. Hilo Farmer's Market
The food scene has always been a big part of this island's culture and history and to really explore the fruits (and vegetables) of the land you should make a stop at downtown Hilo's twice-weekly (Wednesday and Saturday) farmer's market. With over 200 vendors selling everything from crafts, to macadamia nut baked goods to exotic fruits to locally-made jam, this is one of the most popular open-markets in the state of Hawaii.
7. Snorkeling
Spotting spinner dolphins perform their famous moves is not something you'll soon forget on the Snorkel & Dolphin Adventure tour ($132) with Body Glove Cruises. Any time you're on an island, getting away from the land and into the sea is a must. For this excursion, a plethora of colorful tropical fish and coral can be viewed. Added bonus: there's an opportunity to see sea turtles and the rare monk seal.
8. Zip Lining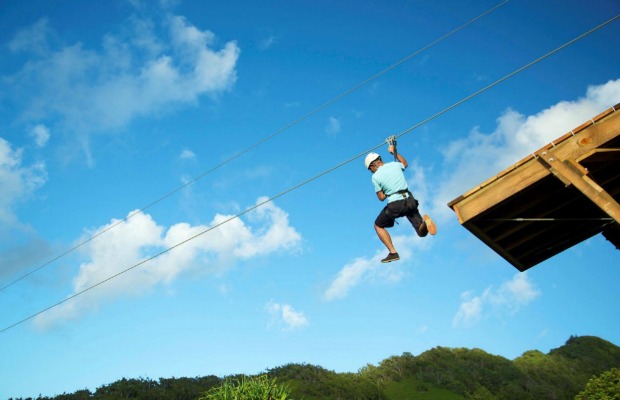 Sure, you can partake in zip lining in various locales around the world, but here on the Honomu Coast, just a short distance from the famed Akaka Falls, you can zip with Skyline Eco-Adventures over two different waterfalls, including the scenic KoleKole falls which stands at over 250 feet. There are seven lines in total and the last two are the best due to the length and views. Another attraction that will make you appreciate the unique climate zones of the island of Hawaii. Rates are from $153.
9. Sunset Cruise
Often on a vacation, there's such a rush to go from activity to activity that enjoying the sunset is something that may take a back-burner. A great way to change that is by taking a cruise on (we loved Hawaii Nautical, from $79) that makes the sunset the star of the show. Sitting on a catamaran, eating local Hawaii cuisine, including lobster rolls, ginger chicken, and fresh ahi tuna while watching the sky come alive with pinks, oranges, and red is a great finale to a day.
10. Culture Tour
As with any destination, Hawaii is packed with cultural and historical significance of which most travelers know little about. An important stop for a visit is to attend a cultural tour to learn more about land -- not just the various climate zones and topography, but the story and legends of the Hawaiian people. One good option is by taking a cultural tour; one of our favorites is offered at the Sheraton Kona Resort and Spa every Tuesday and Thursday at 9:30 a.m.