This May, Marriott debuted Moxy New Orleans, the brand's edgy new lifestyle concept and the second of its two U.S. locations (the first opened in Tempe in March). The goal: shake up the traditional hospitality experience for the city's millennial-minded traveler. Expect craft beers, local DJs, and an acupuncture happy hour. A few snaps below of the NOLA's coolest new digs.
All 108 industrial-chic guestrooms feature mobile check-in and check-out; keyless entry and motion sensor lighting; Internet TV in-room with Netflix, YouTube, Hulu, Pandora, and Crackle; loads of power and USB outlets; plus fast and free WiFi. Furniture from Restoration Hardware folds and hangs on the wall to keep the rooms clean and tidy.
The gym boasts a retro speed bike, a boxing bag with pink boxing gloves, gymnastics rings, top-notch cardio equipment, and free weights.
The Moxy bar is located within the center of the living room space, providing a feel-good fix around the clock -- from coffee to cocktails. What we love: upon check-in, guests receive a welcome drink instead of the traditional room key.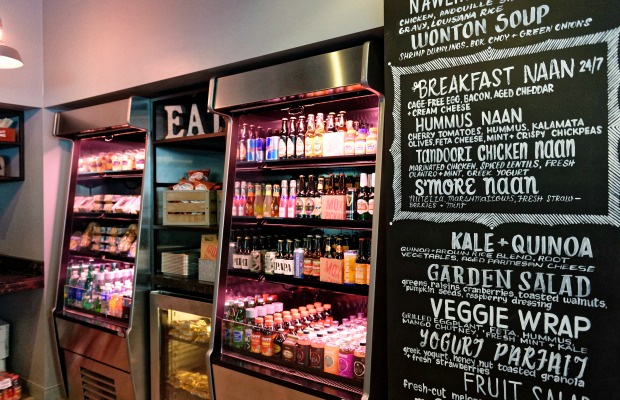 Grab snacks (hello, s'more naan), juice, and local craft beers at the MOXY PICKUP station.