As one of six so-called "palace" hotels in Paris – which go beyond even the elite 5-star standard – Hotel Le Bristol (www.lebristolparis.com) exudes opulence from its very core. From its beginnings as a glamorous 18th-century residence to its opening as a hotel in 1925 to today, the Le Bristol offers an exemplary level of service that one would expect from such a prestigious (and pricey) establishment.
Not content to rest on its laurels, Le Bristol pumps in 5 million euros each year for renovations. The hotel opened a new wing in 2009 with 26 rooms and suites plus a new brasserie restaurant, 114 Faubourg (more on that later). Next up, Le Bristol will double the size of its French-style spa as well as create a permanent home off the central courtyard garden for its 3-Michelin-starred Gastronomic Restaurant, which formerly rotated between two locations for summer and winter; the restaurant will be complete by July 2011.
Le Bristol's 187 rooms and suites feature unique furnishings like crystal chandeliers and Persian carpets (though they're a little heavy-handed with the floral prints). All of the furniture is originals (no reproductions), and much of what you'll find in the new rooms was handpicked by one of the hotel's owners. Spacious marble bathrooms, complete with a large soaking tub and separate shower, come stocked with bath products by Hermès and Anne Sémonin, who has a boutique just down the street.
The bi-level brasserie 114 Faubourg, named for the restaurant's address at 114 Rue du Faubourg St-Honoré, sports a much more modern décor than the rest of the hotel, with oversized, brightly-colored dahlias on the walls and an open kitchen. The cuisine is classic French, although the restaurant also serves its own version of fish and chips. Try the roasted scallops with black truffle and orzo cooked as risotto, or the beef entrecote with Béarnaise sauce (though as with anything at the hotel, be prepared for a hefty price tag).
Aside from the two restaurants and spa, there is plenty to keep guests occupied within the hotel. The spectacular rooftop pool – the only one in Paris – boasts views of Montmartre and the Eiffel Tower (the top part at least). Located off the lobby, the bar hosts a fashion show one Saturday a month featuring big names like Lacroix as well as up-and-coming French designers.
If you're in Paris for the shopping, be sure to rent one of the hotel's two Smart cars, just 10 euros for 3 hours.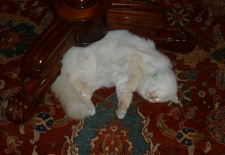 And in a touch of whimsy, the latest addition to the hotel "staff" is a fluffy white cat named Fa-raon that wanders the lobby and catches a catnap wherever he pleases.
For general trip-planning information, check out our Paris Travel Guide.