Many people dream of getting a scuba certification in an exotic destination. It makes sense: If you're going to spend days, even weeks, learning to dive, why not see some cool stuff in the process?
But there's a lot to consider when learning to dive on vacation. From the "where" to the "how much," here is everything you need to know to get scuba-certified while traveling.
1. Decide where to get your diving license
There are two ways to go about choosing a destination.
The first, more methodical, way would be to decide what kind of dives you are interested in experiencing. Certain destinations are known for certain things: Belize has the Blue Hole, Grenada has drift diving, Australia has the iconic Great Barrier Reef, Curacao has the Superior Producer wreck site, and Southeast Asia has endless, isolated islands. Perhaps your personal preferences and ambitions can lead you to a specific dive destination, be it specific geology, like holes or shelves, or scenery, like wrecks, reefs, and sea life.
But this train of thought can get technical really fast. In reality, most destinations offer a little bit of everything, especially for beginners. Since you'll have plenty of free time above water, the easiest way to choose your destination is to think about what you'd like to do when you're not diving. Is the sunny, laid-back Caribbean your cup of tea? Do you want to experience a foreign culture in Southeast Asia? Logistics and budget also play a part. From the East Coast, for example, it's very easy to reach the Caribbean, whereas Southeast Asia or Australia would be a hefty, and pricey, haul. Diving as a beginner is going to be great anywhere, so choose a destination that excites you and fits your budget.
2. Choose the best scuba certification program for you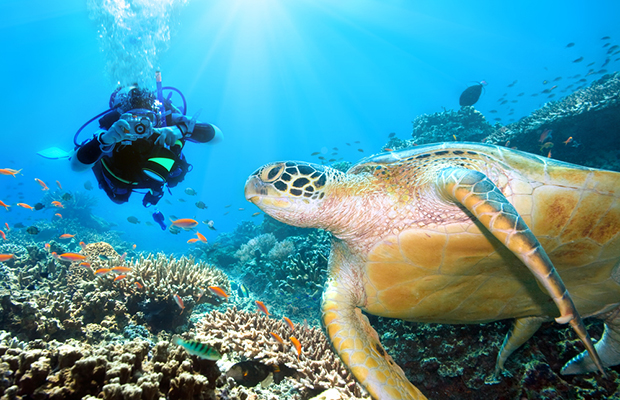 There are three ways you can get your diving license.
The most comprehensive way is to sign up for a pre-existing package tour from a pre-picked destination. These packages charge a set price and have arranged all the details for you, including accommodations, meals, certification/dive schedules, and extracurricular activities, like sunset cruises, rum punch parties, and SNUBA lessons. Most times, the dates are limited to a specific week or weeks of travel. All that's left to do is pay for your airfare.  These tours are also typically group oriented, so you'll be able to meet other like-minded, scuba cert hopefuls. Pro-tip: Make sure that you go through a reputable dealer, like PADI, to be assured that the tour has been properly vetted.
The opposite approach would be to do your certification "a la carte," meaning you select your destination, hotel, and dive shop independently of each other. All officially licensed PADI dive shops are aggregated in a search engine on its website. So, if drift diving in Grenada is your dream trip -- you can search all the shops that offer a certification program on the island. This gives you the flexibility to pick your dive shop based on the price, courses offered, reputation, and location. In this scenario, you would locate and contact the dive shop directly to arrange your certification.
The third way would be to combine the two above approaches by choosing a destination and then a specific hotel that offers a scuba-cert package. Suppose you pick Grenada because of its drift diving, but your preferences are limited beyond that. In this case, you could forgo an all-encompassing package (like the ones mentioned in the first paragraph) for a smaller, more compact scuba-cert program offered by a resort or hotel. For example, Sandals La Source, and all Sandals resorts, offer a scuba cert package and free dives to certified guests, so you can dive for free after passing your cert.
3. Know what to expect during your program
The entry-level course to become scuba certified is PADI's Open Water Course. If you were doing this at home at the local community dive center, the program would entail classroom sessions, pool instruction, and then four "open water" dives, typically conducted in the local reservoir or lake.
Since many people have found this process somewhat laborious and unrealistic for their lifestyles, "accelerated" programs were created that allowed a scuba-cert hopeful to complete the coursework at their own pace from home. Then, a brief review, along with the pool session and open water dives, can be completed in a weekend. This second approach is what's usually followed by destination dive programs. Once you sign up for a course, you will be shipped the textbook and are expected to be prepared to take the final written exam upon arrival at your scuba destination. The material is important but pretty straightforward and can be reviewed with your instructor before taking the exam.
So, if you've heard that things are "more chill" in the Caribbean, it's true. According to PADI's website, it's possible to complete your dives in three or four days by completing the knowledge development portion online or at home with materials provided by your local dive shop or resort.
When vetting dive shops, simply ask them how long the certification process typically takes the average person to complete. If you complete your coursework at home, it's usually two to four days: one day of pool dives and two days of open water dives. It's possible that these days could even be half days; pool training can be completed in a few hours, for example. The final exam is written and takes one to two hours to complete.
This all adds up to a good thing: If you pencil in a week's vacation, you can, in theory, get your certification and still have half your trip left to dive and explore the destination (a week is also good in that it allows a few days' buffer in case of bad weather). You also won't be involved in scuba training all day. Most likely, you will have a morning and an afternoon dive, each only about 30 minutes, with a total commitment of two to three hours for paperwork, Q and A, and boat transfer. This means that you can truly have a well-rounded vacation while you get your certification.
Note: Despite the convenience of learning the material at home and the joy of a flexible certification program, the information and skills you will learn are vital to your life and survival, and so they should be taken with the utmost of seriousness.
4. Compare scuba certification costs
Given that PADI scuba certifications are for life -- meaning they never expire -- the cost is pretty reasonable. Each PADI dive shop is independently operated, so the price varies slightly, but you are usually looking at $400 to $600 for the written exam, pool sessions, and open-water dives.
Package tours and resorts offering PADI certification often include other perks, such as free dives post-certification, to sweeten the deal. Be sure to ask the dive shop if there are any extras included. It is everything around the actual certification -- flights, hotels, extra dives, and entertainment -- that make a scuba-cert vacation add up, so you'll want to shop around.
But remember, the certification process will only be half your trip; you're still paying for a legit vacation, one you will surely never forget, leaving with skills you will enjoy for the rest of your life.